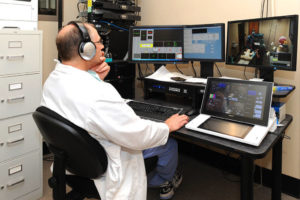 Washington State University (WSU) College of Veterinary Medicine's (CVM's) veterinary-only simulation program is the first to be accredited by the Society for Simulation in Healthcare (SSH).
The simulation-based education program offers hands-on simulated training, from administering anesthesia to performing surgery to client interaction.
"We are delighted to see simulation-based education being practiced in veterinary medicine at WSU in an effort to improve the quality of care delivered to the patients we often consider family, our pets," says SSH's Kristyn Gadlage. "We applaud WSU for its dedication to educational excellence in its training of future veterinarians."
WSU introduced integrated simulation into its curriculum through the clinical communication program 11 years ago. An elective course for anesthesia simulation was also created, allowing students to gain more experience and receive feedback from experts.
"We understand simulation is a key component to training some of the most prepared and competent veterinary graduates in the country," says program director, Julie Cary. "We use simulation to enhance student exposure and experience while building their confidence, which adds to patient safety."