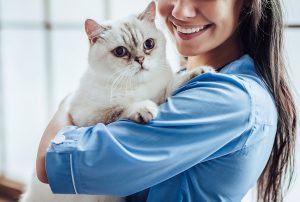 Veterinarians, veterinary staff, and citizens were honored by the Washington State Veterinary Medical Association (WSVMA) during an award ceremony at the Pacific Northwest Veterinary Conference in Tacoma, Wash.
The following are the honorees:
Victoria L. Smith, DVM, veterinarian at Steamboat Animal Hospital in Olympia, Wash., army reserves veterinary officer, and animal cruelty investigator, received the 2018 Veterinarian of the Year Award. The award is presented in recognition of an outstanding career in veterinary medicine and contributions to their practice, their stakeholders, and other service directly benefiting their community.
Pamela Lee, DVM, MS, DACVIM (cardiology), Lynne Nelson, DVM, MS, DACVIM (cardiology & SAIM), Christina Plante, DVM, and Raychel Fairchild, LVT, from Washington State University (WSU) College of Veterinary Medicine's cardiology department were presented the 2018 WSU Faculty Member of the Year Award. The cardiology team was recognized for the care and treatment of their patients and the valued relationship they share with referring veterinarians across the state.
Alexis Adams, LVT from Washington State University's veterinary teaching hospital, received the 2018 Distinguished Veterinary Staff Award. Adams was recognized for patient care, responsiveness to clients, dedication to the university exotics service, and for her training of fourth-year veterinary students.
Sally Halela from the organization South County Cats, Maple Valley, Wash., was presented the 2018 WSVMA Humane Animal Welfare Award in recognition of her work to reduce animal euthanasia rates by providing low-cost spay and neuter options for low-income families.
Doug Hoge, territory manager for Henry Schein Animal Health from Vancouver, Wash., received the 2018 Allied Industry Partner Award in recognition of his knowledge, honesty, and dedication to Washington veterinarians and their patients.