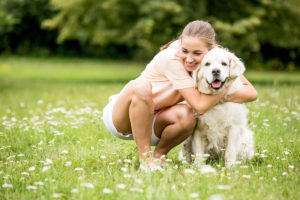 Zoetis is the first company to become Human-Animal Bond certified.
More than two dozen company employees completed the program, and were taught the science behind the human-animal bond. The employees were also shown how this science supports the practice of veterinary medicine. The certification program was created by the North American Veterinary Community (NAVC) and the Human Animal Bond Research Institute (HABRI).
"For years, Zoetis has been a leading advocate of the bond between humans and animals, and we are honored to have earned this important certification," says Zoetis Petcare marketing executive director, J. Michael McFarland, DVM, DABVP, chair of the HABRI board of trustees. "Veterinarians play a key role in strengthening the relationship between animals and people, and Zoetis is committed to helping them, their clients, and the animals they care for experience the benefits of the human-animal bond."
In its first year, more than 500 professionals have signed up for this certification, which offers 22 hours of RACE-approved continuing education credit. Zoetis also developed educational resources related to the program for its own employees, for the veterinary community, and for pet owners.
"With its long-term commitment to funding human-animal bond research, education, professional development, and programming, Zoetis is uniquely deserving of this meaningful recognition," says HABRI executive director, Steven Feldman. "Being a Human-Animal Bond certified company sends a clear message Zoetis is a leader in strengthening the human-animal bond for the veterinary community and the public."
Zoetis's supports the human-animal bond with its K-9 Courage Program, as well as its commitment to corporate social responsibility and its Pet Effect program.
"When we started this certification program, our intention was to spread the benefits of the bond to as many animal health professionals as possible," says NAVC chief executive office, Thomas M. Bohn, MBA, CAE. "This included extending the program to those corporations that are committed to supporting the human-animal bond in addition to veterinary clinics."