Suggested Veterinary Products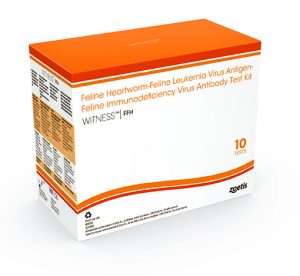 Zoetis Inc. announced the launch of Witness FFH, a triple test that detects antigens to feline leukemia virus (FeLV) and feline heartworm, as well as antibodies to feline immunodeficiency virus (FIV).
Witness FFH is a simple, convenient, and cost-effective test that requires no refrigeration and is priced comparably to current FeLV-FIV tests on the market with the added benefit of heartworm testing, the company stated.
"Zoetis is committed to delivering high-quality, point-of-care diagnostics to help easily and affordably diagnose conditions or diseases that affect the quality or duration of a pet's life," said Chris Demiris, marketing director, U.S. Diagnostics at Zoetis. "The new Witness FFH test is a rapid, reliable test that helps keep cats healthy."
"A shared clinical sign of all three diseases is vomiting, so a triple test helps veterinarians make accurate diagnoses more quickly," said Matthew Krecic, DVM, MS, MBA, DACVIM, senior technical services manager, U.S. Diagnostics at Zoetis. "Sick cats may also have FeLV or FIV; therefore, testing for those concurrent with heartworm is sensible."
Veterinarians should consider testing for heartworm infection in cats because clinical signs can be confused with those of many other diseases, including feline asthma, the company stated, adding that in addition to vomiting, affected cats may cough and experience difficulty breathing.
"As atypical hosts, heartworm infection in cats presents differently than it does in dogs," Dr. Krecic said. "Feline heartworm affects the lungs much more often than the heart, and a cat's lungs are profoundly reactive to the arrival or death of heartworm or heartworm larvae. This reactivity can lead to significant morbidity and even death."
For more information about Witness FFH, visit simplysmarterchoice.com.