Suggested Veterinary Products
Originally published in the January 2016 issue of Veterinary Practice News. Did you enjoy this article? Then subscribe today!
When clients check out after appointments, every type of consultation is coded under "office call" in your veterinary practice management software.
Your first exam is with an 8-week-old puppy who will be due for care again in three weeks. Your second exam is a cat with renal disease who needs to return in three months. Your third exam is a dog with an ear infection who you want to see again in two weeks.
How will you ensure that all three patients return at the appropriate intervals if the same exam code is used? Worse yet, charging a flat exam fee could result in lower practice income.
Here are six exam codes that every practice needs. Update your practice management software so reminders are accurate, patients get needed follow-up care and future revenue is guaranteed.
1) Pediatric Preventive Care Exam
This exam code is for puppies and kittens and issues reminders every three to four weeks based on your standards of care. For example, the pediatric preventive care exam would remind at eight, 12 and 16 weeks so the patient gets timely exams, vaccines and diagnostics.
Once the puppy or kitten completes the series, the exam code is changed to an adult preventive care exam with the next appointment due on the patient's first birthday.
2) Adult Preventive Care Exam
This exam for pets age 1 to 6 years reminds every 12 or six months, based on your protocol. Always separate the exam reminder and fee from other professional services such as heartworm/tick screen, vaccines and intestinal parasite screens.
You need to communicate value for the nose-to-tail physical exam.
Let's say your veterinary hospital is in a beach community where intestinal parasite prevalence is high, so you screen pets every six months. If you remind only for the package of annual services, you'll miss the midyear diagnostic.
Likewise, bundling might cause you to miss a Bordetella vaccination for a Yorkie that needs protection every six months because of frequent trips to the groomer.
3) Senior Preventive Care Exam
The American Veterinary Medical Association, the American Animal Hospital Association and the American Association of Feline Practitioners recommend exams every six months for senior pets age 7 or older.
Download the "AAHA-AVMA Preventive Healthcare Guidelines" here. Get "AAFP-AAHA Feline Life Stage Guidelines" at here.
Distinguish adult from senior preventive care exam codes because you may see pets age 1 to 6 annually, while senior pets 7 years or older are seen semiannually. Your goal is to provide preventive care that results in early detection when more treatment options are available and care may be more affordable for clients.
Think about the treatment solutions for early kidney disease versus renal failure!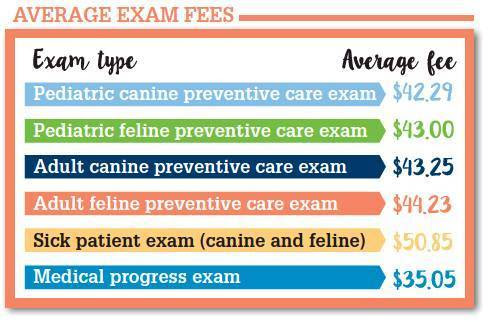 4) Sick Patient Exam
If your preventive care exam lasts 20 minutes, schedule 30 minutes for sick patient exams. You'll need the extra 10 minutes because illness visits may indicate the need for blood work, radiographs and other diagnostics. The additional exam time will generate more diagnostic revenue.
Clients want answers now about the cause of their pets' illnesses, so perform in-house testing.
You also could charge 20 percent more for a sick patient exam, which requires more time from doctors and technicians, a diagnosis, a treatment plan and time to answer clients' questions. If your practice charges $45 for a preventive care exam, an appropriate sick patient exam fee would be $54.
While a senior preventive care exam gets a six-month reminder, a sick patient exam reminder would be set individually based on the diagnosis. For example, you would see a skin or ear infection again in two weeks following home care versus six months for a senior preventive care exam.
5) Medical Progress Exam
Avoid the term "recheck," which clients may perceive as free and optional. A medical progress exam is follow-up care on a previously diagnosed problem. Always forward-book the patient's next exam during the current visit.
According to the October 2014 "Insider Insights Report" from the Veterinary Hospital Managers' Association, 76 percent of veterinary hospitals always or usually forward-book medical progress exams while only 11 percent always or usually schedule the next annual or semiannual preventive care exam.1
Create expectations for follow-up care. Let's say a client visits today for her dog's annual checkup. The veterinarian discovers an ear infection and wants to examine the patient again in two weeks. Both the doctor and receptionist need to create expectations for when the next care is due.
After explaining the diagnosis and treatment in the exam room, the doctor would say, "I will need to see your dog again in two weeks for a medical progress exam, which would be on <date>. I will examine your dog again to make sure the ear infection has healed. Follow-up care is important because ear infections can be painful and recur. The receptionist will make your appointment for <date> during checkout."
During checkout, the receptionist will schedule the medical progress exam before collecting payment for today's services. Then the appointment reminder will print on today's receipt and you'll avoid the pet owner's hesitation to schedule if she hears today's price first.
The receptionist would say, "Dr. <Name> needs to see your dog again in two weeks for a medical progress exam for his ear infection. Let's schedule his exam first, and then I'll get you checked out for today's services. Two weeks from today would be <date>. Does this same time, 10 a.m., work for you?"
For progress exams, strive for "same day, same time, same doctor." If the client is here at 10 a.m. on a Thursday, she can probably visit again at a similar time and day of the week. Book the appointment with the same veterinarian, ensuring continuity of care and efficient use of exam time.
When your team makes a habit of "schedule first, pay last," more patients will get needed follow-up care.
If the client doesn't schedule the progress exam at checkout, enter a callback in your practice management software. Call the client one week before services are due.
The receptionist would say, "Dr. <Name> asked me to call you to schedule <pet name's> medical progress exam for his ear infection. Dr. <Name> has an exam available at 10 a.m. next Thursday or 3 p.m. next Friday. Which works for you?"
Use the two-yes-options scheduling technique. The first appointment choice is the same time and day of the week as the previous exam, while the second choice is a different day and an afternoon rather than morning exam.
6) Disease-Management Exam
Once you diagnose a chronic disease in a pet, switch the patient from a preventive care exam to a disease-management exam code. Consider diagnosed conditions such as arthritis, thyroid disease, Cushing's, renal disease, diabetes and other long-term illnesses. The disease-management exam code reminds quarterly.
In a renal patient, one of the four exams might be like the traditional annual exam, while the second is simply a physical exam and urinalysis. The third exam might include a physical exam, senior preventive blood and urine screen, and blood pressure screen. The fourth exam is another physical exam and urinalysis.
Your doctors can create protocols for managing common diseases, and then design the frequency of exams and services to be delivered at each visit. More frequent follow-up will let you provide optimal disease management. Besides providing better ongoing care, clients will appreciate that you've spread out the cost of care.
When your practice reminds based on the reason for the visit, you'll provide better follow-up care, increase clients' confidence and ensure future revenue. When you update exam codes, make sure to hold a staff meeting so receptionists, technicians and managers understand the purpose of the change and can confidently explain it to clients.
References
Partners for Healthy Pets' tips on forward booking. Accessed 11-18-15 at http://bit.ly/1GSwGOg.
AAHA Veterinary Fee Reference, 9th edition, AAHA Press, 2015; pp. 53, 54, 43, 44.