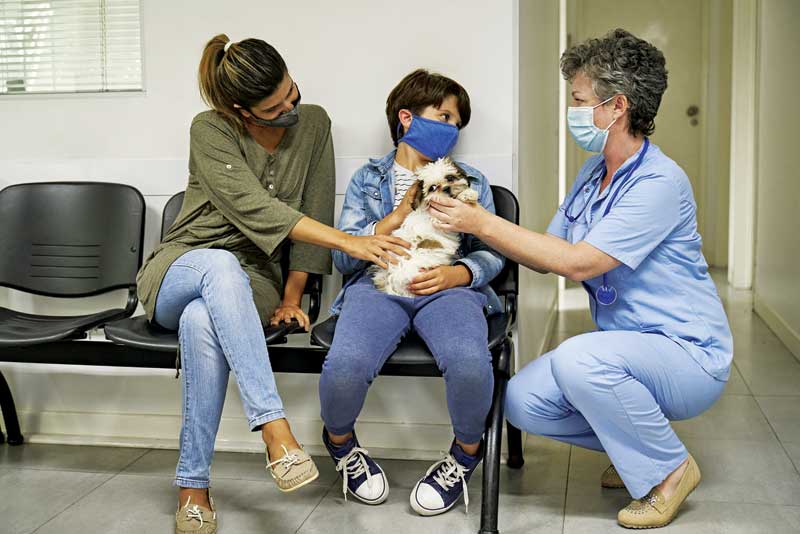 Does the thought of seeing 20 or more appointments per doctor per day invoke panic? Are you stacking 30-minute appointments in one column straight down for each doctor to avoid panic? If you answered "yes" to either of these questions, with some changes to your workflow and scheduling, your practice can increase the number of pets seen, without destroying your team while doing it. The first place to start is the appointment schedule. It is the best indicator of how you are utilizing (or not utilizing) a team. From how many appointments, to what team members are involved in the process, the appointment schedule and your practice's workflow can change the trajectory of your practice.
The appointment schedule reimagined
It seems most practices have stuck to stacking 30-40 minute (or more) appointments in one column for each doctor. This somewhat antiquated method of scheduling does not allow you to optimize your doctor's time, leverage and empower the team, or serve your community by seeing more pets. Let's take a look at how this breaks down.
The stacked schedule (Table 1) allows the doctor to see only four appointments between 8 a.m.-10 a.m. It seems with a schedule like this the doctors are also under the impression they have an entire 30-40 minutes with each pet. However, this just shows with this model and workflow, the practice team is not being utilized effectively.
There is no built-in time for the technicians to take history or the clients to check out. This alone causes a 30-40 minute appointment to turn into a 40-60 minute appointment and most likely a traffic jam in the rooms. Now let's compare this to a staggered schedule and an improved workflow.
If you look at the staggered schedule (Table 2), you will see you are able to accommodate seven appointments in basically the same time frame. If you see only 30-minute appointments, you could see even more! You will also notice there is built in time for the technician, doctor, and discharge, which will be covered in more depth below. When I present this schedule everyone always gets very nervous and the usual response is, "This will never work, it's impossible. I will need more people on the team."
With proper utilization and empowerment of your existing team, however, this schedule is totally possible. In fact, with the proper training and transition, it is possible to add a third row once the team masters the two rows laid out in the graph above. This is how a four-appointment morning can easily turn into a seven- to 10-appointment morning. The result? The increased revenue you want and the additional appointment opportunities your clients really want.
So, what is the secret to making this schedule a successful reality, as well as a truly better experience for everyone? Leverage and empower your team to the max and clearly communicate their part in the workflow.
Let's dive in by "zone."
Overview of zones
Your practice already has zones sometimes they are just not well-defined. I break a practice into these zones: Client Service, Outpatient, and Inpatient (Treatment). For larger practices you may also have pharmacy, boarding, grooming, or urgent care zones. These are the responsibilities of each zone:
Client Service—answers the phones, greets clients.
Outpatient—triages all appointments scheduled to go through a room and see a doctor, +/- technician appointments.
Inpatient (treatment)—facilitates surgery and dentals, provides care for hospitalized pets, admits needing diagnostics, +/- technician appointments.
Pharmacy—fields all forms of communication for prescription requests, fills medications.
Boarding—manages all client communication as it pertains to their zone. Making reservations, providing updates to clients, etc. Provides care for all pets in boarding. Processes payments for check out.
Grooming—manages all client communication as it pertains to their zone. Schedule appointments and process payments for check out.
Urgent care—provide "after hours" care for the community. Usually, team members in this zone have to be fully cross trained and willing to move about the practice as needed.
With larger practices you can create consistent teams within each zone and recruit accordingly. For smaller hospitals where each team member wears several different hats, consider assigning zones each day. Every zone in the practice will play a role in improving the workflow.
I encourage cross-training for every team member in the practice. This not only adds value to each member of the team, but it also helps prevent compassion fatigue and burnout. Every zone requires a different set of skills, as well as a different level of client and patient interaction. Breaking up the day to day monotony is always a good thing! Below is a more detailed look at each zone.
Get in the zone–details
Client service
Not only is this zone the first voice they hear on the phone and the first face they see (pre-COVID) they are the first and second piece of our workflow. I believe client service is your command center, air traffic control, and the heart of the practice. The choices made about where appointments are placed and what information is gathered prior to the client stepping foot into the practice has a deep impact on keeping a pet moving through an appointment.
It is fair to say the majority of our clients call us prior to showing up at the practice, which gives us the opportunity to use this to our advantage. Your client service representatives should have a solid understanding of common ailments, wellness, preventives, etc. They should focus on two yes options, and ensure a good appointment mix of wellness and sick appointments. For example, "I have two appointments available, 1 p.m. and 3:30 p.m. Does one of those work for you?" I have always made sure they had a guide to follow when it comes to the sick appointments so they schedule the appropriate amount of time for each appointment.
For wellness exams, make sure your team is asking if the client has any concerns about the pet and add these to your appointment notes. For sick visits, instead of diving into the full history, just obtain their presenting complaint. Review any past due reminders and ask if any medications need to be refilled.
Before disconnecting have them confirm client information—address, phone number, and email as well as patient information—DOB, altered, etc. All of these pieces put together speeds up the check in process upon arrival which enables the pets to get into a room for their appointment expeditiously.
Outpatient
Your outpatient technicians and assistants serve a critical role in moving through the new staggered schedule. If you reference the example schedule above, the technician/assistant has the first 10 minutes in every appointment. During the time there should be a list of baseline questions asked for every pet and a set of vitals to obtain. While you can certainly personalize these to your practice, below is the list I prefer:
Weight, body score
Temperature, pulse, respiration
Presenting complaint (onset, duration, new issue, etc.)
Current diet (brand, amount fed, frequency)
Heartworm and flea prevention
Coughing, sneezing, vomiting, diarrhea
Pain score
Current dedications (name, dose, frequency)
The next 10 minutes are spent with the doctor where a full nose to tail physical exam should be performed. Discussion about treatment should ensue. The doctor should be able to relay all recommendations to a tech/assistant to create a treatment plan. Any pets needing diagnostics should be dropped off, and a pickup time scheduled according to the work needing to be done.
Discharge
To keep the flow going and allow the client service team to continue to greet and care for clients and allow the outpatient team to see the next client/patient, consider adding a discharge consultant. This person's main objective is to ensure all charges are captured, provide comprehensive discharge instructions, review any medications going home including demonstrating dosing if needed, and forward book the pet's next appointment.
This allows complete focus on the client and prevents rushing through arguably one of the most important parts of an appointment—home care. Taking the time to provide this one-on-one discharge has saved a call from a spouse or a partner later to review the entire visit since they were not present for the actual appointment.
Inpatient
This zone should handle any outpatient admits requiring diagnostics. By having a dedicated "inpatient" person or team, outpatient technicians are able to send the clients on their way and transition the pet to inpatient to receive the needed diagnostics.
This opens the room for the next appointment. Once diagnostics are complete, the inpatient technicians should circle back with the doctor and, in most cases, schedule a time for pickup or a call with the doctor to review results based on the status of the patient.
Converting your practice to a well-oiled, leveraged machine is going to take time and persistence. Each zone will start to gain a solid understanding of their part in the workflow and even an understanding of the entire workflow.
The schedule originally deemed unattainable suddenly seems completely doable. The work is evenly shared and relieves some burdens on certain parts of the practice. The end result—exactly what every practice is looking for, the ability to increase volume and revenue, maximize their team contribution to the workflow, and ultimately help more pets in their community.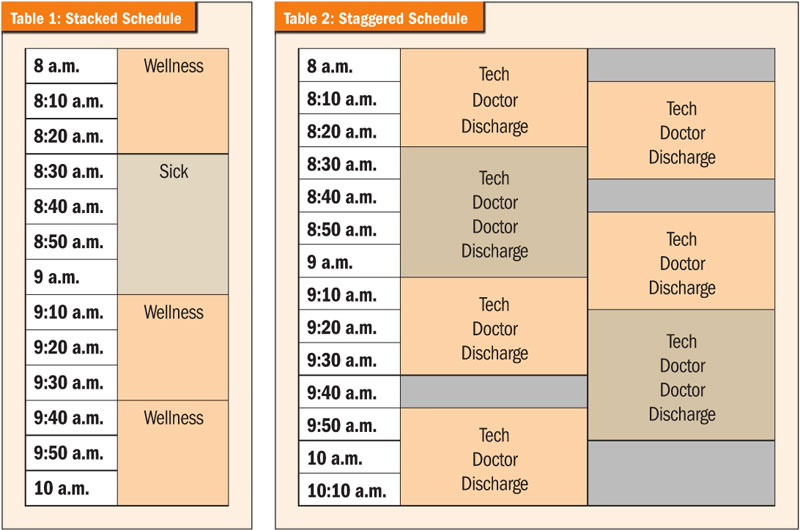 Emily Shiver, CVPM, CCFP, CVBL, is a certified veterinary practice manager serving as the Florida regional director of operations for Family Vet Group. Her passion is creating and maintaining positive, successful workplace cultures, as well as helping practices increase revenue and the client experience. Shiver enjoys every aspect of inventory and strives to help practices meet and exceed their inventory goals. She and her husband reside in Lakeland, Fla., with their two Patterdale terriers and a few other furry family members.