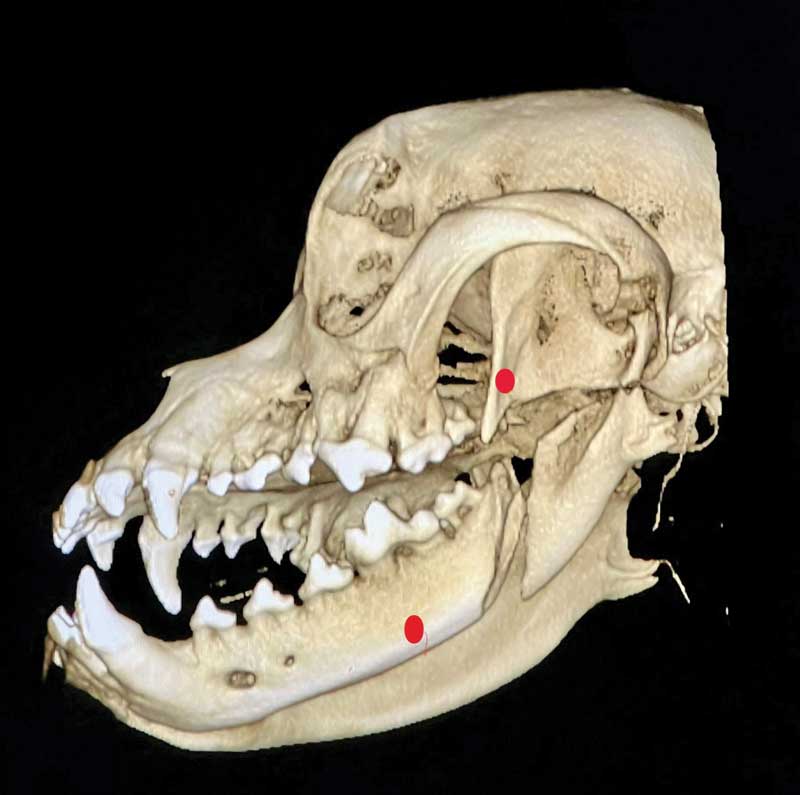 In last month's column, I discussed a technology that is just starting to take off in veterinary medicine, but may have a bright future: bioresorbable miniplates, pins and anchors for repair of maxillofacial fractures. This month, I will continue this discussion with a focus on differences between bioresorbable miniplates and titanium miniplates and will discuss a bioresorbable suture-holding anchor system that appears to have application for use in certain mandibular fractures.
Bioresorbable versus titanium
First, terminology: Those of us with a medical background will likely get their feathers ruffled by use of the term "resorbable" when discussing an external product that dissolves when placed within the body. We have been taught that resorption occurs with physiologic components (deciduous teeth, bone), whereas the term "absorbable" is often used to describe degradable non-self-items, such as suture. Whether you agree with use of the term "resorbable" when discussing these dissolvable miniplates, the term "resorbable" or "bioresorbable" is already entrenched in the literature.
Removal requirement. One difference between bioresorbable plates and titanium miniplates is resorbable plates are less likely to require removal at a future anesthesia. In a study of 1,883 pediatric patients, device-related complications requiring reoperation occurred in less than 0.5 percent of the implanted patients, which is less frequent than is reported for titanium plates.1 Titanium screws can loosen over time, which may increase the risk of infection or seroma formation. Plates and screws can get infected, especially if the oral mucosa becomes eroded in the area of the plate over time. Whether using titanium or resorbable plates, tips to decrease likelihood of exposure through the mucosa include placement through an extraoral approach rather than an intraoral approach and utilizing the ventral cortical bone of the mandible for placement location rather than a more dorsal location.
Material. One of the most significant differences between resorbable and titanium plates is resorbable plates are thermoplastic. One of the steepest parts of the learning curve with using titanium miniplates is bending the plate to conform to the shape of the bone it is applied to. Thermoplastic plates can be heated in a sterile saline bath and shaped by placing the plate at the site of the fracture while still moldable. Shortly after being removed from the saline bath, the plates begin to harden to their original state.
Bone attachment. Another difference between resorbable plates and titanium miniplates is the way the plates are attached to the bone. The only commercially available resorbable plate system for veterinary patients uses pins, whereas titanium miniplates use screws to attach plates to the bone. After drilling a hole with a 1.6 mm drill bit, the 2.1 mm pin is placed with an ultrasonic device (sonotrode), which heats the pin, allowing it to melt into the bone and fuse with the plate. Smoothing sonotrodes can be used to remove sharp edges and to ensure a bond between the plate and the pin (Figure 2). In areas where a smaller hole may be needed to avoid certain structures, a hole can be drilled with a 1.0-mm drill bit and placement of a 1.6-mm pin.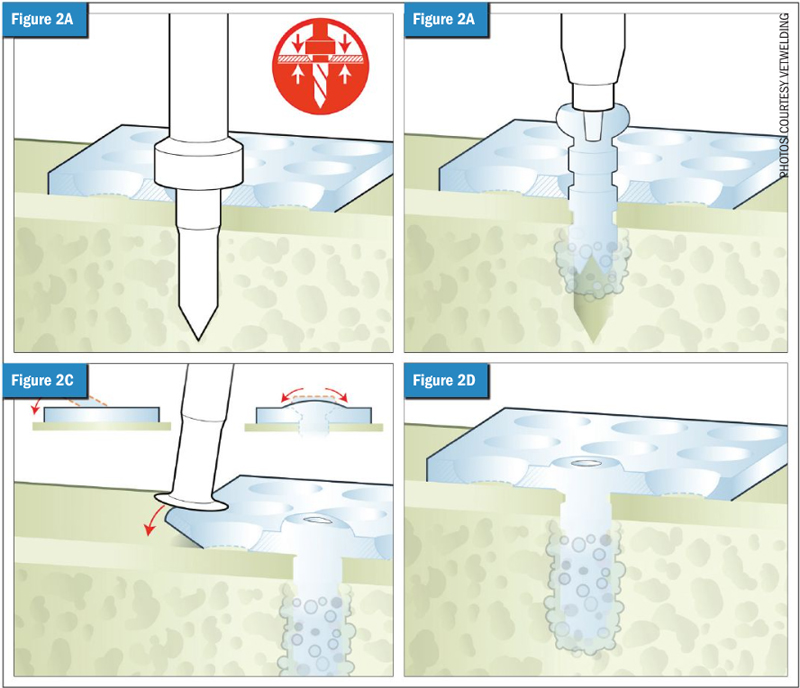 The company that manufactures veterinary resorbable plates states the pin/plate system is indicated for use in non-loadbearing applications.2 Titanium plates will likely prove to be stronger than resorbable plates in our veterinary patients' mandibles, but it will be interesting to see results of biomechanical testing, since creation of a single unit by welding the pins to the plate may increase strength.
I have had the opportunity to use a new resorbable anchor system for repair of a caudal mandibular fracture repair in a puggle (Figure 1). In this case, a titanium miniplate was utilized on the caudoventral mandible, and an anchor was placed in a hole drilled in the coronoid crest dorsal to the ramus fracture (red circle in Figure 1). Resulting in a relatively small footprint in the bone, the drill bit for anchors is 1.8 mm wide and 7.2 mm long. The anchor has the ability to secure various absorbable or non-absorbable sutures ranging in diameter as narrow as USP 4-0 to USP 2. Since the anchor melts into the cancellous bone, there is no need for intact cortical bone for adequate seating of the anchor.
I suspect these anchors, plates, and pins will provide unique attributes for fixation of fractures that previously may have otherwise had less adequate options.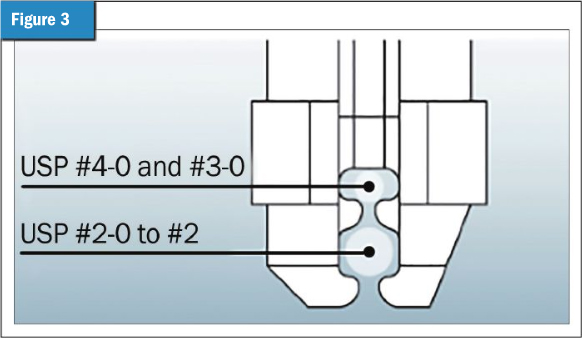 John Lewis, VMD, DAVDC, FF-OMFS, practices and teaches at Veterinary Dentistry Specialists and Silo Academy Education Center, both located in Chadds Ford, Pa.
References
Eppley BL. Use of resorbable plates and screws in pediatric facial fractures. J Oral Maxillofac Surg. 2005;63(3):385-91. https://pubmed.ncbi.nlm.nih.gov/15742292