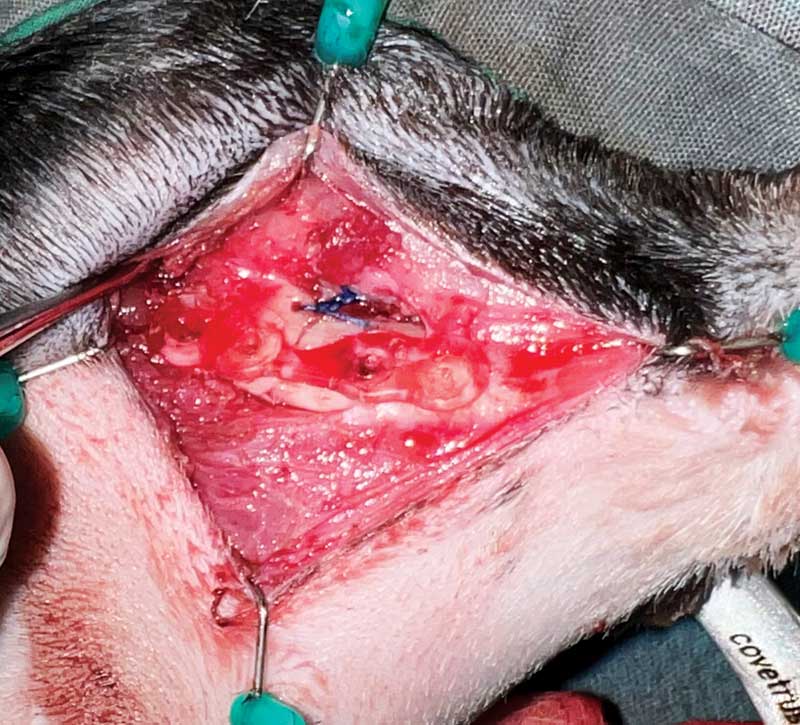 I hope your holiday season was enjoyable and your new year is off to a great start. Currently, I am preparing a lecture I will present at VMX on January 16, highlighting a new tech: bioresorbable miniplates to repair maxillofacial fractures.
This technology has been available in human maxillofacial surgery for a long time,1 but as is often the case, it takes a while for new techniques and equipment to "trickle down" to our veterinary patients.
I have always considered myself an early adopter, and I want to emphasize there is still much we need to learn about this new technology, but I also wanted to share our initial experiences of resorbable miniplates, pins and anchors for use in jaw fractures. My initial impression is resorbable thermoplastic plates appear to be an important tool in the armamentarium of the oral surgeon, providing internal fixation options with important differences when compared to titanium miniplates.
Veterinary dentists are equipped with knowledge of how to perform less-invasive fixation options, such as interdental wire and composite splints, which work well in many cases. Dentists are now using maxillofacial miniplates more frequently than when I wrote about miniplates, back in Veterinary Practice News in 2016.2 In fact, new research has since been generated, which includes  biomechanical studies that compare locking and non-locking titanium miniplate constructs in cats.3
Adapting to change
When a veterinarian purchases a new "toy" for the hospital, the natural tendency is to want to use it on every case. However, when it is a novel technology, it is probably best to wait for the ideal case to walk through the door.
Approximately five months ago, Marissa Berman, DVM, saw a patient at our practice that seemed to be the perfect case for this new technology. This would prove to be the first use of a resorbable plate in the United States in a clinical patient, according to Stephanie Waite, key account and education manager of the company that offers the only commercially available veterinary resorbable miniplate system.
"Love," a six-month-old female intact Chihuahua, presented with a transverse fracture of the right mandible through the distal root of tooth 409. After intraoral extraction of the tooth, an extraoral approach allowed for placement of a four-hole resorbable plate on the ventrolateral right mandible. The fracture site healed very nicely, resulting in normal function and occlusion. This case and others will be submitted to the Journal of Veterinary Dentistry as a case series manuscript in the near future.
Composition of the construct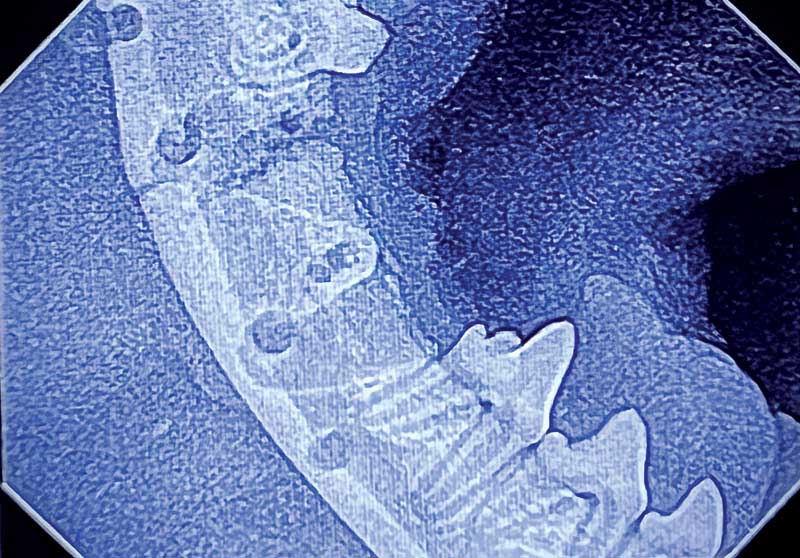 Plates and securing pins are made of bioresorbable Poly-D,L-lactic Acid (PDLLA). The plates are secured by 2.1-mm resorbable pins that are advanced into drilled holes with an ultrasonically powered sonotrode. Pins become "welded" to the plates due to the focused thermal energy of the sonotrode. Thermoplastic welding of the plate to its pins provides a construct that is more stable than use of PDLLA screws.4
Resorbable screws are unable to be manufactured in a self-tapping version, therefore, use of pins instead of screws reduces surgical time, while still accomplishing an interlock between the pin and bone when the liquefied polymer flows into trabecular bone adjacent to the drill hole.5
Safety
As with titanium miniplates, care must be taken to avoid drilling holes through important anatomical structures, such as tooth roots and neurovascular bundles. Resorbable plates appear to be at least as safe as currently used titanium miniplates based on studies of use in humans and experimental animals.1
A multicenter study of 1,883 human pediatric patients documented the safety and long-term value of the use of resorbable plate and screw fixation in pediatric craniofacial patients. Device-related complications requiring reoperation occurred in less than 0.5 percent of the implanted patients, which is less frequent than is reported for metallic bone fixation. It was concluded that resorbable bone fixation for the rapidly growing cranial vault has fewer potential complications than the traditional use of metal plates, screws, and wires.1
In next month's column, I will continue this discussion with a focus on differences between bioresorbable plates and titanium miniplates, and I will discuss a bioresorbable suture-holding anchor system that we have also used for certain mandibular fractures.
DEGRADATION
The in vivo degradation of the pins and plates is based on the process of hydrolysis, which results in a complete metabolization of the polymer into water and carbon dioxide.
John Lewis, VMD, DAVDC, FF-OMFS practices and teaches at Veterinary Dentistry Specialists and Silo Academy Education Center, both located in Chadds Ford, Pa.
References
Eppley BL, Morales L, Wood R, Pensler J, Goldstein J, Havlik RJ, Habal M, Losken A, Williams JK, Burstein F, Rozzelle AA, Sadove AM. Resorbable PLLA-PGA plate and screw fixation in pediatric craniofacial surgery: clinical experience in 1883 patients. Plast Reconstr Surg. 2004;114(4):850-856. 
https://www.veterinarypracticenews.com/when-to-use-miniplates-for-mandibular-fractures/
Greiner CL, Verstraete FJM, Stover SM, Garcia TC, Leale D, Arzi B. Biomechanical evaluation of two plating configurations for fixation of a simple transverse caudal mandibular fracture model in cats. Am J Vet Res. 2017;78(6):702-711.
Schneider M, Seinige C, Pilling E, Rasse M, Loukota R, Stadlinger B, Mai R, Eckelt U. Ultrasound-aided resorbable osteosynthesis of fractures of the mandibular condylar base: an experimental study in sheep. Br J Oral Maxillofac Surg. 2012 Sep;50(6):528-32.
Pilling E, Meissner H, Jung R, Koch R, Loukota R, Mai R, Reitemeier B, Richter G, Stadlinger B, Stelnicki E, Eckelt U.
An experimental study of the biomechanical stability of ultrasound-activated pinned (SonicWeld Rx+Resorb-X) and screwed fixed (Resorb-X) resorbable materials for osteosynthesis in the treatment of simulated craniosynostosis in sheep. Br J Oral Maxillofac Surg. 2007 Sep;45(6):451-6.