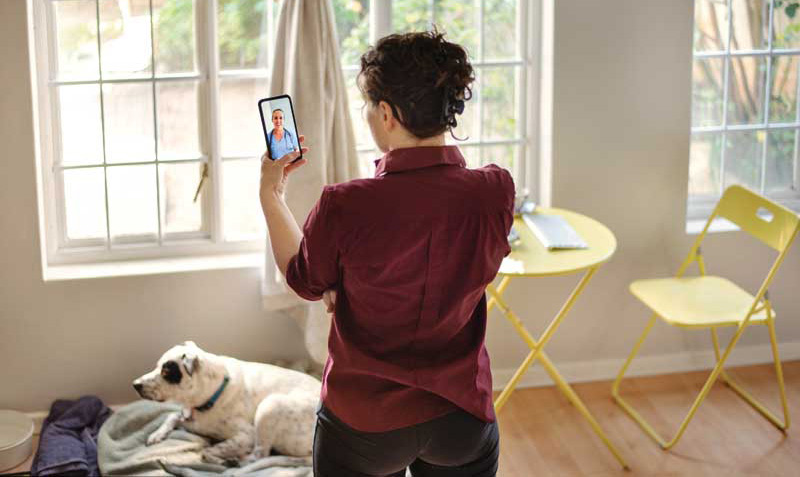 A year ago, telemedicine was barely a twinkle in veterinary medicine's eye. Then COVID came along and now an estimated 30 to 35 percent of practices are offering some form of remote care, according to a survey by the American Veterinary Medical Association (AVMA).
One is telemedicine, using information gathered from clients (with whom there is an already established veterinary-client-patient relationship, or VCPR) online or by phone, email, or text to make a diagnosis, give a prognosis, or prescribe medication.
Another is teletriage, also known as teleadvice, advising clients or non-clients on the urgency of a problem and directing them to the proper level of care, but not making an actual diagnosis.
The overarching term "telehealth" refers to any type of electronic communication between veterinarians and clients. Telehealth can also include filling prescriptions online or by phone as well as telemonitoring, using devices that allow monitoring of patients at off-site locations, such as the client's home.
Before last year, the most common uses of telehealth were for teletriage and for consults between specialists and general practitioners.
"These uses grew tremendously during the past year," says Lori Teller, DVM, DABVP, clinical associate professor of telehealth at Texas A&M College of Veterinary Medicine. "The other area that grew was direct-to-client telemedicine. Many of these visits were for follow-ups and rechecks and taking care of minor acute illnesses or injuries. Specialists also have used telemedicine for recheck visits with their clients and patients. Using telemedicine for curbside visits has also become very popular."
Virtual visits can enhance pet care and client communication. When appointments are booked so far in advance that people can't get in right away for that itchy dog or vomiting cat, teletriage is an important element of care.
But it's not always easy to decide how or whether to use the systems.
"What I've discovered over the last nine months, watching clinics struggle with it, is if you don't know what problem you want to solve, if you don't know what audience you're trying to serve, and the specific use case you want to use it for, you're going to struggle," says Jessica Vogelsang, DVM, a San Diego veterinarian and board member of the Veterinary Virtual Care Association. "You're not going to know how to fit it into your workflow, the staff isn't going to know how to explain it to clients, and clients don't want to pay for it."
Will clients use it?
Kathryn Primm, DVM, owner of Applebrook Animal Hospital in Ooltewah, Tenn., experienced client unwillingness to pay for telemedicine consults when she began offering them at the beginning of the pandemic.
"They could prepay for a consult with one of our vets," she says. "They could choose Skype video, IM, or a voice call."
Over a period of several months, only two clients elected to use the service. One selected a voice call and one IM. A third client was directed to the platform but didn't want to pay for it.
The clients who made use of the service were grateful for it, Dr. Primm says. One was a woman with diabetes, who didn't want to come in contact with anyone because of COVID, and the other had a dog who was fearful when away from the owner.
For Lisa Radosta, DVM, DACVB, at Florida Veterinary Behavior Services in West Palm Beach, Fla., telemedicine has pros and cons.
"Scared pets don't have to come to the hospital," she says. "We are able to help pets that we couldn't before, and our team stays safe from COVID."
One drawback she notes is it's not possible to directly observe patients as they move around their environment or to perform a physical exam. And while clients have responded well for the most part to virtual visits, some don't want to use the platform or aren't tech savvy.
"Technology scares people sometimes and that means they get frustrated," Dr. Radosta says. Or they can become too used to telehealth and stop bringing pets in for actual visits.
Different states, different rules
Where a practice is located can also determine whether telemedicine is practical. In most states, for instance, once a VCPR is established, a veterinarian can perform telemedicine for the duration of the relationship. But in California, a new, in-person VCPR must be established for every new medical condition.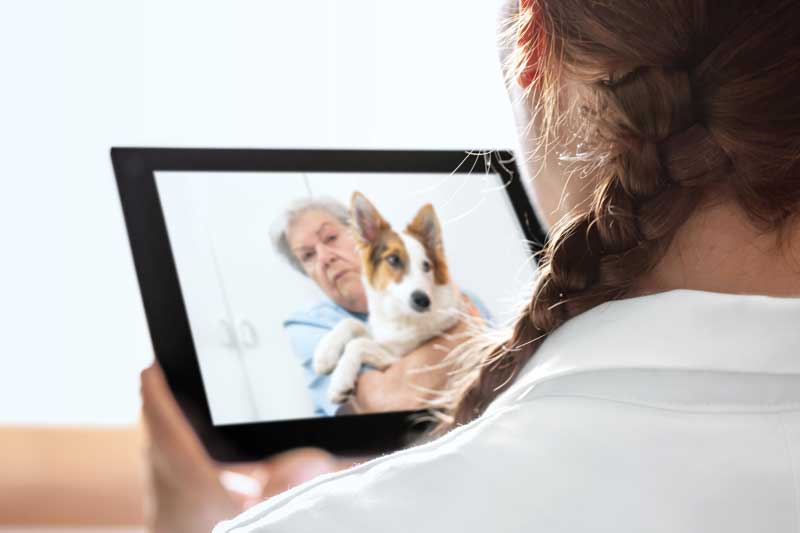 "If you have been seeing an allergic dog and now he's vomiting, there is no VCPR," Dr. Vogelsang says. That position was rolled back during COVID to make it easier for California veterinarians to continue to treat patients without having to see clients in person, but it is expected to revert after COVID restrictions are lifted.
That's one reason that Gershon Alaluf, DVM, owner of Canyon Animal Hospital in Laguna Beach, Calif., and Brookfield Pet Hospital in Fountain Valley, Calif., does not practice telemedicine, although teletriage is a component of his practices. He also has concerns about liability. "If someone over telemedicine tells you their dog is vomiting but it dies of bloat in three hours, who is liable?"
And clients at his family-style practices prefer the face time they get in the parking lot after a pet's examination. They have the option of doing Zoom appointments so they can see the exam as it takes place, but he says few clients request that. They can also reach him or follow up via his cell phone or personal email if necessary.
But for seniors who are afraid to leave their homes, people who live in remote areas with little or no access to veterinary care, or people who rely on public transportation and would find it difficult to bring a pet in, telemedicine offers vital benefits. For them, telemedicine is a need Vogelsang would like to see expanded in her state.
"The way things are standing right now, there aren't a lot of people using telemedicine with new clients," she says. "But this is an opportunity for all of those people that right now don't access care at all, so I would really like for us to be a little more open-minded about giving veterinarians the discretion to establish a VCPR if they feel it's appropriate."
Types of platforms
It can be difficult to choose from among the many platforms available. One factor to consider is how they will be used: triage, follow-up care, consults with specialists?
Dr. Teller suggests asking the following questions:
Will the veterinarian be incorporating AI-assisted technologies for remote monitoring or to follow patients with chronic conditions?
Will the veterinarian or veterinary technician provide client education via telemedicine?
Will it be used for improving efficiency of curbside consults while clients are not allowed into the building?
How will payment be collected?
Does the platform integrate with the practice management system?
"It is helpful to look at current workflows and determine how telemedicine will be integrated into those and then start evaluating how telemedicine will be provided to clients," she says.
For instance, some platforms focus on after-hours triage, others on providing general advice, information on puppy training, or administering medication. Some provide multiple services.
"The other decision to be made is will telemedicine visits be done synchronously or asynchronously, or some combination of the two?" Dr. Teller says. "Some platforms offer one or the other, and some offer both. The veterinarian will need to decide what choice is best for the practice workflows, as well as which type the veterinarian and the client will be most comfortable utilizing."
A strong broadband connection is vital if using platforms that provide real-time live audiovisual interactions. Text-based services require less connectivity but don't offer the same opportunities for communication and sharing that an audiovisual connection brings.
Before choosing a platform, think about what's important to you and what problem you're trying to solve. Are your phone lines overloaded? Do you need more appointments? Are your veterinarians slammed with follow-up calls? The answers to those questions can help you make the best decision for your practice. The Veterinary Virtual Care Association has a directory that sorts platforms by different variables, Vogelsang says.
"Instead of looking at 70 platforms, you're looking at maybe four. It's a little more manageable."
Vogelsang believes telemedicine will take off as more data is gathered about how it is used and how patient outcomes are improved. AVMA has policies and offers guidance and CE credit on telemedicine (https://www.avma.org/resources-tools/practice-management/telehealth-telemedicine-veterinary-practice/veterinary-telehealth-basics) and https://www.avma.org/blog/avma-guidelines-support-telehealth-use-veterinary-practices.
"Telemedicine is at its best when both the veterinarian and the client are comfortable communicating with these modalities, and the veterinarian can obtain the information necessary to provide appropriate care for the patient," Teller says.
Kim Campbell Thornton is a frequent and longtime contributor to Veterinary Practice News. She is a Southern California-based freelance writer who specializes in pet-related topics.