Suggested Veterinary Products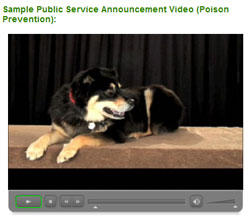 Lumina Media, parent of VeterinaryPracticeNews.com, has launched a monthly interactive public service announcement video contest designed to highlight pet-care topics and promote responsible pet ownership.
"This is a fun and creative way for devoted pet owners to help educate others on serious pet -care issues," said Melissa Kauffman, editorial director for Lumina Media. "Our website users are amazing and we strongly believe that all of us working together will make a better world for our pets."
Lumina Media will provide scripts on pet care topics, including nutrition, summer safety and disaster preparedness, on several of its AnimalNetwork.com species-specific websites: www.dogchannel.com, www.catchannel.com, www.birdchannel.com, www.reptilechannel.com, www.horsechannel.com and www.smallanimalchannel.com.
Visitors will use the scripts to create PSA videos on the monthly topic. For example, the initial contest will highlight Pet Appreciation Week, June 7-13. The deadline for uploading videos to the respective sites will be May 15.
One winner from all the sites will be selected each month and named the Editor's Choice PSA. The submitter will receive 1,000 points for the respective online club (dog, cat, bird, etc.) to apply toward redeemable gifts and merchandise. Winners will also receive a one-year subscription to the BowTie magazine of their choice.
The selected PSA will be shown on all the websites during the month, including Lumina Media's business-to-business sites www.petproductnews.com and www.veterinarypracticenews.com.