Granulomatosis with polyangiitis (GPA) is a very interesting disease. We discussed it briefly in my December 2013 column under the larger topic of benign oral conditions that can mimic a malignancy.1 However, this topic deserves a refresher course in its own dedicated article.
In last month's column, we talked about the importance of an incisional biopsy. Formerly known as Wegener's granulomatosis, granulomatosis with polyangiitis is an excellent example of why an incisional biopsy is an important first diagnostic step prior to definitive treatment. I discussed a patient named Willow, an 11-year-old German shepherd with a large red, broad-based mucosal mass arising ventral to tooth #310 (Figure 1A). After receiving the diagnosis, we began a regimen of oral prednisone at 1 mg/kg/day. At reexamination five days later, Willow's lesion improved dramatically (Figure 1B).
Looks like one thing, but it's something else
Granulomatosis with polyangiitis may appear to be an aggressive cancerous lesion, and if mistakenly identified as a malignant process, improper treatment may ensue. I recall one patient with a history of having a mandibulectomy for treatment of an aggressive mandibular lesion, only to find the lesion showed no signs of cancer. Five months later, the patient (a seven-year-old neutered male corgi) developed a similar lesion in the area of the maxillary incisors and rostral maxilla of three weeks duration (Figure 2A). We biopsied the maxillary mass—histopathology showed no evidence of neoplasia. Histopathological findings were consistent with granulomatosis with polyangiitis. The patient was placed on prednisone therapy at 1 mg/kg/day for two weeks, followed by 0.5 mg/kg/d until the one-month reexamination. At that time, the patient presented with significant clinical improvement (Figure 2B); however, severe gingival recession in the area would necessitate future extraction of four maxillary incisors.
Until 2006, oral manifestations of this immune-mediated disease were not documented in the veterinary literature.2 Granulomatosis with polyangiitis manifests as severely ulcerative or proliferative gingivitis and mucositis, and its aggressive appearance can mimic neoplastic processes, such as squamous cell carcinoma, soft tissue sarcoma, and amelanotic melanoma. It may be multifocal, and although a combination of cyclophosphamide and prednisone is utilized to treat the condition in humans, prednisone treatment alone has resolved the condition in the cases I've seen with a long, slow watchful taper. In humans, cyclophosphamide is often continued for a full year beyond initial clinical signs.2
In human medicine, granulomatosis with polyangiitis is more commonly referred to as granulomatosis with polyangiitis. Oral manifestations are often called "strawberry gingivitis" due to a combination of petechiation and gingival hyperplasia. The disease was initially called Wegener's arteritis, Wegener's disease, or Wegener's granulomatosis. It was named after German pathologist and Nazi war criminal, Friedrich Wegener, who described three cases.3
What is GPA?
Occurring in other areas of the body, GPA is an idiopathic immune-mediated vasculitis, which in humans is characterized by the presence of circulating antineutrophil cytoplasmic antibodies. It most commonly involves capillaries, venules, and arterioles of the ear, nose, and throat; lungs; and glomeruli.4
A case of destructive hemopurulent rhinitis associated with relapsing periods of pyrexia, lethargy, and stiffness, as well as generalized pulmonary infiltrates, in a young Anatolian shepherd dog was described in 2015. Perinuclear antineutrophil cytoplasmic antibodies (pANCA) were detected in the dog's serum. Signs resolved promptly and completely once immunosuppressive doses of prednisone were administered, and have not recurred. This article was the first report on the use of pANCA to investigate rhinitis in dogs. The concurrent manifestations of erosive hemopurulent rhinitis, ground-glass opacities on pulmonary computed tomography, pyrexia, and listlessness resembled GPA as described in humans.4 A possible relationship of the pANCA anti-myeloperoxidase was investigated in a one-and-a-half-year-old female Scottish terrier with necrotizing scleritis and granulomatous disease of the cornea, choroid, ciliary body, and orbital fat. In this study, levels of plasma anti-myeloperoxidase antibodies were not statistically different from those of 13 healthy dogs.5
Aren't zebra diagnoses fun? Keep this one in mind. Your patients and clients will thank you for it! Have you seen a case of granulomatosis with polyangiitis? If so, drop me an email at info@siloacademy.com.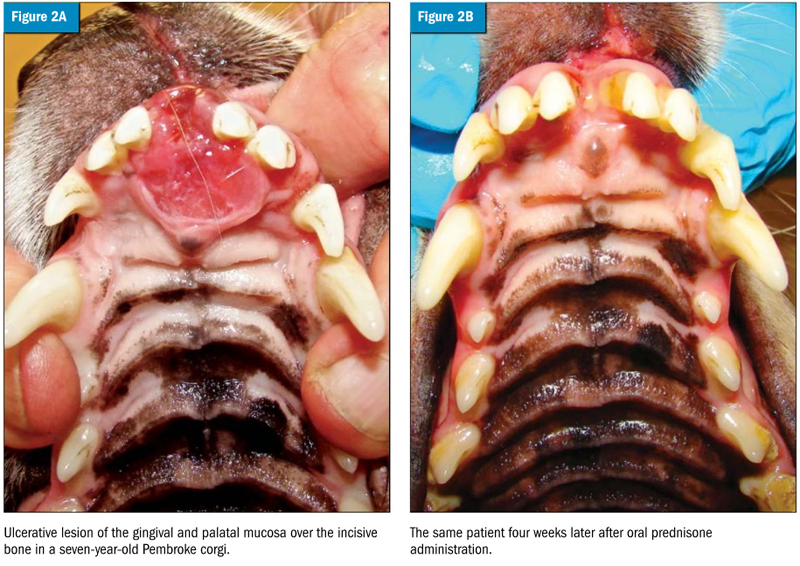 John Lewis, VMD, FAVD, DAVDC, practices dentistry and oral surgery at Veterinary Dentistry Specialists and is the founder of Silo Academy Education Center, both located in Chadds Ford, Pa.
References
Krug W, Marretta SM, de Lorimier LP, White DK, Borst L. Diagnosis and management of Wegener's granulomatosis in a dog. J Vet Dent 2006;23(4):231-236.
Böhm M, Basson S. Erosive rhinitis resembling granulomatosis with polyangiitis (Wegener's granulomatosis) in an Anatolian shepherd dog. J S Afr Vet Assoc. 2015;86(1):1187.
Cazalot G, Lavergne SN. Investigation of Anti-Myeloperoxidase Antibodies in a Dog with Bilateral Necrotizing Scleritis. Vet Sci. 2015;2(3):259–269.