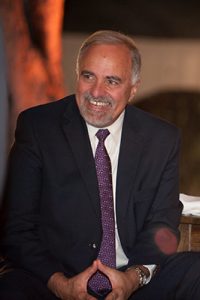 Bob Vetere, president and CEO of the American Pet Products Association (APPA) will retire following Global Pet Expo 2019 in March. Steve King, president of the Pet Industry Distributors Association (PIDA), has been chosen by the APPA board to be Vetere's successor. King will join APPA in January 2019; both will work together to ensure a smooth transition.
Vetere has headed APPA since 2002. Under his leadership, APPA's membership has grown from 668 to 1,270 current members, according to the association. He has led several pet industry-wide initiatives and is credited with establishing the Human Animal Bond Research Institute, the Pets Add Life Campaign, and the Pet Leadership Council.
He was honored at Global Pet Expo 2016 with the Rolf C. Hagen Hall of Fame Award for his achievements in the pet industry and also received the Pet Industry Joint Advisory Council Chairman's Award of Excellence.
"On behalf of the board of directors, I want to thank Bob for his dedicated and exceptional leadership of APPA for 16 years," said APPA chairman Kevin Fick. "Bob's passion for this industry is undeniable. Many important initiatives have come to fruition because of his commitment to advancing the industry. We wish him the best of luck in his retirement."
"I have given my all to this industry for many years and it was very important to me that my replacement be someone with the same passion that has fueled me, and I'm fully confident that that person is Steve King," Vetere said. "I'm so grateful for my dedicated staff and every one I've worked with along the way, and now look forward to stepping back and enjoying retirement."
King has served as president of PIDA since 1990. He also has served as executive director of the Pet Care Trust for the past nine years, which promotes pet ownership most prominently through the Pets in the Classroom program. King played a key role in the decision for PIDA and APPA to join forces to create Global Pet Expo and The Pet Industry Leadership Conference.