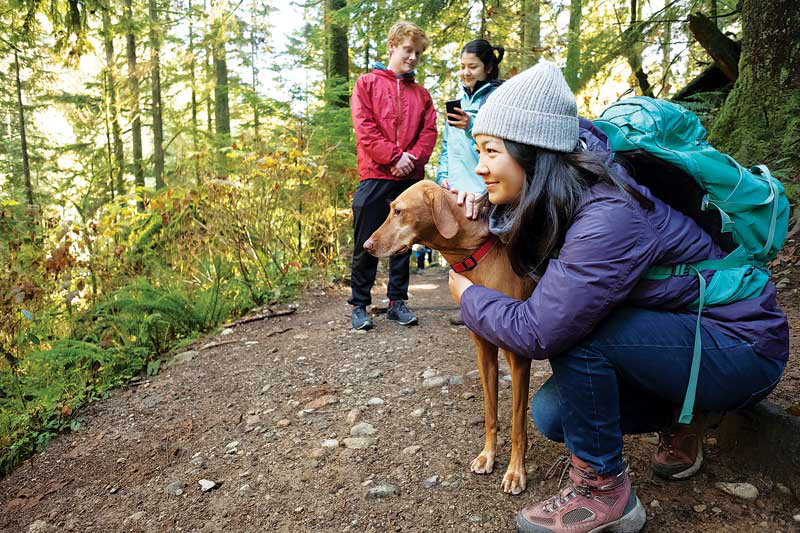 Working and schooling from home gave families more time together and got more dogs and cats their forever homes. The Humane Society of the Pikes Peak Region in Colorado Springs, Colo., emptied its shelter in March 2020, adopting out every available dog and cat.1 Nationwide adoption rates for pets was 73 percent between January and June 2020, up from 64 percent in 2019, reports Shelter Animals Count, a nonprofit that shares data on shelter animals.2
Families explored dog parks and hiking trails with their new canine companions, but they brought home more than memories. A prevalence study of 3,006 dogs visiting dog parks in 30 metropolitan areas found one in five had intestinal parasites.3 Elanco Animal Health, IDEXX Laboratories, and Oklahoma State University collaborated on the study. Parasites were found at 85 percent of dog parks, with 13 percent of dogs testing positive for Giardia, seven percent had hookworms, and two percent had whipworms.
Canine intestinal parasite infections are frequently subclinical, but may become clinically apparent in puppies and in adults with heavy burdens.3 Stray and shelter dogs have higher rates of patent infections and may shed eggs, oocysts, or cysts that can contaminate the environment and act as a source of reinfection. If newly homed dogs are harboring intestinal parasites and left untreated, they could infect other dogs in their new locations and in some cases infect humans.
Veterinarians can help drive recognition of the need for effective testing and control measures. Use these strategies to increase client compliance for intestinal parasite screening and prevention.
Why it's important to ask the right history question
If veterinary nurses or assistants ask, "Is your dog on heartworm preventives?" they will get yes-or-no responses from clients. A client may answer "yes" but gave the preventive three months ago and failed to follow monthly dosing instructions. Because most heartworm preventives also provide intestinal parasite control, poor dosing compliance could put pets at risk. A stronger history question is, "Which preventive are you giving your pet, and when did you give the last dose?" You will better assess dosing compliance and invite educational discussions. 
Say it simply
Avoid the term "fecal," which is medical jargon that some clients may not understand. A confused client won't choose testing. Use the term "intestinal parasite screen," which is crystal clear.
Send reminders for testing
Have veterinarians set protocols for the frequency of testing in puppies, kittens, and adult pets. The Companion Animal Parasite Council (CAPC) offers guidelines for intestinal parasite testing at https://capcvet.org/guidelines/. Puppies and kittens should be tested for intestinal parasites at least four times during the first year of life and at least two times per year in adult pets depending on patient health and lifestyle factors.4 CAPC advises putting puppies and kittens on monthly preventives as soon as label recommendations allow, deworming again in two weeks, and then maintaining ongoing preventives.
Try to send appointment reminders 60 days ahead and use forward booking
With many practices booking six to eight weeks out during the pandemic, and an influx of new clients, send reminders 60 days ahead. Otherwise, you risk missing the critical timing of puppy and kitten vaccinations, testing, and deworming, and adult pets may fall overdue. Switch from traditionally sending reminders 30 days ahead to 60 days.
Use benefit statements to lead clients to forward book and let you offer more appointment choices. Texts have the highest response with a 99 percent open rate and have an average response time of 90 seconds.5 In March, text this to clients with patients coming due in May: "<Pet name> will be due for a checkup May 15. We are experiencing increased appointment requests. Book now to ensure your first choice of time, day, and doctor. Click here to book online or download our app." Drive clients to online and app booking tools to further reduce call volume.
While most clinics rely heavily on email reminders, healthcare emails only have a 33 percent open rate.6 Powerful subject lines will increase open rates. Include the pet's name and a call to action. A strong subject line is, "<Pet name> is due for a checkup May 15 | Book now for best availability." The body of the email would say, "Because many pets became overdue when COVID safety guidelines limited us to urgent care and emergencies, we are experiencing increased appointment requests. <Pet name> will be due on May 15. To ensure your first choice of doctor, time, and date, we need to forward book your pet's appointment now. Click here to book online or download our app." 
Send preventive refill reminders
The American Animal Hospital Association (AAHA) compliance study found only 55 percent of dogs get year-round heartworm preventives.7 The AAHA's Productivity and Financial Pulsepoints, 10th ed., reports flea, tick, and heartworm income as 11 percent of total revenue.8 Don't risk patient or practice health.
Preventives should have refill reminders one month before doses will run out. Prompt clients to refill medications with texts, emails, and app notices. To drive sales and lower call volume, guide clients to your hospital's online store or to get curbside pickup. Text this: "<Pet name> needs a refill of <brand> for heartworm and intestinal parasite protection. Click here to refill in our online store with home delivery OR reply Y to refill and get curbside pickup at our hospital. Get the same rebates/free doses online or at our clinic."
For email reminders, a standout subject line would be: "<Pet name> needs a refill of preventatives. Click to order.." The email's body would drive the sale: "<Pet name> needs a refill of <brand> for heartworm and intestinal parasite protection. Click here to refill in our online store with home delivery. If you want curbside pickup at our hospital, reply to this email with "curbside pickup" in your subject line. We will email you when your medication is ready and send you a link to pay online. Enjoy the same rebates/free doses online or with curbside pickup."
Share test results promptly
At a busy seven-doctor practice, technicians and assistants took a "no news is good news approach." The timesaver was a client compliance killer. While the medical team called clients about positive results, they didn't share negative test results and didn't show value for professional fees. An intestinal parasite test averages $39.96, according to the AAHA's  The Veterinary Fee Reference, 11th ed. (centrifugation, zinc sulfate).9 How can you ask clients for $40, not share results, and then expect clients to gladly give up another $40 in six months?
Set expectations for how and when you will communicate test results. During the appointment, tell clients, "We send our intestinal parasite tests to a reference lab and will have results tomorrow. We will call you if results are positive to discuss the diagnosis and treatment. If results are negative, we will email/text you. Let me confirm your email/cell number so we may promptly share results with you." This saves time while increasing client compliance for rescreening based on your standards of care.
Create social posts about prevalence in your area
CAPC offers parasite prevalence maps by county and state for intestinal parasites, heartworm, tick-borne diseases, and viral diseases (https://capcvet.org). CAPC also provides expert articles and videos for client education at https://www.petsandparasites.org. Use free social media design templates from websites such as https://www.canva.com. Tailor posts with your hospital logo and phone number for branding.
Pet adoption trends are good news for veterinary practices. Veterinarians play dual roles in protecting pets' and people's health. Regular testing and maintaining pets on broad-spectrum parasite control medication can help decrease health risks to pets and the potential for zoonotic infections.
Wendy S. Myers, CVJ, has been training veterinary teams for 21 years as owner of Communication Solutions for Veterinarians. She teaches teams to become confident communicators, so more pet owners say yes to medical care. Wendy shares her expertise through conferences, online courses, and monthly live CE credit webinars. She is a certified veterinary journalist and author of five books. Her passion is to help practices like yours thrive and grow through effective communication skills. You may reach her at wmyers@csvets.com or www.csvets.com.
References
Kinder L. When 'Empty' Is a Good Thing: Heightened Interest in Pet Adoptions Clears Kennels During Stay-at-Home Order. The Tribune. Available at: https://gazette.com/thetribune/when-empty-is-a-good-thing-heightened-interest-in-pet-adoptions-clears-kennels-during-stay/article_5f6c8a2e-75d3-11ea-aaf5-cf565a2c5346.html. Accessed Jan. 5, 2021.
Schrotenboer B. Dog Days of the Pandemic Create a Thriving Economy for Man's Best Friend. USA Today. Available at: https://www.usatoday.com/story/money/2020/09/02/dog-adoption-covid-19-creates-a-thriving-business-for-dogs/
5680569002. Accessed Jan. 5, 2021.
Detection of gastrointestinal parasitism at recreational canine sites in the USA: The DOGPARCS study. BioMed Central Ltd. Available at: https://parasitesandvectors.biomedcentral.com/
articles/10.1186/s13071-020-04147-6.
Accessed Jan. 5, 2021.
Companion Animal Parasite Council Hookworm Guidelines. Available at: https://capcvet.org/guidelines/hookworms/. Accessed Jan. 5, 2021.
Burke K. 107 texting statistics that answer all your questions. Text Request. Available at: www.textrequest.com/blog/texting-statistics-answer-questions. Accessed Jan. 5, 2021.
Brudner E. Email Open Rates by Industry: See How You Stack Up. Available at: https://blog.hubspot.com/sales/average-email-open-rate-benchmark. Accessed Jan. 5, 2021.
Compliance: Taking Quality Care to the Next Level. American Animal Hospital Association, 2009:11,19.
Financial and Productivity Pulsepoints, 10th edition. Lakewood, Colorado. AAHA Press 2019;3.
Laboratory Tests Completed by Outside Lab. The Veterinary Fee Reference. Lakewood, Colo: AAHA Press: 2021;168.