Dogs on wheels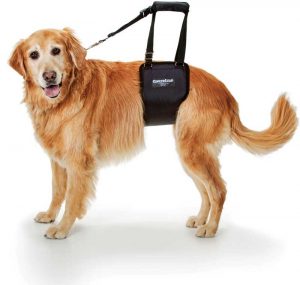 A wheelchair is another option for companion animals who are missing limbs or have difficulty walking due to injury, illness, or degenerative disease. Companies that make animal wheelchairs include K9 Carts, Doggon' Wheels, and Walkin' Pets.
Robinson, who previously worked in the computer and solar industries, founded Walkin' Pets by HandicappedPets.com after the death of his beloved keeshond, Mercedes. Robinson created a message board for pet owners caring for ill or injured pets so they could support each other and swap ideas. He noticed that many posters mentioned their wish for a lightweight, easily adjustable animal wheelchair, and he decided to create one.
"I realized I could solve the problem and make a wheelchair that was adjustable, something you could order online and get it the next day and the dog could be up and walking again," Robinson said.
Much like adjustable crutches, the lightweight, aluminum wheelchairs have adjustable components that snap together, and can be modified to add a front wheel or even skis.
Approximately 75,000 dogs use Walkin' Pet wheelchairs, and the wheelchairs have been sold in 32 countries, Robinson said.
"We have dogs on the beach, and we even had a dog get a duck hunting certificate," Robinson said proudly.
A herd of disabled goats in Vermont have even been outfitted with wheelchairs, he added.
In addition to wheelchairs, Walkin' Pets sells supportive harnesses, splints, and other devices, such as a halo collar for blind dogs.
Supportive harnesses help aging dogs
In many cases, a dog or cat with mobility issues doesn't need a wheelchair but still needs some assistance with walking or climbing stairs.
Walkin' Pets sells front and hind leg harnesses that can help pet owners lift their dogs, as well as a hind leg leash to support dogs with limb weakness.
GingerLead in Englewood, Colo., also makes a rear-limb support and rehabilitation combination harness and lead. The family-owned company started when a couple designed a harness to assist their golden retriever, Ginger, who had hip dysplasia and patella luxation, walk and climb stairs.
Resources for referrals, vet-specific info
When referring an animal to rehabilitation therapy, general-practice veterinarians should look for a specially certified vet.
American Association of Rehabilitation Veterinarians: rehabvets.org
American College of Veterinary Sports Medicine and Rehabilitation: vsmr.org
Canine Rehabilitation Institute: caninerehabinstitute.com
University of Tennessee Canine Rehabilitation Certificate Program: shop.utvetce.com/ccrp
Resources for veterinarians treating vision- or hearing-impaired dogs:
blinddogs.net
blinddog.info
blinddogtaining.com
deafdogs.org
Walkin' Pets site for veterinarians
vets.handicappedpets.com
email VetResources@WalkinPets.com
Rehabilitation and behavioral therapy options
Rehabilitation therapy also can improve the quality of life for animals with physical disabilities, said Kara Amstutz, DVM, who owns Hometown Veterinary Hospital in Springfield, Mo., as well as River Canine Rehabilitation.
Rehabilitation therapy can strengthen muscles and reduce pain in dogs who are missing a limb or struggle to walk due to injury or illness, said Dr. Amstutz, who is certified in canine rehabilitation and is also a certified veterinary pain practitioner.
A dog with an amputated limb can function very well on three legs, she said, but rehabilitation therapy can help prevent injuries caused by muscle strain.
"You want to focus on core strength and monitoring them for pain because of what we call compensatory changes," Amstutz said. "When their gait changes, it can put extra stress on the remaining limbs."
She teaches her clients to exercise their dogs at home between therapy sessions. In addition to daily walks, she may ask her clients to have the dog repeatedly stand and sit, which are like squat exercises for humans.
Her canine patients often exercise on underwater treadmills as well. The treadmills strengthen muscles and improve their endurance without stressing their joints, she said.
It's fun for the dogs, too, she said.
"The dogs all love it," Amstutz said. "The owners will comment how much their pet loves coming to rehab."
Acupuncture and laser therapy are other rehabilitative techniques used to treat pain in pets with disabilities.
Alice Baker Meuten, DVM, owns Optimal Animal Health and Performance in Fort Collins, Colo., and her practice specializes in veterinary sports medicine, chiropractic treatments, and integrative therapies; she is certified in canine rehabilitation, veterinary acupuncture, and veterinary chiropractic treatment.
Despite the paucity of clinical data demonstrating the effectiveness of acupuncture, it does seem to help, Dr. Baker Meuten said. Many of her clients report that their pets have improved functioning and appear to have relief from pain after several weeks of acupuncture therapy. When the dogs are assessed at the office, often they have clinical signs of improvement as well, such as better range of joint motion.
Because of the limited number of studies on the effectiveness of canine rehabilitation therapy, vets in general practice are somewhat skeptical about referring animals to rehabilitation therapy, but they are becoming more receptive, Baker Meuten said.
"Vets are seeing results when patients have a recheck visit," she said. "Also, vets are people, too, and they can definitely see the difference that rehabilitation therapy makes to them."
When referring an animal to rehabilitation therapy, vets in general practice should look for a vet who is certified by the American Association of Rehabilitation Veterinarians; American College of Veterinary Sports Medicine and Rehabilitation; the Canine Rehabilitation Institute; or the University of Tennessee Canine Rehabilitation Certificate Program, she added.