Behavioral therapy for blind and deaf animals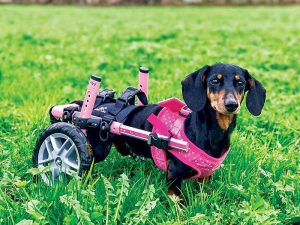 According to Amstutz, behavioral therapy can help dogs and cats who are blind or deaf adjust to their disability.
Behavioral therapists can demonstrate to pet owners how to make their homes safer and easier to navigate for blind animals. For example, pet owners can add yoga mat-like runners in the house to guide the animal to their bed and food bowl, and pet owners can also use scents and sounds to help a blind dog or cat move confidently through the house, Amstutz said.
A halo collar also can help blind dogs move with more confidence, said Robinson. A halo collar consists of a thin metal tube surrounding the collar that acts like a cane a vision-impaired person might use.
"The tube hits an object and the dog can feel or hear it, and so the dog can walk around without bumping their nose on anything," Robinson said.
Pet owners with hearing-impaired dogs can work with a behavioral therapist to learn how to use lights or hand signals
to communicate with their pet, Amstutz said.
Good resources for vets treating vision- or hearing-impaired dogs, as well as their pet owners, include blinddogs.net, blinddog.info, http://blinddogtaining.com, and deafdogs.org, she said.
Reaching out to the veterinary community
Veterinarians and rehabilitation therapists say that an important part of their work is outreach to veterinarians in general practice so they are aware of all the resources available to help disabled pets.
Walkin' Pets representatives appear frequently at veterinary medicine conferences, and the company has a veterinary outreach program. (See sidebar, "Resources for referrals, vet-specific info.")
As more and more people think of their companion animals as important members of their family and want to do everything they can for their pets, it's necessary for veterinarians to be knowledgeable about all the resources that are available to help these animals.
"Veterinarians are the primary source of information," Robinson said. "The ability of a vet to recommend a wheelchair or get a (disabled) dog exercising again—it becomes such a powerful tool."