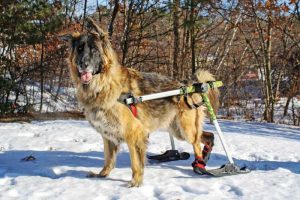 Mark C. Robinson, founder of Walkin' Pets by HandicappedPets.com, remembers the moment clearly.
Denali's owner had brought the golden retriever to the headquarters of Walkin' Pets in Amherst, N.H., to pick up her pup's new wheelchair. Denali hadn't walked for two months due to degenerative myelopathy. As soon as Denali was placed in the wheelchair, however, the dog's demeanor brightened, as if she sensed she could once again move on her own.
"Her ears popped up and she just took off," said Robinson. "We had to chase her across the parking lot."
Denali's heartwarming story isn't unique. Thanks to the burgeoning availability of wheelchairs, lift harnesses, and other assistive devices—along with an expanding array of rehabilitation and behavioral therapy services—thousands of disabled dogs, cats, and other companion animals are leading happy, active lives.
The resources and support available are a much-needed big step forward from the days when a veterinarian had few options to offer a pet owner with a disabled pet. These days, when a pet owner with a disabled companion animal asks her veterinarian, "Will my pet still have a good quality of life?" the answer can be, in many cases, a resounding "Yes."
Animal devices help pets with amputated limbs
When a dog has an amputated limb due to an accident or osteosarcoma, a veterinarian can recommend a prosthetic device, wheelchair, or rehabilitation therapy.
OrthoPets, which is based in Westminster, Colo., was a pioneer in animal prosthetics and orthotics. Inspired by a cousin's dog, a miniature schnauzer named Walt who had suffered a stroke, co-founders Martin and Amy Kaufmann established the company in 2002.
Martin Kaufmann was an orthotics and prosthetics practitioner for humans, and he designed an orthotic brace for the little dog. Soon he and Amy decided to focus full-time on designing and fabricating orthotics and prosthetics for companion animals. Their company now has a staff of 10, as well as a consultant who is a veterinarian board certified in surgery and veterinary sports medicine and rehabilitation.
To create an orthotic or prosthetic device, a referring vet submits a fiberglass impression, measurements, photos, and videos. The OrthoPets team then uses CAD and 3-D models to fabricate a custom prosthetic or orthotic device for the animal.
OrthoPets makes orthotic and prosthetic devices for about 160 animals each month. About 95 percent of the company's patients are dogs, but the team also creates prosthetic and orthotic devices for many other species as well.
"Cats, llamas, goats, sheep, horses, cows, you name it, we've worked on it, all the way down to a baby mouse," said Kaufmann.
In order for a prosthetic device to work, the animal must have a functioning elbow joint and at least 30 percent of the forelimb radium intact, Kaufmann said.
Once the device is ready, a dog will need about eight weeks of rehabilitation therapy to strengthen muscles and teach the animal to walk using the device.
In addition to OrthoPets, other companies that fabricate prosthetics and orthotics for animals include Animal Orthocare, My Pet's Brace, and Walkin' Pets (orthotics only).
Product resources
Prosthetics, orthotics fabricators
Animal Orthocare
animalorthocare.com
My Pet's Brace
mypetsbrace.com
OrthoPets
orthopets.com
Walkin' Pets (orthotics only)
handicappedpets.com
Animal wheelchair manufacturers
Doggon' Wheels
doggon.com
K9 Carts
k9carts.com
Walkin' Pets
Harness manufacturers
GingerLead: gingerlead.com

Walkin' Pets