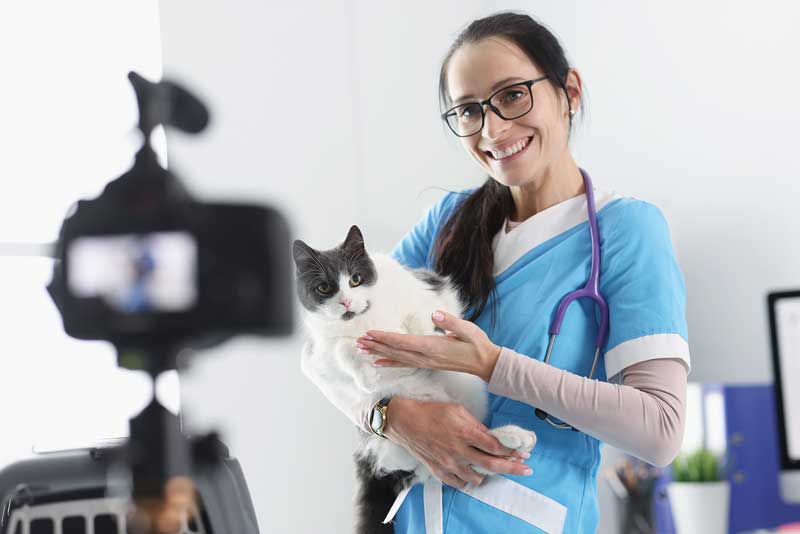 A lot of practices are short-staffed and have difficulties attracting candidates. If you are one, you have probably even calibrated your job postings to say all the right things–your practice provides high-quality patient care, a great team culture, work-life balance, mentorship, competitive salary, and benefits–but it does not seem to be working.
One thing I learned while interviewing recent veterinary graduates from The Ohio State University and Colorado State University for a video project1 is including these buzzwords in your recruitment material only goes so far. Indeed, candidates want to know there is substance to your claims. Alas, how can you convince candidates your practice really does embody these things, especially for the more nebulous qualities, such as "having a great culture" and "work-life balance?" After all, they're only words.
Video content
One thing that can help is video. You might already be familiar with a couple of its benefits, including engaging candidates longer.2 A less obvious benefit that is perhaps even more powerful is video can help substantiate the claims you make in a job posting without using words. With video, you can communicate not only through the content itself, but also through the tone in which the content is presented.
For instance, a technician's sincere tone while discussing your practice's great culture will be received much differently than the same written words. This is because video can more directly connect with viewers on an emotional level. Emotional connection is important because humans generally make decisions with their emotions first, then back that up with rational thought.3 So, if your job postings only communicate rationally, you are likely missing out.
Creation
Using video as a part of your recruitment strategy does not have to be complicated. Luckily, the bar for quality is set pretty low for videos online (thanks to social media and YouTube!), and videos that feel homegrown can actually be more effective than highly produced content.
I recommend you start by making a simple video (See: "DIY it!") using video equipment you likely already have access to (a smartphone). Your video can be as simple as a single shot without any editing or titles, or you can use free software on your smartphone or desktop computer if you want to splice together multiple shots or add titles. If you get stuck, there are countless free video editing tutorials on YouTube. Be careful to avoid the temptation of over-complicating things, though. Unless you consider yourself a video expert, it's almost always a good idea to keep your editing simple (avoid overusing the effects/filters/transitions you will discover in video editing software).
Management
It is tempting to include the same information in your recruitment video as the job posting. While there is nothing wrong with this approach (it is true, candidates are more likely to watch than read4), this approach will not take full advantage of the medium's unique strengths. I would recommend asking yourself, "What can I include in a video that cannot be communicated in writing?"
Candidates will likely watch your video before reading much text within your posting, so ideally, the content of your video will connect with them differently than the text, which will, in turn, motivate them to take a closer look at the written information in your posting (See: "DIY it!").
I also recommend you keep the content of your video pretty "high level," or focused on an area where your practice really thrives (your differentiator), rather than cramming as much content as possible in to it.
Distribution
Once you have completed your video, make sure you are getting the most out of it. How you display it will depend on the job posting platforms you use. For some, you are able to add (or "embed") your video so that it can be watched directly on the job posting or company profile page. For platforms without this functionality, you can include a link to a webpage that includes your video (e.g., the careers page on your website). Avoid directly linking to your video on YouTube or other social media, as you don't want potential candidates to be distracted by other content on those sites.
Your recruiting video may also be great for advertising open positions. Include your video when you post to message boards and consider using it in paid ads on social media where you can target your campaign to meet the demographics of your open positions.
Making your own recruitment video can be a lot of work and may feel a little overwhelming but remember that an effective video doesn't need to be complex or look professional—a simple concept will often be the most effective. Your extra effort will go a long way to help your practice stand out in the crowd. Good luck!
DIY IT!
Here are a few tips to make your recruitment videos creatively and effectively.
Keep it short (and engaging). It's more important that your video be engaging than to include a lot of information. Aim for less than two minutes, but no longer than three minutes.
Remember your audience. Think about your video's content through the lens of your ideal candidate. What would they find most interesting and engaging about your practice?
Be yourself. Your video is a great place to let your practice's personality shine. Feel free to be less formal, perhaps even have a little fun (though be careful not to come across as unprofessional).
Capture good audio. Your video will be unwatchable if it includes unclear audio (e.g. low volume, background noise, etc.). A simple trick for capturing better audio is to move the camera closer to the subject.
Minimize camera shake. Shaky camera footage can also make a video unwatchable. A simple trick for keeping things steady is to keep camera shake front of mind while recording and adjusting the way you hold and operate your camera to minimize unwanted camera motion. Sometimes a little self-awareness is all you need!
Replace a script with an interview. If your video's concept allows, use an interview format instead of a word-for-word script. The content will usually feel more natural when the person in front of the camera responds to questions. If your content needs to be more structured, try outlining it rather than writing it down word-for-word.
Film from interesting camera angles. Film from various angles and distances to try to make your video more interesting/engaging. You can edit these together in post-production or choose the best angle later.
Involve your team. Your team will naturally get excited about the video project if you include them in the planning stages. They will also have more buy-in later in the process if you ask them to appear in front of the camera.
Include photos. Some of the natural moments that make your practice's culture great already exist. Search your social media feeds for photos and request photos from your team that might be good to include in your video. These can easily be added to your video using editing software.
Carefully select music. If including music in your video, be sure it supports the tone you are looking to capture. Free and low-cost stock music is often bundled with editing software and is readily available on low-cost stock music websites.
Highlight equipment/technology (in the background). Do not waste valuable time in your video mentioning specific equipment or procedures your practice offers. Instead, focus on the human/animal bond and include glimpses of equipment and technology in the background (candidates will notice!).
Get outside feedback. Ask for feedback from several people who match the demographics of your target audience (preferably colleagues outside your organization) before publishing your video. Consider adjusting it if you receive recurring feedback from several sources.
Craig Spinks is a video producer who specializes in veterinary video production and emotional marketing, co-founding Veteos in 2017. Its growing staff has worked with numerous veterinary practices and industry partners and has received 23 NAVC Vetty marketing awards, including "Best in Show – Nonprofit" in 2019 and 2020 and "Judges Choice" awards in 2018 and 2022.
References
Murray, Peter Noel. "How Emotions Influence What We Buy." Psychology Today, Sussex Publishers, 26 Feb. 2013, www.psychologytoday.com/us/blog/inside-the-consumer-mind/201302/how-emotions-influence-what-we-buy.
CareerBuilder
THE REEL DEAL
Check out some content ideas for your recruitment video.
"What do you like most about working here?" Ask various team members to respond to this question, then edit their responses together into one video.
A day in the life. Use the "day in the life" format as a framing device for highlighting your team, facility, clients, and passion. Keep it upbeat and high-level.
Practice tour. Video can be a great way to show off your facility, technology, and the general vibe of your practice, but be sure to keep it fun and casual (it is not a real estate video!).
Hiring manager message. Film a hiring manager or practice owner delivering a sincere message to prospective candidates about why the candidate is needed and inviting them to apply. Be sure the message feels warm and inviting.