Suggested Veterinary Products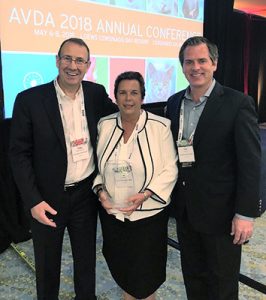 Kim Allen, president of Henry Schein Animal Health's commercial division, has been honored with the American Veterinary Distributors Association's (AVDA) 2018 Lifetime Achievement Award. Allen, who has worked in the veterinary distribution industry for more than 36 years, was the first woman to join the AVDA board of directors, serving from 1990 to 2005 and as chair from 2001 to 2004.
"Kim's dedication and service to the animal health industry and distribution for more than 36 years is truly remarkable," said Paula Brown, AVDA chair. "She was a role model and mentor for me and many other women in the industry. Her support of AVDA as a board member and first woman chair was groundbreaking and helped to make the association better for all of our members."
Allen, who received her bachelor of science in animal science from Rutgers University, joined Henry Schein in 2005. Prior to that, she worked in various senior executive positions in the veterinary distribution industry, including president of Burns Veterinary Supply for the Darby Group Companies. An avid horse rider and breeder, Allen is also a member of the U.S. Equestrian Federation, U.S. Dressage Federation, and U.S. Eventing Association.
"I am honored to receive the AVDA's Lifetime Achievement Award, and I thank this wonderful organization for helping distributors navigate the ever-changing animal health landscape," said Allen. "Throughout much of my career, the AVDA has been an invaluable partner in our industry's efforts to help veterinary professionals build stronger practices and deliver high quality care to their patients, and I look forward to seeing how we are able to continue moving forward for the benefit of animal health."