Suggested Veterinary Products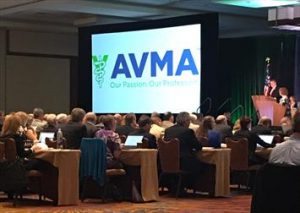 The American Veterinary Medical Association is now providing association management services to Veterinary Medical Association Executives (VMAE). Janet Donlin, DVM, CAE, AVMA executive vice president and CEO, officially welcomed the VMAE under the new arrangement during the AVMA Veterinary Leadership Conference in January.
"Executives of state and allied associations contribute a tremendous depth of perspective and understanding of the issues facing our profession," said AVMA president Michael Topper, DVM, Ph.D. "This liaison is one more way we can work together to protect, promote, and advocate for the interests of the entire veterinary profession."
Announcing the arrangement, Dr. Donlin discussed the role of state and allied association executives in the growth of veterinary medicine and the AVMA.
"The state and allied executive directors of veterinary associations saw the benefits belonging to a professional association," Donlin said. "ASVMAE, now VMAE, was formed, and the rest is history."
Other VMAE news
Ralph Johnson, VMAE CEO, has joined the AVMA as director of special projects. He will continue to oversee the association management services the AVMA now provides to VMAE, and will assist the AVMA with initiatives focused on delivering products and services to AVMA members. Tesha Hoff will continue her role as VMAE association manager.
Johnson spent 18 years as CEO of the Colorado VMA and its charitable arm, PetAid Colorado. During that time, he also served as a volunteer for both VMAE and AVMA. He is familiar with the issues facing the veterinary profession from local, state, and national perspectives, Donlin said.
"We know the future is bright with the AVMA providing association support to the VMAE," said Donlin. "There's a natural alignment in the missions of AVMA and VMAE, and this arrangement will help the organizations communicate and collaborate even more effectively to promote, protect and advance the veterinary community."