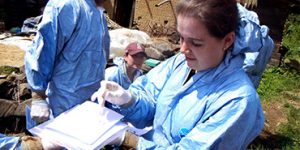 The American Veterinary Medical Association (AVMA) is asking Congress to help with funding to reduce the number of regions across the nation that currently suffer from a shortage of livestock and public health veterinarians.
The USDA's National Institute of Food and Agriculture has said that 187 regions are in need of staffing, and the AVMA points to threats to animal health and the livelihoods of farmers and ranchers as major reasons to fill the need. The solution is passage of the Veterinary Medicine Loan Repayment Program Enhancement Act, according to the organization.
High debt loads—which reached $143,758 on average for 2016 graduates of veterinary colleges—can make it cost-prohibitive for young veterinarians to practice in rural areas, as rural salaries are often lower than those in urban areas.
The federally funded loan repayment program mitigates the educational burden new vets feel by offering loan forgiveness to those who commit to serving at least three years in underserved areas. However, the program does not receive enough funding to meet the demand, in part because each award is subject to an expensive income withholding tax that sends the program's funding back to the government. The Veterinary Medicine Loan Repayment Program Enhancement Act would eliminate this tax to free up additional funding to support more communities in need of veterinarians, all within the current funding level provided by Congress.