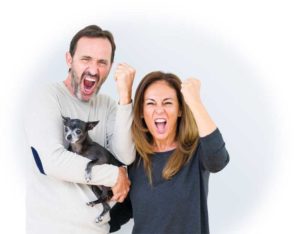 A longtime client calls and requests an appointment with Dr. Popular. While this veterinarian is blessed to be busy, you don't want clients to have meltdowns when they can't see their preferred doctor. What should you do?
Focus on what you can do. Don't tell the pet owner the doctor is booked three weeks out because it will create a negative impression and could incite an argument. Say, "Dr. Popular's next available appointment is Aug. 30 at 9 a.m. If your pet needs to be seen sooner, Dr. Next could see you tomorrow at 4 p.m. Which do you prefer?"
Practice forward-booking. When clients want their first choice of time, day, and doctor, advise them to book the next appointment during today's exam. Use forward-booking for progress exams, checkups, and disease-management exams for pets with chronic health conditions.
When wrapping up today's exam, Dr. Popular should introduce the concept of forward-booking with the client. If you have computers in exams rooms, he should schedule the appointment right then and there. (Yes, the veterinarian needs to know how to use the scheduling tool in your practice-management software). Here are two examples of client conversations:
For a disease-management exam, explain the "why" behind the change in the frequency of exams and use benefit statements. Dr. Popular would say, "Because Molly was diagnosed with arthritis today and will begin long-term medication, I will need to see her every six months to manage her arthritis and check blood work in case we need to adjust medication dosages. Booking her next exam now will let you get your first choice of a time and date with me. Six months from today would be Jan. 9. I could see Molly at 10 a.m. or 4 p.m. Which do you prefer?"
For a checkup, lead the client to book the next six- or 12-month exam. If the receptionist is scheduling the exam during checkout, she would say, "Just as your dentist has you schedule your next appointment at checkout, we do the same to proactively manage your pet's health. Let's book your pet's next checkup for this same day and time next year. We will confirm two weeks before the exam, so if you need to change the appointment it will be easy. By scheduling today, you will get your first choice with Dr. Popular. He could see your pet at 10 a.m. on Wednesday, Aug. 12 or 3 p.m. on Friday, Aug. 14. Which do you prefer?" The first choice is the same day of the week and time as today's appointment. The second choice is a different day of the week and time of day (morning versus afternoon). Read up on other scheduling techniques in my article titled, "Four ways to use forward-booking," in the October 2018 issue of Veterinary Practice News (bit.ly/2WEmSKU).
Be persistent when pets require progress exams. Because Dr. Popular is booking weeks in advance, the entire health-care team must be persistent and communicate the importance of scheduling follow-up care today. After explaining how to clean a dog's ears and apply ointment for an ear infection, the nurse would say, "Dr. Popular needs to perform a follow-up exam in two weeks for your dog's ear infection. We strive to book follow-up care with the same doctor because Dr. Popular wants to see the condition successfully resolved. This will be a 15-minute appointment to examine your dog's ears and determine if additional treatment will be needed. Dr. Popular could see your dog on Thursday, Aug. 28 at 10 a.m. or Friday, Aug. 29 at 2 p.m. Which do you prefer?"
If the client procrastinates and waits to call your hospital in two weeks when care is due, Dr. Popular won't be available. Booking with the same veterinarian helps you achieve exam efficiency. If Dr. Next will see Dr. Popular's patient for follow-up care, he will need to spend more time reviewing the medical record to get up to date on the diagnosis, treatment, and prescribed medications. The follow-up visit may take twice as long when a different doctor sees the patient.
Add more urgent care slots to Dr. Popular's schedule. I advise receptionists block three urgent-care slots per doctor per day for same-day sick patients. Because clients will call every morning with sick patients that must be seen that day, plan for them in your daily schedule. You may need more urgent care slots on Mondays, Fridays, and Saturdays, which is when hospitals typically see higher volumes of sick patients.
To determine how many urgent-care slots Dr. Popular will need, create a spreadsheet that totals the number of exams he sees by day of the week. Let's say he saw 22 patients on Thursday. Approximately 20 percent of patients are same-day sick appointments. Based on this formula, Dr. Popular would need seven urgent-care slots on Thursdays. Block an urgent-care slot at the top of each hour in Dr. Popular's schedule on Thursdays. To get more insight on scheduling, see my YouTube video "Overbooked and can't see sick pets? Here's the solution" at bit.ly/2wLjD5X.
Talk up other doctors. You want clients to feel confident and comfortable with every doctor in your practice. Dr. Popular, nurses, and the client-care team need to praise the skills and knowledge of other veterinarians in your hospital. When a client sighs after hearing Dr. Popular isn't immediately available, promote Dr. Next. The receptionist would say, "Dr. Popular's next availability is Aug. 30 at 9 a.m. I could schedule you with Dr. Next. He has a special interest in feline medicine and would love to meet Alex. I'm confident you'll be satisfied with the quality of his medicine. Dr. Next could see Alex tomorrow at 4 p.m. Shall I schedule this exam?"
During his appointments, Dr. Popular also can share praises of his colleague, Dr. Next. After all, Dr. Popular may be the practice owner and hired Dr. Next. To transfer the client's trust to another veterinarian, Dr. Popular might say, "Dr. Next has been part of my medical team for five years. We went to the same veterinary college and share similar medical interests and philosophies. If I'm unable to see your pet promptly, I'm confident Dr. Next will do an exceptional job."
Because Dr. Popular will take vacations or may sell the practice one day, you must build trust in every veterinarian. Have your team discuss ways to equally distribute appointments amongst all doctors, as the hospital's goal is to have every veterinarian booked fully every day.
Wendy S. Myers, CVJ, has been training veterinary teams for more than 20 years as owner of Communication Solutions for Veterinarians in Castle Pines, Colo. She helps health-care teams improve telephone and communication skills that result in getting more pets the medical care they need. Myers shares her expertise through conferences, online courses, and monthly CE credit webinars. She is a certified veterinary journalist and author of five books. You may reach her online at wmyers@csvets.com or by visiting her website at www.csvets.com.