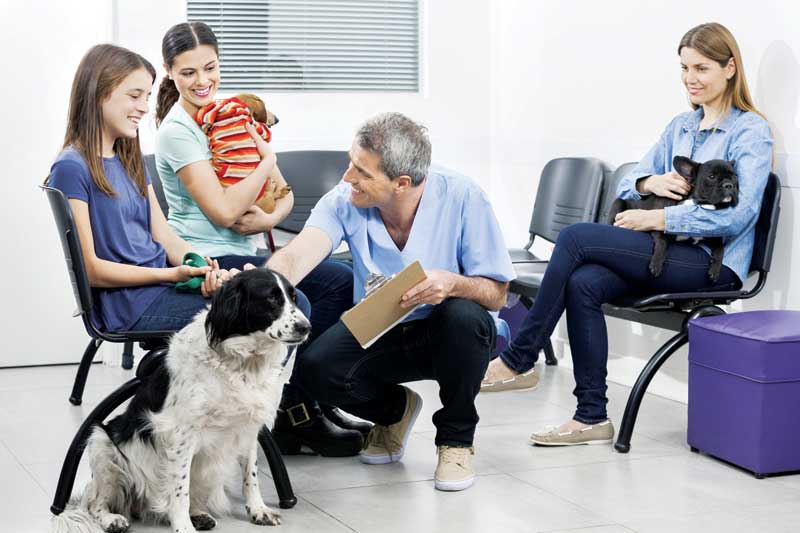 Doctors and technicians will talk to multiple clients today, tomorrow, and the next day about their pets' dental diagnoses and treatments. Among those clients, how many will accept professional care recommendations? Your medical team can use teaching tools and persuasive body language to help guide pet owners' decisions.
Albert Mehrabian, a psychologist who pioneered studies on body language, found that 55 percent of communication is nonverbal. More than half of your messages are based on eye contact, posture, facial expressions, and hand gestures, which is why when delivering diagnoses, you must pay close attention to the verbal and nonverbal messages you deliver. Here's how to take a positive, confident approach.
Make eye contact
"There is arguably no time where trust between a physician and a patient is more important than when the physician is delivering a diagnosis," said Dennis Hung, a medical practice consultant specializing in patient communication and co-founder of Hung-Kai Medical Consulting in Atlanta.1 The same theory applies to veterinary medicine. Avoid the instinct to look away when delivering bad news. Failing to make eye contact is a sign of deception and can make clients uncomfortable. Maintain eye contact, and then point to findings of your oral exam such as dental calculus, gingivitis, tooth fractures, tooth resorptive lesions, and missing teeth.
Be aware of your posture
To use collaborative body language, mirror the client's position. If she is standing, you should stand. If the client is sitting and you are standing, you are in a dominant position, and the pet owner may feel you're talking down to her. Bring yourself to the client's eye level. If the client is sitting, place a small stool at the end of the exam table near the client's chair or bench. Angle your body toward her as you speak to show you are approachable and a partner in getting the pet needed medical care.
Document the need for treatment with photos
During exams, use a smartphone to take pictures of pets' mouths. Smartphones let you adjust exposure and mark up images. Zoom and crop to enlarge pictures of painful conditions, such as resorptive lesions. Use the print feature to send the photo to a blue-tooth enabled color printer. You also could text or email images to clients and share them in online patient portals.
Save digital photos to patients' electronic medical records. Take dental photos during each preventive exam, which gives you pictures to compare the progression of dental disease over time.
Jan Bellows, DVM, DAVDC, DABVP, of All Pets Dental in Weston, Fla., offers a YouTube video on how to take dental photos during exams at bit.ly/2fMthgo.
Remove physical barriers
Don't stand behind the exam table and talk across it, which may feel confrontational to the client. When explaining treatment plans, position yourself shoulder-to-shoulder or L-shaped next to the client. This allows you to read information right side up as you discuss steps of the procedure.
Use smile books or digital slideshows
Because 65 percent of people are visual learners, share behind-the-scenes photos so clients can make educated decisions.2 Pet owners may imagine that pets' dental procedures are like their own experiences—lean back in the chair, open your mouth, and say "Ah." Because pets need general anesthesia, help pet owners understand your dental protocols.
First, print your dental treatment plan, which lists medical services. This will be your list of photographs to take, from preanesthetic testing to dental X-rays. Photos should feature your team, which creates trust among clients. They see the actual place and equipment where their pets will receive professional dental care.
You can design, print, and order photo books online from many vendors. When creating smile books, place a caption below each photo. Use your dental photo book when presenting treatment plans, or let clients browse books on their own. Turn waiting time into learning time. Place dental photo books in each exam room and in your lobby. If you have computers or tablets in exam rooms, create digital slideshows. Set the slideshow to be the screen saver when computers hibernate.
Take kid-friendly photos. Parents may bring children to veterinary visits, and they will want to see what the doctor or technician is explaining. Rather than showing a cat being restrained for a jugular blood draw, illustrate preanesthetic testing with an image of your technician running blood work in your in-clinic lab. To explain extractions, show a veterinarian with cap, surgical mask, eye protection, and gloves holding the instruments in a patient's mouth. Angle the photo from the back of the patient's head rather than showing a googly-eyed animal under anesthesia. Another option would be a close-up photo of the instruments on the diseased tooth prior to extraction. Never show blood in images, which could frighten children as well as parents.
Describe medical services before sharing prices
If you hand the client a treatment plan, he will look at the price first, jumping to judgment before understanding his pet's procedure. Place a dental report card or preanesthetic testing brochure over the right column, which lists prices. Point to the left column of medical services, using picture books or slide shows to illustrate each item.
Use the term "treatment plan" to emphasize medical care. Avoid saying "estimate," which centers on price. After you've shared photos and discussed services, reveal the price.
Invite pet owners to ask questions or express concerns. Ask, "What questions can I answer about your pet's dental treatment?" This phrasing is more effective than "Do you have any questions?" which is a yes-or-no choice. Soliciting feedback can lead to important discussions on fear of anesthesia or financial concerns. Clients also may point out areas you need to explain better, helping you improve skills for future case presentations.
Converse unhurriedly
Avoid rushing discussions because appointments are running 30 minutes behind, or slipping into "spiel" mode because you've had this discussion six times today. Clients will pick up your negative signals. While you're seeing dozens of clients today, the pet owner is only seeing one veterinarian—you. If you appear anxious to move on, your body language communicates disrespect, even if unintended. Thus, the client may decline care.
Pets will need multiple dental treatments throughout their lifetimes, so practice your case-presentation skills. Get feedback from coworkers and clients. Videotape exams so you can evaluate clients' experiences and obstacles that may prevent them from accepting care. Imagine the added trust and rapport you'll earn as a confident communicator.
Wendy S. Myers owns Communication Solutions for Veterinarians in Castle Pines, Colo. She is a certified veterinary journalist and the author of 101 Communication Skills for Veterinary Teams." You can reach her at wmyers@csvets.com or csvets.com.
References
1 Hung D. "The Science of Body Language When Delivering Diagnoses to Patients." Accessed 09-25-17 at bit.ly/2wgWuXb.
2 Klingbord J. "Exam Room Communication for Veterinarians." AAHA Press. 2011; 27, 29, 160-162, 34-35.