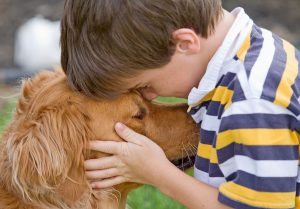 The Banfield Foundation says it is investing $1 million in its Safer Together initiative to help victims of domestic violence and their pets find pet-friendly shelters.
According to a recent study, up to 89 percent of pet-owning domestic violence victims report their abuser has threatened, injured, or killed the family pet. Further, about six to 10 percent of domestic violence shelters allow animals onsite. The Safe Together grant would allow qualifying nonprofit organizations to apply for funding as they increase their capacity to help people and pets escape domestic violence.
"Through our work and the work of other outstanding organizations, we hope to create a world where victims never have to choose between their own safety and the safety of their loved ones, including their pets," says Banfield Foundation executive director, Kim Van Syoc.
"Victims often remain in a dangerous environment because they do not have access to a pet-friendly shelter or program, and we believe saving the life of a pet can save the life of a human. Pets play an essential role in families, particularly during crises like domestic violence. Keeping pets safe and healthy helps ensure they remain a vital part of their family support system, which we believe will lead to better outcomes for both people and pets."
The initiative also includes the creation of an all-volunteer advisory committee, continuing education for the veterinary profession, and a public awareness campaign.
Funding will concentrate on guaranteeing pets have access to preventive and emergency veterinary care, temporary shelter, and behavior training. A portion of the money may go towards covering the cost of a dedicated animal support specialist who focuses on pet health and well-being.
As part of the Safer Together launch, the Banfield Foundation is funding an additional $100,000 in grants to cover capital costs for existing pet-friendly shelters or foster systems to enhance pet experience or provide new amenities designed to improve the overall well-being of pets.
By the end of 2023, the foundation will have granted more than $1 million to nonprofits dedicated to helping victims of domestic violence and their pets.