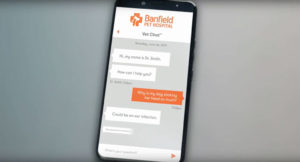 Banfield Pet Hospital is offering its Optimum Wellness Plan clients a new way to discuss their pet's health with a veterinarian.
The company has launched a telehealth service on its app called Vet Chat, which offers clients on-demand access to pet care advice and support from a veterinarian anytime and anywhere.
"At Banfield, we never take for granted being entrusted with the care of a beloved pet is to be invited into the emotional center of a person's life," says company president, Brian Garish. "To us, that means not only being with you throughout your pet's life—from puppyhood through the golden years––it also means being there during those unexpected, sometimes anxiety-ridden moments between visits.
"Vet Chat marks the next chapter in the future of pet care, and we're thrilled to offer a service benefitting our clients, their pets, and our veterinary teams."
In a pet owner telehealth survey, Banfield found 39 percent of respondents admit they sometimes struggle to decide when to call the veterinarian and nearly four in 10 say they prefer to consult the internet first. Ninety percent of veterinarians say they worry pet owners may unknowingly put their pet at more risk by taking bad advice from the internet.
The survey also found:
75 percent of veterinarians agree that knowing how long to wait before consulting a veterinarian is one of the biggest challenges their clients face;
90 percent of veterinarians report needing to dedicate more energy and allotted appointment time toward correcting misinformation pet owners gathered from the internet;
many veterinarians report seeing owners fixate on certain signs and symptoms, omitting critical information (75 percent), while others say they articulate the signs and symptoms differently than they might have before their online research, influencing the focus of the exam (59 percent);
more than half of veterinarians (51 percent) report they can think of a time when a client failing to disclose previous do-it-yourself treatment attempts led to unexpected complications or prescription interactions for a pet;
47 percent of veterinarians say the effects of an owner's independent treatment attempts have masked or changed a pet's original signs and symptoms, making issues harder to accurately diagnose;
66 percent of pet owners say they have turned to the internet about a suspected pet health issue, whether via general online searches (45 percent), visiting pet health websites (45 percent), or posting on social media (15 percent);
Owners reported online pet health research typically leaves 32 percent of them feeling anxious, 25 percent overwhelmed, and 25 percent fearful;
35 percent of pet owners report losing sleep over their pet's health, and nearly 17 percent report feeling ill themselves; and
60 percent of pet owners say they are quicker to bring their pets to the veterinarian than to bring themselves to their own doctor.
Actress and pet advocate, Jane Lynch, is helping raise awareness of the dangers of using the internet to diagnose pet health issues instead of asking a veterinarian.
"As the proud owner of three rescue pups, I am all too familiar with the sounds of a dog vomiting at three in the morning—and the comfort and peace of mind that comes with having a veterinary team I can count on," Lynch says. "I'm honored to work with Banfield Pet Hospital to launch Vet Chat, which gives pet owners access to advice from a trusted source—anytime, anywhere."