As a veterinary student, you will learn not only how to care for animals, but also science, medicine and much more.
In honor of U.S. News and World Report's "2016 Best Graduate School Rankings" Veterinary Practice News decided to do its own survey on the best colleges to study veterinary medicine. VPN decided to ask and learn more about the survey's best veterinary schools and colleges to see what makes their institutions great for students to attend.
U.C. Davis School of Veterinary Medicine
For students looking to get a world-class veterinary education, and to find their calling in the veterinary profession, Michael Lairmore, dean of the U.C. Davis School of Veterinary Medicine said it best. "At UC Davis, we offer our DVM students many opportunities to help them further refine their career goals or maybe even find a new path they hadn't previously considered. In addition to choosing careers as clinicians, they can explore research opportunities through our joint DVM/Ph.D. program that prepare them for veterinary research careers or positions in academia. With the strong training they receive in One Health, our alumni go on to work with institutions like the Centers for Disease Control and Prevention, USFDA and World Health Organization to name just a few. Our mission is to prepare these students to lead veterinary medicine and address societal needs."
Cornell University's College of Veterinary Medicine
Cornell University provides veterinary students with extensive real-world experience complemented by the college's commitment to One Health. "Cornell University's College of Veterinary Medicine is a global leader in veterinary medical education, animal medicine, biomedical research and public health," said Claudia Wheatley, spokesperson for Cornell University's College of Veterinary Medicine. "Students come to us from around the world to take advantage of our considerable strengths, including our faculty members, who are leaders in their fields. They also take advantage of our innovative, problem-based curriculum; hands-on experience that begins with their first week, and the small group environment where they work with faculty and peers as colleagues. All this and more are offered at an Ivy League university with a commitment to animal health since its founding in 1865."
Colorado State University's College of Veterinary Medicine & Biomedical Sciences
Giving students a comprehensive education, Colorado State University's College of Veterinary Medicine & Biomedical Sciences provides current and prospective students with cutting-edge research and treatment facilities. Students work hand-in-hand with experienced faculty at the James L. Voss Veterinary Teaching Hospital, treating nearly 25,000 animals annually. Students can get first-hand research experience diagnosing mad cow disease at the college's Veterinary Diagnostic Laboratory — one of only seven in the country. At the college's Flint Animal Cancer Center, students also benefit from ground-breaking research discoveries, including:
"The first successful canine open heart surgery program in the world, as well as world-recognized programs in equine medicine and equine orthopaedic medicine."
"Here at CSU, we're proud that our Doctor of Veterinary Medicine Program has been ranked among the top three in the nation for more than two decades. The program is 107 years old and is a hallmark at Colorado State," said Dr. Mark Stetter, DVM, DACZM, Dean, Colorado State University College of Veterinary Medicine and Biomedical Sciences. "We provide a scientifically rigorous and well-rounded curriculum, with clinical rotations in a busy hospital alongside talented and compassionate faculty representing 28 veterinary specialties. We're located at the foot of the Rocky Mountains, and our hospital sees patients from both agricultural and urban settings – providing students with beneficial case variety. We're known for emphasizing ethics, wellness and communication; research opportunities; and student services focusing on career options and finances. These program attributes help students achieve their goals in veterinary medicine."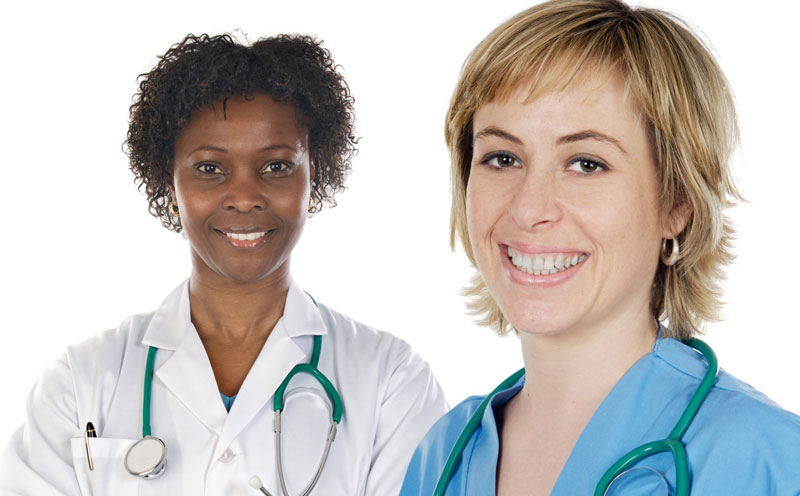 Jose manuel Gelpi diaz/Hemera/Thinkstock
Many veterinary universities partner up with animal welfare organizations and more across the world to promote better health and care for animals.
North Carolina State University's College of Veterinary Medicine
One great reason to attend North Carolina State University's College of Veterinary Medicine (CVM) is their specialization in hands on teaching, especially in a farm setting. "The CVM is one of the only teaching programs that offers an onsite teaching animal unit that operates as a working farm. Graduates annually rank their time spent on the Teaching Animal Unit (TAU) as one of the best aspects of their education," said Dean Paul Lunn, BVSc, MS, PhD MRCVS, Dip. ACVIM. "Located on approximately 80 of the 180 acres of a former dairy farm, the TAU is a dynamic teaching lab for veterinary students to learn husbandry, production management and routine procedures used in livestock production. Students are able to observe and work with healthy animals in a real farm setting. This is just one of many experiential learning opportunities that complement the academic curriculum for NC State students."
Ohio State University's College of Veterinary Medicine
Students thinking about attending Ohio State University's College of Veterinary Medicine are exposed to many options in the veterinary field, helping them find the right fit for the education. "Our students receive a comprehensive, contemporary and flexible veterinary medical education that includes the opportunity to tailor their education to a specific career area of emphasis, including clinical practice, specialty training, research, public health or many other diverse career paths," said Rustin M. Moore, DVM, PhD, Diplomate ACVS, Dean, College of Veterinary Medicine.
During their fourth year, according to Moore, the students received a clinical capstone caseload, which includes:
Large and diverse small animal caseload
A farm animal and equine caseload
Shelter and surgery rotations
Unique elective rotations onsite and offsite
University of Wisconsin School of Veterinary Medicine
Prospective students can look forward to the University of Wisconsin School of Veterinary Medicine's complementary curriculum of hands-on education supplemented by world-class research facilities to help students maximize their educational experience.
"I believe there are several reasons why the University Of Wisconsin School Of Veterinary Medicine is consistently ranked among the top five schools of veterinary medicine in the United States," said Dean Mark D. Markel. "First, the school is known for the strong educational experiences it provides to its students. Second, the school is internationally recognized for its food animal production, oncology, orthopedic and ophthalmic services. Third, the University of Wisconsin-Madison is consistently among the top three to five research institutions in the United States, and the UW School of Veterinary Medicine has an outstanding research program. One example of this is Dr. Yoshi Kawaoka, a world-renowned virologist who won the 2014 Popular Mechanics Breakthrough Award, the 2014 AAVMC Excellence in Research Award and was inducted into the National Academy of Sciences in 2013."
University of Pennsylvania School of Veterinary Medicine
Prospective students looking to attend the University of Pennsylvania School of Veterinary Medicine receive a holistic approach to their veterinary education. Through hands-on training, students receive supervised clinical experience at different shifts, helping the 31,000 animal patients the college's Ryan Hospital treats.
According to the UPenn website, the Ryan Hospital is:
"… open 24/7, sees roughly 31,000 patients a year and staffs nearly 400 veterinary professionals… The hospital includes a minimally invasive surgical suite, eight operating rooms, a 9,200-square-foot imaging and treatment center, and an array of high-tech devices to ensure care that is state-of-the-art. And of course some things that can't be seen also set Ryan Hospital apart, especially the expertise of its staff, which includes board-certified professionals in every veterinary specialty."
Theoretical research in combined with community help that students and faculty work together on to enrich the students' experience.
There are many great reasons for prospective students to attend the University of Pennsylvania School of Veterinary Medicine. "Penn Vet is on a vibrant urban campus with the other 11 great schools that comprise the University of Pennsylvania," said Joan C. Hendricks, the Gilbert S. Kahn Dean of Veterinary Medicine. "Our student are fully integrated into the community, able to pursue research in any of 500 biomedical laboratories and able to provide community service to the people and animals of Philadelphia in coordination with the other great schools. Our One Health Award and our Student Inspiration Awards have helped to publicize and incentivize collaborative local and global initiatives that are helping VMD's change the world."
Students at Penn Vet have the opportunity to explore many different aspects of veterinary medicine, said Jonathan Ferrarri, a veterinary student set to graduate in 2017. "Our comprehensive curriculum enables our students to explore clinical practice, biomedical research, and community engagement. In addition to their coursework, our students enrich their lives and the Philadelphia community by volunteering countless hours at the local animal shelters where they learn firsthand the importance of preventative medicine and public health education."
College of Veterinary Medicine & Biomedical Sciences at Texas A&M
Students looking to receive a well-rounded veterinary education at College of Veterinary Medicine & Biomedical Sciences at Texas A&M can rest assured through the university's human-animal medical research known as One Health. Connecting researchers and student in a variety of disciplines to see how disease is shared between man and animal. One example of their commitment to practicing One Health program protocol was applying the same human principals for treating "Bentley," the well-known dog of Dallas nurse infected with Ebola. Practices included dressing in biohazard gear and applying plastic wrap to the floor.
According to Eleanor M. Green, DVM, DACVIM, DABVP, the Carl B. King Dean of Veterinary Medicine on the "Meet the Dean" page:
"Our college was established in 1916 and since that time, we have graduated over 6000 veterinarians. We are one of only 31 Colleges of Veterinary Medicine in the United States and Canada. Texas Aggie veterinarians proudly serve our state, our nation and indeed the world in countless ways. From highly sophisticated veterinary practices serving the 19 million residents of Texas and their animals to military, industrial, government and university roles, Aggie veterinarians hold positions of prestige and responsibility."
University of Minnesota College of Veterinary Medicine
The University of Minnesota College of Veterinary Medicine is a great school for students looking to get a multi-discipline veterinary education with necessary career skill development. "U of M's College of Veterinary Medicine's PhD and MS programs are advantaged not only by having internationally recognized research faculty within the college but also by our programs' inclusion of faculty from the Medical School and the School of Public Health, both of which have embraced the One Medicine, One Science philosophy," said Mark Rutherford, associate dean of graduate programs. "We're also proud of our individualized and conscientious student mentoring programs which help students with transferable skills (communication, teamwork, project management) to help them succeed post-graduation."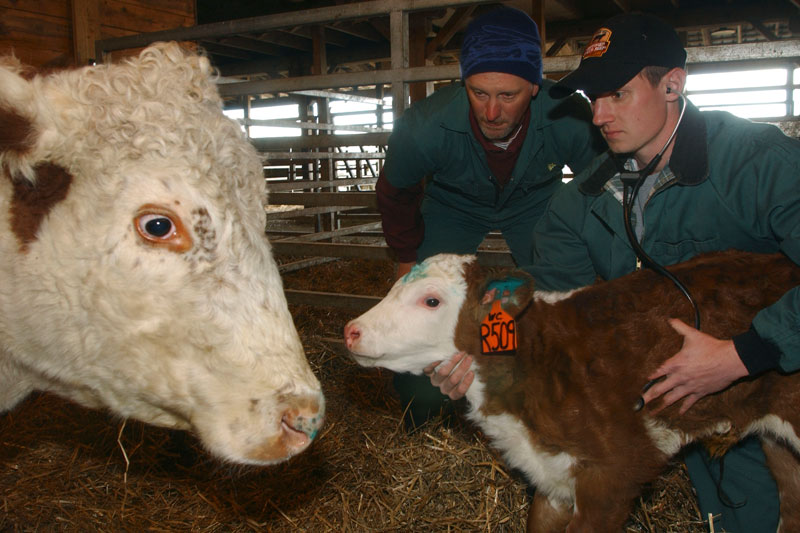 By Tim1965 [Public domain], via Wikimedia Commons
You'll work with animals of all shapes and sizes as a veterinary student.
University of Georgia College of Veterinary Medicine
Students looking for a veterinary college with updated facilities, should give the University of Georgia College of Veterinary Medicine's new teaching hospital consideration. Dedicated on February 13, 2015, prospective students can learn more about the hospital and college's increased ability to give students hands-on experience with animals. One example includes the hospitals' underwater treadmill to treat animals, including dogs, with osteoarthritis, along with classroom facilities to teach veterinarian students working alongside faculty.
According to the website, the University of Georgia Veterinary Teaching Hospital:
"… is part of the new UGA Veterinary Medical Center, which also includes an education building for teaching veterinary students. The center encompasses just over 300,000 square feet and was built to enable the College of Veterinary Medicine to better meet its students' educational needs and its current and future patient care demands."
Cumming School of Veterinary Medicine at Tufts University
No matter what veterinary students want their career path to be, Cumming School of Veterinary Medicine at Tufts University offers prospective students programs to equip them with the right skills and knowledge to accomplish their veterinary dreams. Students can pursue a DVM program to focus on biological and practical medical skills. or a MAPP degree to equip themselves for careers focusing on animals and their present and future societal roles. Other students can enroll in Tuft's conversation (MCM) path for conservation careers, while the MS in Infectious Disease and Global Health prepares students for emerging threats to humans and animals.
According to the Cumming School of Veterinary Medicine at Tufts University's website, the university strives to have a global impact, saying:
"The school's International Veterinary Medicine program collaborates with other Tufts University programs and local organizations in areas such as Latin America, Africa, Asia, and the Middle East to promote advancements in sustainable animal agriculture, wildlife conservation, and public health. Many of our students take advantage of international summer research opportunities through the International Veterinary Medicine certificate program along with other ongoing projects. These opportunities create a campus without boundaries, offer unique learning experiences, and ultimately lead our graduates to exciting and fulfilling careers."
Want the full-list of best-ranked colleges of veterinary medicine? Click on each college to learn more.
1. University of California, Davis
3. (tie) Colorado State University, North Carolina State University
5. (tie) Ohio State University, University of Wisconsin
7. (tie) University of Pennsylvania, Texas A&M University
10. (tie) University of Georgia, Tufts University
14. (tie) Auburn University, University of Florida, Kansas State University, Purdue University, Washington State University
19. (tie) University of Illinois, Virginia-Maryland
21. (tie) Louisiana State University, University of Tennessee
25. Mississippi State University