Follow Veterinary Practice News on Twitter at @vetpetnews.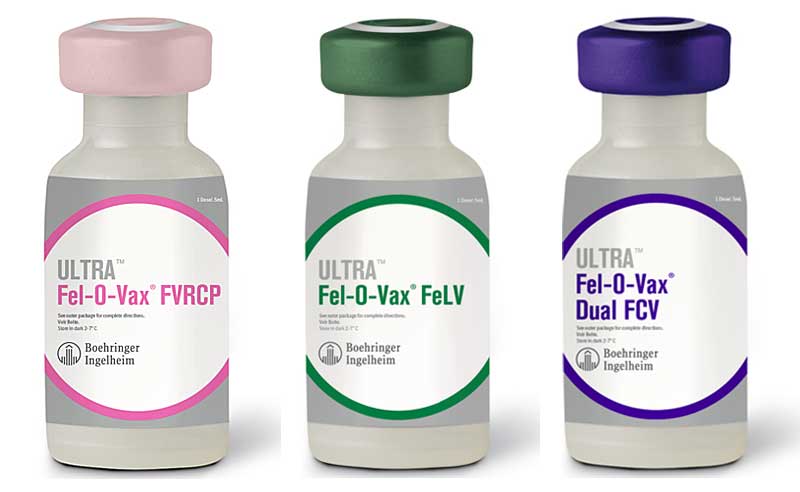 Ultra Fel-O-Vex line is produced by Boehringer Ingelheim Vetmedica Inc.
Cat owners who favor low-volume vaccines for their pets have something new from Boehringer Ingelheim Vetmedica Inc.
The St. Joseph, Mo., drug maker this month released what it called the only 0.5 mL vaccine line for cats. Ultra Fel-O-Vax comes in four formulations:
• FVRCP, which protects against panleukopenia (feline distemper), rhinotracheitis (feline herpes virus infection) and two strains of calicivirus.
• FeLV, for feline leukemia.
• FVRCP + FeLV, for panleukopenia, rhinotracheitis, both calicivirus strains and leukemia.
• Dual FCV, for dual-strain calicivirus.
The company in 2013 introduced a canine line, Ultra Duramune, which also provides 50 percent less volume per dose.
A survey of cat owners found that 85 percent believe reducing the volume of vaccine injected over an animal's lifetime is important, Boehringer Ingelheim reported.
"The goal of our Ultra Fel-O-Vax and Ultra Duramune vaccines is to offer veterinarians options when it comes to their vaccine protocols," said Kyle Malter, DVM, the pet vaccines technical manager at Boehringer Ingelheim. "Ultra Fel-O-Vax provides a more comfortable vaccine experience for the animal while continuing to afford veterinarians the same uncompromised, efficacious protection as BIVI's 1 mL vaccines."
Fel-O-Vax uses PureFil Technology, which is designed to reduce vaccine reactions associated with extraneous proteins and cellular debris.
"We believe this groundbreaking vaccine offers a more comfortable patient experience and leads to better owner compliance for next year's visit," Dr. Malter said.
Previous: BIVI to Launch Oral Bordetella Vaccine
Want more Veterinary Practice news? Go here.