Suggested Veterinary Products
Follow Veterinary Practice News on Twitter @vetpetnews.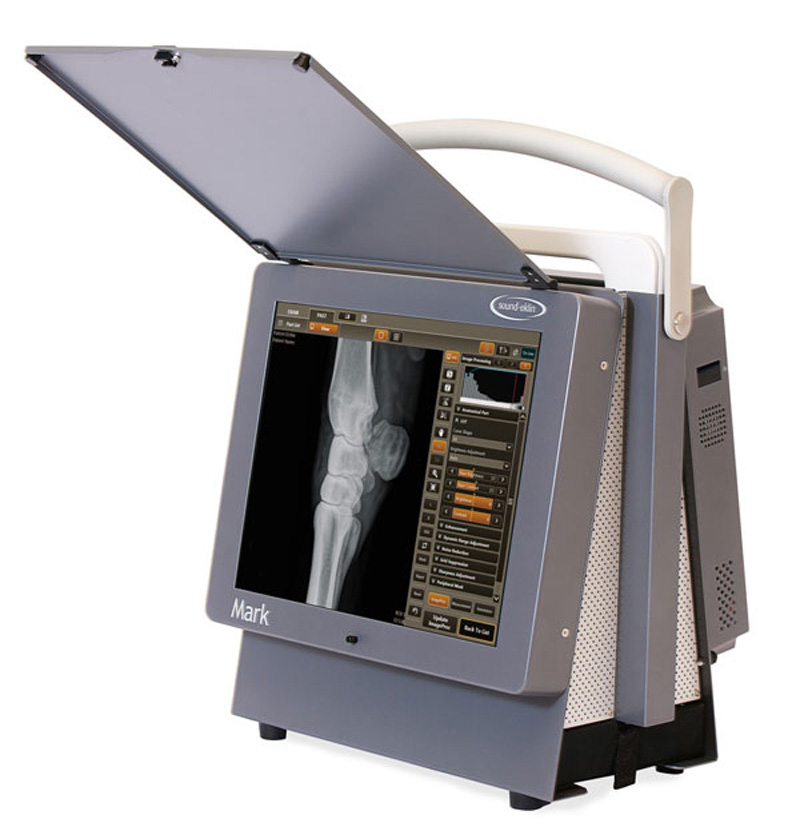 Among Sound-Eklin?s product offerings is the Mark portable
X-ray system.
The Carlsbad, Calif., headquarters of veterinary imaging company Sound-Eklin was severely damaged in one of the wildfires ravaging San Diego County, affecting the offices and warehouse and shutting down the manufacturer's website.
All 70 people who work at the location escaped injury when the Poinsettia Fire reached the property Wednesday.
"While the fire has caused severe damage to a substantial portion of the facility, VCA is working diligently to satisfy customer requirements and prevent supply disruptions," parent company VCA Inc. reported. "VCA has in place standard insurance coverage for both property damage and business-interruption losses, but it is unable at this time to assess the financial impact of the fires to its business."
Sound-Eklin's customer support department remains open at 800-819-5538.
"Thankfully, due to our contingency protocols, customer service is up and supporting customers, and the SoundSafe image cloud has all images safe and secure in the AT&T data center in Mesa, Ariz.," Sound-Eklin noted on its lone Web page.
Sound-Eklin, which sells digital radiography, ultrasound and PACS systems, is committed to rebuilding.
"This is a setback to our operations, but we will continue to provide the excellent service for which Sound-Eklin is known," President Tom Jacobi said. "While we may experience some short-term difficulties, our client support and sales efforts will strive to provide superior services, backed by the full resources of VCA and our affiliated companies."
The fires have burned about 10,000 acres and damaged homes and other buildings throughout San Diego County.
"I feel fortunate to be surrounded by the professional team at Sound-Eklin, each of whom is working hard through this crisis to ensure that our employees and clients remain our No. 1 priority while, at the same time, they also address the disruption to their personal lives that these fires have caused to them and others in the Carlsbad community," Jacobi said.
Previous: Digital Radiography
Want more Veterinary Practice news? Go here.