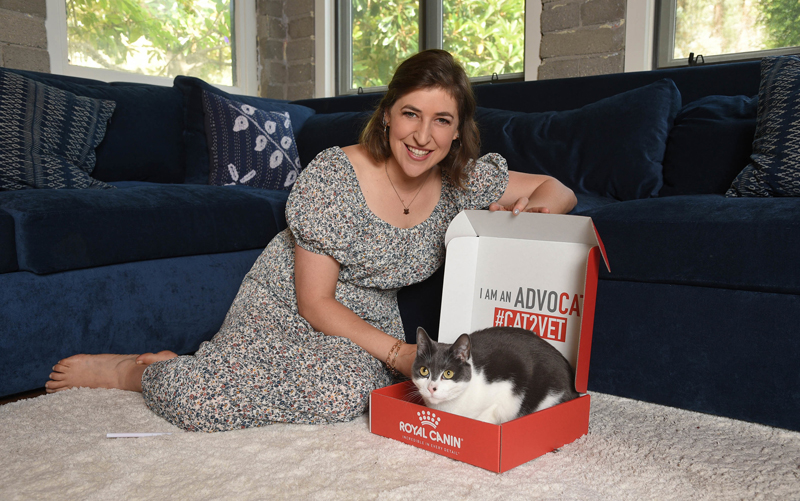 Americans love their cats, but taking them to the veterinarian is a different story.
To help increase clinical visits of feline patients, Royal Canin has partnered with several celebrity "advoCATs" on its annual Take Your Cat to the Vet (#Cat2Vet) campaign.
The movement seeks to raise awareness about the importance of preventive veterinary care by encouraging owners to take their cats for an annual checkup and offering tips for how to make the experience easier.
Now in its second year, the campaign, which is in partnership with Banfield Pet Hospital, Chewy and PetSmart, has attracted the support of actress Mayim Bialik; reality show veterinarian Diarra Blue, DVM; and internet celebrity Hannah "Kitten Lady" Shaw.
"Cats are such stoic animals that you often don't know when they are hiding an illness or injury, but it's up to us—the pet owners—to be their advocates," says Bialik, who starred on TV's Blossom and The Big Bang Theory. "The 'Take Your Cat to the Vet' campaign serves as an important reminder that, just like humans, our cats need regular wellness checkups and, for some cats, even more frequent visits."
There are more than 90 million cats living in households across the U.S., but only half receive an annual veterinary exam, Royal Canin says. However, despite this gap in preventive care visits, a recent survey conducted by the company shows cat owners have a deep bond with their pets and are curious about how they can better care for them.
Specifically:
75 percent of cat owners said they couldn't have gotten through quarantine without their pet;
86 percent want to take better care of their cats because their cats take care of them; and
66 percent plan to change how they care for their pet after COVID-19.
The campaign aims to encourage owners to schedule regular wellness checks for their cats by educating them on the importance of feline preventive care and helping to make veterinary visits as stress-free as possible for their pets.
"One of the most important parts of my role as a veterinarian is making sure I'm taking care of the physical and emotional health of my feline patients," says Blum Animal Hospital medical director and campaign spokesperson, Natalie Marks, DVM. "The #Cat2Vet campaign provides much needed guidelines and information for cat owners to remove the stress and anxiety of the veterinary visit so cats can benefit from a thorough physical exam, wellness screening, and preventive vaccinations."
For more, click here.