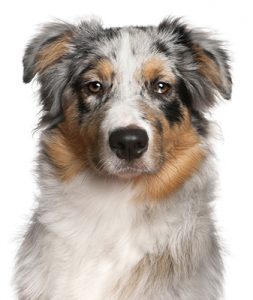 The Canadian Kennel Club (CKC) released its annual list of the country's most popular dog breeds and, like the American Kennel Club's (AKC) list, Labrador retrievers maintained their position as leader of the pack, having held the honor in Canada since 1995.
This year, the CKC welcomed a new breed to the official rankings of the country's best-loved: the Australian shepherd made the list for the first time in more than 25 years, taking the No. 9 position and bumping the Yorkshire terrier out of the top 10.
"The Aussie can do it all," said Shawna Wiebe, president of the Canadian National Australian Shepherd Association. "They are a very intelligent, athletic dog in a moderate package. They can move from the herding arena, to the agility ring, to the rally ring, to the Frisbee field, with great ease."
Australian shepherds are ideal for active families who are looking for a dog to keep up with them. The breed thrives in a home that is committed to socializing and training them, Wiebe added.
German Shepherds, golden retrievers, and poodles remain in the CKC's No. 2, No. 3, and No. 4 spots, respectively, while Shetland sheepdogs and French bulldogs inched their way up the list, landing at No. 5 and No. 6.
Havanese, Bernese mountain dogs, and bulldogs round out the list, taking the No. 7, No. 8, and No. 10 spots.
"Large or small breeds, it is clear Canadians love their dogs no matter the size," said Lance Novak, CKC executive director. "Whether you live in the city or the suburbs, it is important you are able to choose a dog that really suits your home, family, and lifestyle."
To check out the AKC's list, click here.