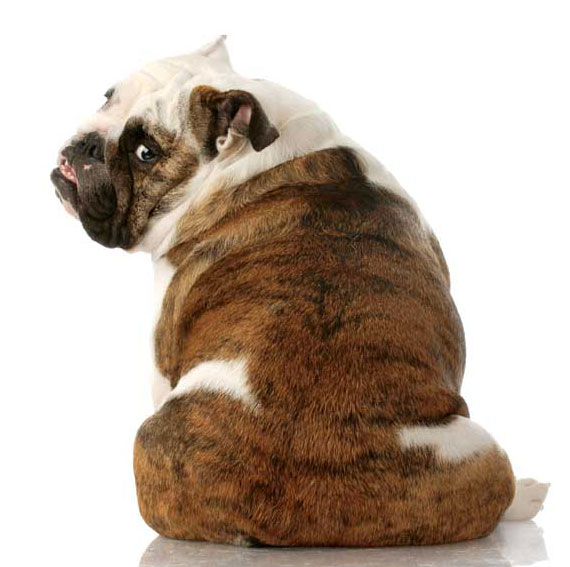 One of the most concerning health trends in the U.S. is the number of overweight dogs, a growing epidemic that has been associated with a dramatic increase in a wide range of health conditions. According to a 2018 report, 56 percent of dogs in the U.S. are overweight.1 These additional pounds can put significant stress and strain on joints, leading to the development of arthritis. In fact, according to one of the largest veterinary hospital networks, the number of overweight dogs has risen by an astounding 66 percent in the past 10 years in the U.S.2 Today, 52 percent of dogs diagnosed with osteoarthritis (OA) have been found to be overweight or obese.3 Nationally, 6.1 percent of all dogs and more than 20 percent of dogs aged 10 years of age and older are affected by osteoarthritis.4
While a great deal of progress has been made in the development of pain medications to help patients with OA, there appears to have been far less emphasis in addressing the nutritional aspect that is often associated with this painful condition. Specifically, the consumption of excess calories plays an integral role in weight gain. It has been shown in dogs that being overweight is clearly linked to an increased risk of development of osteoarthritis.5 It is more important than ever that veterinarians work closely with pet owners to identify overweight or obese patients and to develop effective weight reduction and management programs to help ensure there is a proper balance between caloric intake and regular exercise. Given the plethora of highly palatable commercial dog foods and treats coupled with table scraps, it is very easy for dogs to steadily and stealthy gain weight.
Doing the math
To determine the proper caloric requirements for a specific canine patient, calculate the resting energy requirement (RER), which is derived by raising the dog's body weight in kilograms to the 0.75 power and multiplying by 70. Next, adjust the RER by multiplying it by the appropriate life stage factor. For example, a neutered adult may need to have the RER multiplied by 1.6 whereas an overweight dog may need to use 1.0 as the multiplier.6 The resulting value represents the total number of calories required by that specific dog. More specifically, if you have a neutered adult male dog that is at an ideal body weight of 44 lbs. (20 kg), the calculated RER is 70(20)0.75 = ~660 calories per day. Taking the appropriate life stage multiplier (1.6 x RER) yields a value of ~1,060 calories per day.
It is critically important to advise the pet owner that the calories per cup of food they feed their dog needs to be known before determining how much to give him or her. According to one well respected board-certified veterinary nutritionist, "Commercial dog and cat foods also vary widely in calorie density, and because calorie information is not currently required on pet food labels (except for light or reduced calorie foods), it can be difficult for owners to realize they may be inadvertently increasing or decreasing the daily calorie intake of their pets when they change from one food to another."7 To further illustrate this point, one popular dry dog food (product A) provides 316 calories per cup, while another popular dry brand (product B) provides 421 calories per cup. In this scenario, one would need to feed about 3 1/3 cups of product A per day, while product B would provide the same number of calories through only 2.5 cups. A study of the major brands of dry adult dog maintenance foods shows there is a wide range of calories per cup. Failure to carefully calculate the daily caloric requirement and the correct number of cups of a specific dry food based on an individual dog's weight and life stage can lead to significant over- or underfeeding.
Another way in which unwanted extra calories can creep into a dog's daily diet is through treats and snacks, some of which can include human food leftovers. For example, one very popular dog treat is packed with 150 calories. Feeding just three biscuits to our 44-lb. dog described previously, without making any adjustment to the maintenance diet, would mean a caloric excess of 450 calories, i.e. 42 percent more than required. Using another example, giving this same dog part of an unfinished (3 oz.) hamburger (made from 80 percent lean beef) would add an extra 300 calories or an excess of 28 percent. These two examples of extra calories can add up to many pounds over a period of weeks to months. Indeed, as many Americans have been working from home due to the pandemic, some have put on the famous "quarantine 15." Unfortunately, our four-legged canine companions have not been immune to this weight gain phenomenon—extra calories can add up as a result of being fed too much food and/or treats and less exercise.8
Good snacks versus bad snacks
Veterinarians play a critical role in advising and coaching pet owners of overweight dogs to find creative and successful ways to balance caloric intake with appropriate levels of regular exercise. During the history-taking part of an office visit, it is important to determine the patient's life stage. A young, rapidly growing four-month-old puppy may have a life stage multiplier of 3.0 x RER, whereas a sedentary obese-prone adult may be assigned a life stage multiplier of 1.2 x RER. The calculated caloric requirement needs to be carefully converted into the number of cups of food based on caloric density. Providing a list of healthy, low-calorie snacks is crucial to preventing extra calories from creeping into the daily nutrition routine. Sharing low-calorie, healthy snacks will help clients make good nutritional choices between meals for their dog. Some great snacks include broccoli, cucumber slices, zucchini, and carrot sticks. Developing an exercise/activity program for the overweight patient with specific objectives and milestones is critical for success.
One aspect of the clinical management of OA in dogs that has been gaining more attention recently is the condition's adverse impact on muscle health, mobility, and quality of life, and the role nutritional intervention and a carefully designed exercise program may play in mitigating progression. Researchers found, "Dogs that are diagnosed with arthritis tend to be lethargic, have difficulty moving from a sitting or lying position, cracking joints, stiffness, muscle wastage, and visible pain."9 Recognizing there is a relationship between osteoarthritis and sarcopenia (i.e. muscle-wasting), the American College of Veterinary Surgeons (ACVS) recommends the following: "Animal rehabilitation, such as range-of-motion exercises, therapeutic exercises, and aqua therapy (underwater treadmill, swimming), help to improve joint mobility, increase muscle mass, and improve exercise endurance."10 There is an opportunity to address this loss of muscle by providing high-quality protein in the diet to help optimize both absorption and assimilation. Additionally, there is growing scientific evidence the use of certain natural nutritional supplements may help stabilize or even reverse muscle loss in these patients. Canine osteoarthritis experts are increasingly recognizing a multimodal approach that includes consideration of nutrition, supplements, exercise, and weight control for overweight patients may yield more optimal clinical outcomes. At the 2017 World Small Animal Veterinary Association (WSAVA) conference, one prominent board-certified veterinary nutritionist commented, "While there is no single therapy shown to mitigate muscle loss associated with aging and disease, a multimodal approach including nutritional and exercise therapies can provide meaningful benefits that improve quantity and quality of life in our aging, diseased patients."11
General practitioners who are looking to help their OA patients through the use of nutrition, nutritional supplements, and exercise are encouraged to collaborate with their local board-certified veterinary nutritionists, surgeons, and rehabilitation specialists who can help design a specific program for a patient's unique needs.
Albert Ahn, DVM, is the veterinary advisor at MYOS Pet, helping guide the growth and development of its expanding canine health business. A passionate advocate and voice in the animal wellness industry for more than 25 years, Dr. Ahn has helped transform the space through companies such as AB Science USA and Hill's Pet Nutrition.
References
1 Association for Pet Obesity Prevention Report 2018
2 Banfield 2019 State of Pet Health Report
3 Banfield 2019 State of Pet Health Report
4 Banfield 2019 State of Pet Health Report
5 Kealy, R.D., Lawler, D.F., Ballam,J. M., Lust, G., Biery, D.N., Smith, G.K. and Mantz, S.L.: Evaluation of the effect of limited food consumption on radiographic evidence of osteoarthritis in dogs. J. Am. Vet. Med. Assoc. 217:1678-1680, 2000
6 The Ohio State University Veterinary Medical Center Hummel and Trueman Hospital for Companion Animals Nutrition Support Service
7 Cachexia and Sarcopenia: Emerging Syndromes of Importance in Dogs and Cats L.M. Freeman, Journal of Veterinary Internal Medicine, Volume26, Issue1 January-February 2012
8 See wapo.st/2TYxHVg
9 Clinical trials in rheumatoid arthritis and osteoarthritis, DM Reid, GC. Miller, Springer-Verlag London Limited, Aberdeen, UK, 2008
10 See American College of Veterinary Surgeons at bit.ly/3oYt4bS
11 Muscle Matters in the Geriatric CKD Pet: Working Against the Clock, World Small Animal Veterinary Association Congress Proceedings, 2017 D. Hutchinson, DVM, DACVN