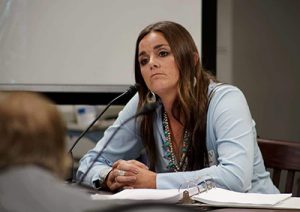 Kristen Lindsey, the Texas veterinarian whose license was suspended for one year after shooting a cat through the head with an arrow and posting about it on social media, has lost her appeal to overturn her sentence.
In an April 2015 Facebook post accompanying an image of a cat impaled by her arrow, Lindsey wrote, "My first bow kill, lol. The only good feral tomcat is one with an arrow through it's [sic] head. Vet of the year award … gladly accepted."
After much furor from animal rights activists and the veterinary community, the Texas Board of Veterinary Medicine sought to revoke Lindsey's license. Instead, the Texas State Office of Administrative Hearings recommended a one-year full suspension and four years' probation.
The one-year suspension ended in October 2017, and Lindsey is permitted to practice veterinary medicine on a probationary basis.
Lindsey attempted to get her sentence overturned in district court and the Texas Third Court of Appeals. Another appeal to challenge the rules dictating her disciplinary action was pending. She lost both cases on Friday, April 27, and is ordered to pay all costs related to the trial court and the court of appeals.
Lindsey had argued to the court that what she did "had nothing to do with the practice of veterinary medicine."
"How can a veterinarian kill a cat, whether it's owned, feral, unowned, or abandoned?" said William Folger, DVM, MS, DABVP, during his participation as an expert witness at the State Office of Administrative Hearings. "It doesn't matter if she thought the cat was feral. This is astounding to me. Killing cats is against the law in Texas. I couldn't believe a colleague could kill a cat in an inhumane, barbaric and cruel manner. It's beyond my comprehension."
"We're pleased that the courts still see Kristen Lindsey's actions as deserving of punishment, however, a one-year suspension is grossly inadequate for a veterinarian who gained such pleasure from the torture of a cat," said Becky Robinson, president and founder of Alley Cat Allies, of the April 27 outcome. "Kristen Lindsey should never be trusted to practice veterinary medicine again."
Related
Texas board accuses Kristen Lindsey of animal cruelty
Judges urge license suspension for Lindsey