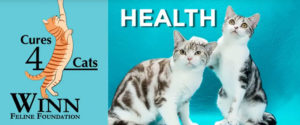 Cats will take the spotlight in Times Square this spring as part of a campaign to promote the love of cats.
The International Cat Association (TICA), Winn Feline Foundation, and Dr. Elsey's Cat Products have joined together to create a feline billboard campaign that will be front and center in one of the world's busiest pedestrian areas. The initiative runs until June 30.
TICA has celebrated the welfare of cats since its start in 1979. Currently, it is made up of more than 8,000 cat lovers in 104 countries.
The Winn Feline Foundation has been supporting and funding feline research since 1968. More than $6 million has been given to researchers working toward a better understanding of diseases, treatments, and cures for feline health conditions.
Dr. Elsey's creates various cat products. The company will be in New York from April 22 to May 15 to host the first Power of Purrsuasion pop-up event at Meow Parlour.