Running out of time or ideas to make your surgery-loving colleagues happy? From affordable to higher-priced, here are some suggestions to get you started.
For better aseptic technique, individual self-sealing sterilization pouches are safer than cut-off pouches on a roll. The concern with the latter is that it is difficult to open them and empty their contents in a sterile manner. Self-seal pouches may cost a few pennies more, but they will improve patient care by decreasing the contamination risk.
Depending on the size, each sterilization pouch costs less than 5 cents (e.g. 3.5 by 10 inch) to under 10 cents (e.g. 7.5 by 13 inch).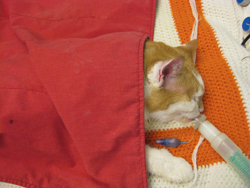 An anesthetized cat with a warming blanket.
Surgical ties are designed to keep the patient in position during surgery. Using appropriate ties will avoid cutting into the skin or causing a tourniquet effect. Proper positioning and reasonable tension can prevent lasting tissue damage.
Ideally, ties should be placed right above the carpus and the hock. Arguably, two loops are better than one to even out pressure on the skin. You can get four good-quality ties for under $5 at your favorite supplier.
Replace drapes to wrap instruments on a regular basis. Burned-to-the-core, massively stained or torn wraps are not appropriate for surgery purposes because they cannot maintain sterility. If you see a hole in a wrap, replace it. A 36-by-36-inch drape costs around $6. A 24-by-24-inch drape will set you back about $4.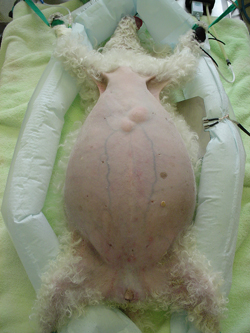 An anesthetized dog with a warming blanket, a cautery plate and surgical ties on the front legs.
Trying to remove a bandage or an IV catheter with dull scissors is frustrating. You can save time and aggravation, and avoid discomfort to your patients, by investing in some good-quality bandage scissors.
It seems that the best ones are serrated and cost $10 to $50.
There is a simple way to eliminate the risk of forgetting a pop-off valve in the closed position and causing a potentially deadly pneumothorax in your anesthetized patients. Called a "pop-off valve restrictor" or a "pop-off occlusion valve" depending on the manufacturer, the simple device is installed along your anesthesia circuit.
It can be closed by pushing a simple button with one finger while you queeze the bag. No more need to struggle closing and opening a regular pop-off valve anymore! This wonder of modern technology costs about $50 to $60. It is both a technician-pleaser and a lifesaver.
If you're a true surgery lover, you owe it to yourself to try a German-quality needle holder and appreciate the difference. You should be able to find a great needle holder for about $100 and up.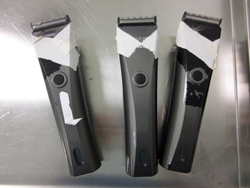 Good clippers are important for a nice shave job.
Besides your personal satisfaction, you may very well end up with prettier suture lines.
Some patients just aren't built for dorsal recumbency. Patients will be more stable on their backs if you use sand bags or a trough on the surgery table, assuming you don't have a surgery table that you can "V."
Bonus: the same equipment can be used to position patients on the X-ray table. Three sand bags (5, 7 and 12 pounds) cost around $120. A trough costs from $130 to $220 depending on the style and the size.
Good clippers are critical for a nice, close clip that does not transform your patient into a bruised, bleeding, botched mess. Ideal clippers should be sharp, quiet and light. Cordless and a good battery life are nice perks.
But even the world's best pair of clippers will not work well if it is not used properly. Keep the blade parallel to the skin, and periodically spray a cooling agent on the blade to avoid burning the skin.
Expect to pay $150 to $250.
When performing procedures such as a cystotomy, hemoabdomen or lavaging an abdomen, a suction machine makes fluid removal infinitely easier. Brachycephalic breeds may benefit from a little bit of suction in the laryngeal area. A sturdy suction machine can be purchased for about $300.
If new surgical lights are out of your price range, consider adding a good quality headlamp to your arsenal. With a headlamp, you get what you pay for. Spend around $100 to $500 and you can have a bright and focused light source that will help you better visualize your surgery site.
Hypothermia is detrimental to your patients. There are many ways to fight hypothermia. Some techniques to consider include warm water circulating blanket (around $400), the HotDog (under $2,000) and forced air blankets (under $1,000).
Sure, cautery is not necessary for surgery, but once you have it, you'll never want to be without it.
Cautery is a time saver, an aggravation saver and decreases bloodletting. It also decreases anesthesia time. There are many types out there, from well under $1,000 to several thousand dollars.
Using a fluid pump during anesthesia and surgery decreases the risk of human error ("eye-balling" is not considered accurate). It increases accuracy and drastically reduces inadvertent fluid overload. Pumps also allow a fluid bolus to be given without the need to "squeeze the bag." Last but not least, IV pumps allow you to use constant rate infusions. You can find a small and reliable IV pump for around $1,000.
It's difficult to claim performing state-of-the-art anesthesia without proper monitoring equipment.
The most basic monitor includes pulse oximetry and ECG. Fancier equipment includes blood pressure and temperature measurements. Top-of-the-line devices feature capnography. The cost will, of course, greatly vary depending on the features you need.
Having bright, reliable surgery lights that don't dislocate your technicians' shoulders when they try to adjust them benefits you, your patients and your staff. The cost will vary depending on their number (two lights are usually recommended), size, features and the type of light bulbs. LED generates less heat.
All prices mentioned above are for new equipment. It is important to understand that they are merely averages, as they will vary greatly based on your location, the quality and your negotiating skills.
Clearly, if you don't mind taking a risk with used or refurbished equipment you may be able to get a better deal. In addition, you can often get generous discounts by purchasing equipment at a conference.
Price of the equipment? A few bucks to a few thousand dollars. The smile on your veterinarians' or your technicians' faces—and yours? Priceless.
Dr. Phil Zeltzman is a mobile, board-certified surgeon in Allentown, Pa. His website is www.DrPhilZeltzman.com. He is the co-author of "Walk a Hound, Lose a Pound" (www.WalkaHound.com).
Katie Kegerise, a certified veterinary technician in Reading, Pa., contributed to this article.