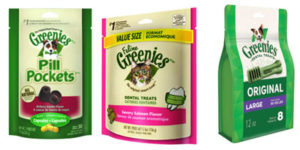 Covetrus is now the exclusive supplier of Mars Petcare's Greenies Dental Treats and Pill Pockets.
The deal allows veterinarians to purchase the products for both their in-clinic and ecommerce/auto-ship channels, helping to differentiate themselves from online competitors.
"With our customer reach, differentiated go-to-market strategy, and our industry-leading service organization, Covetrus is uniquely suited to partner with Mars Petcare to drive increased adoption of dental health solutions and medication administration tools for our customers and their clients," says Matt Leonard, Covetrus's executive vice president, president of North America and global supply chain officer.
"This new partnership highlights the opportunity we have at Covetrus to continuously help support veterinarians deliver cost-effective solutions and enhance their client experience."
Both Greenies Dental Treats and Pill Pockets are designed to simplify oral care and medicating solutions for pet owners.