Suggested Veterinary Products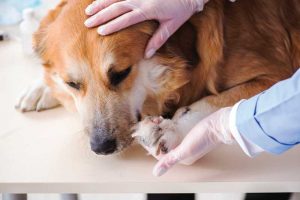 Fasting a dog or cat used to be step one in treating acute pancreatitis, but that's no longer the case. It was thought feeding would stimulate pancreatic activity in an already inflamed organ, but increasingly, early intervention with nutritional support is seen as critical in cats and important in dogs.
"Nutritional intervention has become much more aggressive," said Craig Webb, PhD, DVM, DACVIM, professor of small animal medicine service at Colorado State University, College of Veterinary Medicine and Biomedical Sciences. "We are certainly getting nutrition into these guys earlier, and it seems to decrease the number of days in the hospital and cost, and leaves [the pet] with a healthier gastrointestinal tract."
Interestingly, for something as common as acute pancreatitis in pets, there's a surprising lack of data on management, at least from a nutritional perspective. But although the mechanisms for pancreatitis in people and in dogs tend to be quite different, studies from human medicine suggest the pancreas does not become more stimulated if food goes by it. As such, the best way to feed patients with acute pancreatitis is orally. When that's not possible because they don't feel like eating or they're vomiting, a variety of feeding tubes are available to provide nutrition enterally or parenterally.
Feeding tube factors
Based on results in human medicine—where nutritional management is an important part of treating patients with acute pancreatitis—as well as preliminary studies in dogs and cats, early enteral nutrition tends to be favored over parenteral nutrition. While limited data are available in veterinary literature, evidence tends to support the beneficial role of enteral nutrition, according to a study published in the April 2014 Journal of Veterinary Emergency and Critical Care.
There are a couple of reasons for that. One is that enteral nutrition does a better job of promoting gut health.
In her explanation, Cailin R. Heinze, VMD, DACVN, assistant professor of nutrition at Cummings School of Veterinary Medicine at Tufts University, cites the adage, "If the gut works, use it."
In theory, parenteral nutrition can meet nutritional needs calorie-wise and in terms of providing adequate protein, but it doesn't promote gut health because enterocytes are dependent on the nutrients in the lumen.
Any bit of food enterally is going to be healthier for the gut typically than meeting all energy needs parenterally," she said. "Even if you have to feed most calories parenterally, give some enterally."
Studies show enteral nutrition is a more effective way to deal with the health of the gastrointestinal tract because the GI mucosa benefits directly from short-chain fatty acids produced by nutrition going through the gastrointestinal tract.
"If you bypass the GI tract with parenteral nutrition, that's a reasonably important piece of the nutritional benefit you're then missing," Dr. Webb said.
Providing parenteral nutrition is also difficult logistically. Many formulations require a central line because of high osmolarity. Patients need 24-hour monitoring, and there's greater risk of metabolic complications, such as hyperlipidemia or hyperglycemia, which are seen less commonly with enteral nutrition. Patients receiving parenteral nutrition may also have a higher rate of infection. All of that can result in a significant cost increase to the client.
Metabolic changes secondary to parenteral nutrition can also affect patients' levels of electrolytes. Those changes are less likely in enteral nutrition.
The additional advantage of an enteral feeding tube is that clients can continue feeding the pet at home through it. Both dogs and cats usually tolerate feeding tubes well, with minimal complications or hindrances to their lifestyle. The only difference may be that owners must give multiple small meals daily to prevent the pet's stomach from ballooning with too much food, as well as to ensure normal motility. Besides nutrition, feeding tubes make it easy for owners to give medication or fluids, if needed.
"That is often a quick way to get the animal out of the hospital, which saves them tremendous amounts of money and gets the animal back into their home environment where it's more comfortable," Webb said.
Both procedures are useful, and in skilled hands, both are effective, Webb said, but the extra skill, effort, and attention required to pull off parenteral nutrition correctly give enteral nutrition the edge.
Treatment outlook
Little research has been done on pancreatitis in dogs and cats, but researchers in human medicine are investigating the potential of immunonutrition as a way to modulate pancreatic inflammation and improve gut barrier function for humans with acute pancreatitis.

The concept of immunonutrition—which is the use of specific nutrients to modify inflammatory or immune responses—has three potential targets: mucosal barrier function, cellular defense, and local or systemic inflammation. Nutrients being looked at on the human side include arginine, glutamine, branched-chain amino acids, and n-3 fatty acids.

It's unknown at present which nutrients might be beneficial for pets, but Craig Webb, PhD, DVM, DACVIM, professor of small-animal medicine service at Colorado State University, College of Veterinary Medicine and Biosciences, said possibilities might include prebiotics that are metabolized into short-chain fatty acids. These are a healthy nutrient source for the gastrointestinal tract, as is fiber, which he describes as a fascinating component of diets that is just beginning to be understood.

"And we're just starting to touch on the huge importance of the microbiome in a wide variety of diseases including pancreatitis and the gastrointestinal involvement in that condition," Dr. Webb said.

Whether this type of treatment filters down to pets remains to be seen. "Many of the most advanced human therapies these days often involve immunomodulation or are very specifically tailored toward certain patients. Both of those concepts are big in human medicine now and both are very, very expensive," Webb said. "Often these treatments are cost-prohibitive in veterinary medicine, but we take what we can from human research and adapt it in ways that much of it is still potentially useful and cost-effective in our veterinary patients as well."
Critical care patients
Part of addressing acute pancreatitis is impressing upon the client the seriousness of the condition. Patients often need 24-hour monitoring in a critical-care unit with fluid support to keep the pancreas perfused and "wash out" the inflammatory cytokines.
"I need the patient getting aggressive and appropriate care at a very well-equipped facility," Webb said. "And that's going to cost money and take some commitment, but it just doesn't make sense to try to deal with this any other way."
With patients who have severe clinical signs, it may be necessary to find other ways to feed their gastrointestinal tract. Techniques include post-pyloric feeding with nasojejunal or gastric jejunal feeding tubes.
"That's something we've been doing more in our hospital—we have some severe cases that are really intolerant to enteral feeding and feeding into their stomach or esophagus because they continue to have gastrointestinal signs, such as vomiting," said Martha G. Cline, DVM, DACVN, who practices in the clinical nutrition department at Red Bank Veterinary Hospital in Tinton Falls, N.J. "Sometimes, too, we'll look at doing things like partial parenteral nutrition, where we have part of the calories provided enterally with additional calories through a peripheral or a central catheter."
Dogs versus cats
While it may be more recognized in cats, acute pancreatitis affects dogs and cats, possibly with greater frequency in both species than is generally known. And each species presents differently.
Cats tend to become anorexic and lethargic and may be either febrile or hypothermic. Dogs typically become anorexic, start vomiting, and exhibit cranial abdominal pain. Abdominal pain appears to be almost nonexistent in cats, but Webb said that may be because it's more difficult to identify abdominal discomfort in cats than it is in dogs.
Treatment varies as well. Dogs with acute pancreatitis are typically fed a highly digestible diet that's low in fat, Dr. Cline said. Fat content is less important when it comes to cats, but they still need a food that's highly digestible.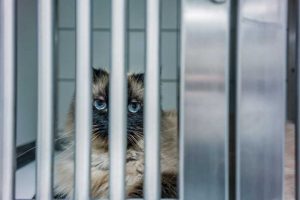 "I think it's important to emphasize that cats are very different than dogs," Dr. Heinze said. "If we have a cat with pancreatitis in the hospital, often the presenting complaint initially was with anorexia. In those animals, I'm focused more on just providing appropriate calories and appropriate nutrient levels, and
I tend not to worry as much about the fat content of the diet."
Dogs are more likely to present only with pancreatitis. Cats, on the other hand, may present with triaditis: cholangeohepatitis, inflammatory bowel disease, and pancreatitis. "Approaching a cat with triaditis may also involve dietary management of their inflammatory bowel disease, which may include a novel or hydrolyzed protein diet, which tends to also be highly digestible," Cline said.
Which pets get pancreatitis, and why, is unclear at this point. There's no specific breed predisposition for it. The exception is miniature schnauzers, who have familial predispositions toward hyperlipidemia, which can lead to pancreatitis.
There is a long list of potential causes of pancreatitis, but none are well established. In cats, possibilities include infectious causes and toxoplasmosis. In dogs, it's sometimes thought a high-fat meal or other dietary indiscretion may be the trigger. Steroids were once thought to cause pancreatitis, but that belief is going by the wayside, with steroids now being considered as a potential treatment—at least for chronic pancreatitis.
"That's the million-dollar question for which we do not know the answer," Webb said.
New pancreatitis drug in Japan
A Japanese company released its first animal health product, Brenda, last month. The drug, fuzapladib sodium hydrate, was approved by the Japanese Ministry of Agriculture, Forestry, and Fisheries to help reduce clinical signs associated with acute pancreatitis in dogs. Ishihara Sangyo Kaisha (ISK) is seeking approval for the drug from the U. S. Food and Drug Administration.