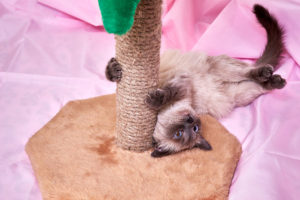 Legislation is currently moving through New York's state assembly in an effort to ban the declawing of cats.
Declawing is already banned in several cities in California, as well as many countries around the world, including Switzerland, Israel, and the U.K. If Bill A01303 is passed, it would make New York the first state to ban the practice.
"Claws play an important role in various aspects of cats' lives. They use their nails to assist in climbing and maintaining balance, to help them fully stretch, to relieve stress through kneading, and to escape danger," reads a state assembly memorandum memo.
The memo goes on to say, "When the claws are removed, the animal tends to shift its gait and where it places most of its weight, causing strain on its leg joints and spine, which can lead to early onset arthritis and prolonged back and joint pain."
Should the bill pass, anyone who performs an onychectomy, a partial/complete phlangectomy, or a tendonectomy procedure on a cat faces a fine of up to $1,000.
Declawing will be permitted when it is necessary for therapeutic purposes, including:
an existing or recurring illness;
infection;
disease;
injury; or
an abnormal condition in the claw.