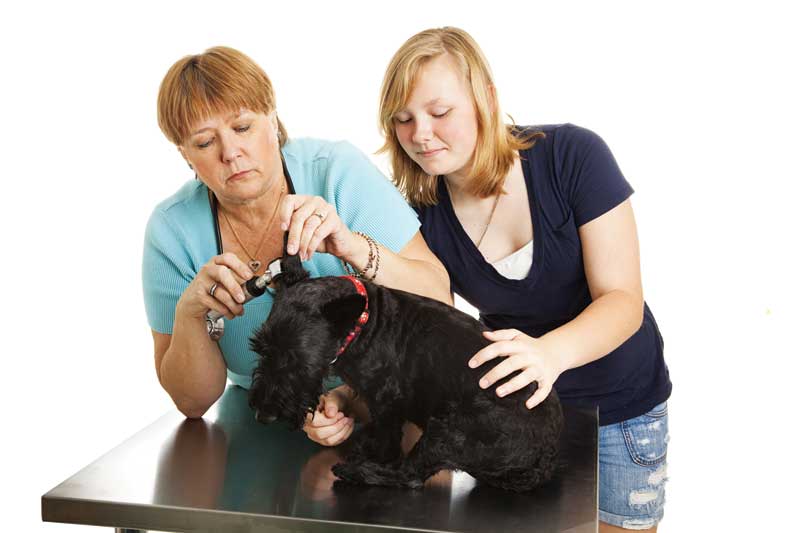 My mom took her 12-week-old kitten, Ranger, to his first checkup. She gave adoption records to the client service representative (CSR) at check-in. The CSR set the records aside, asked her to wait in the lobby, and continued answering calls.
After a technician asked Mom questions about Ranger, the doctor examined the kitten and asked when vaccines were given at the shelter. Mom explained the records she provided at check-in contained this information. The veterinarian sighed in frustration and went to retrieve the records.
At checkout, Mom booked Ranger's 16-week kitten appointment. She asked the CSR if she would get a text or email confirmation. "No, the appointment will print on the bottom of your receipt," the CSR replied. The next day, Mom got an email to schedule Ranger's next checkup and boosters, which had been done the previous day at checkout. This practice needs a client experience and efficiency makeover.
Here are eight steps to flip this client experience from feeling like being processed to being impressed:
Makeover 1
Send confirmation upon booking and request forms and records in advance. When a client books a new patient exam, immediately send a text or email confirmation with links to a new patient form. Getting paperwork done in advance and having the medical record set up before arrival will save 10 minutes (minimum) of administrative tasks for every new patient exam.
Text this: "We're excited to meet <pet name> at <time, date>. Complete new patient form at <link> 24 hours before the exam and email medical records to <hospital email>. Bring a stool sample that's fresh within __ hours. Get driving directions at <link>. Reply C to confirm or RS to reschedule."
Have your webmaster set up online forms or use services such as www.jotform.com and www.formstack.com. Lake Road Animal Hospital in Horseheads, N.Y., has a new client form at https://lakeroadanimalhospital.com/
new-client-form/.
New and existing clients should receive a series of four confirmations by text, app, or email to prevent no-shows and to set expectations for visits. Multiple confirmations are especially important for hospitals booking three or more weeks in advance. Here's when to send confirmations:
1) Immediately after appointment is booked with links to online forms
2) Two weeks before appointment
3) Four days before appointment
4) Two days before appointment (call if unconfirmed)
Makeover 2
Greet clients and patients by name upon arrival. CSRs should monitor the schedule throughout the day, so they know names of the next arriving clients and patients. Mom had an 8 a.m. appointment for Ranger. As she approaches the check-in desk, stand to greet her. Your body language will communicate you're eager and ready to help.
Say, "Welcome to <Your Veterinary Hospital>, Mrs. Richmond. We're happy to meet you and Ranger. Thank you for completing the new patient form online and emailing Ranger's medical records. I will let the technician and veterinarian know you've arrived. What questions can I answer before we get started?"
Makeover 3
Review the medical record before entering the exam room. The doctor and technician will be prepared with follow-up questions and know priorities for the visit. When starting the appointment, the technician would say, "Good morning, Mrs. Richmond. I'm <technician name> who will assist Dr. <Name>. I will get Ranger's vital signs and ask you a few questions, then the doctor will join us for the exam. As a 12-week-old kitten, Ranger will receive an exam, vaccines, feline leukemia/FIV test, intestinal parasite screen, and deworming medication. We also will start him on preventives for heartworms, flea/ticks, and intestinal parasites. Does Ranger have any health or behavior concerns you want to discuss with the doctor?"
The technician introduced himself and explained his role. He described medical services for a 12-week-old kitten based on the hospital's standards of care. The technician also asked about health or behavior concerns, which identifies chief complaints upfront and results in efficient use of exam time.
Makeover 4
Have the manager personally welcome new clients. Each morning, the hospital manager should check the schedule to identify new client appointments. At the beginning or end of exams, the manager will step into the exam room, introduce herself, and provide a business card. Say, "I want to welcome you to our veterinary hospital. My name is <manager name>, and I'm the hospital manager. We strive to provide exceptional patient care and client service, so please contact me if you have any questions. Here's my business card. We appreciate the opportunity to care for your pet."
Makeover 5
Provide a welcome gift. New clients at West Loop Veterinary Care in Chicago receive gift bags on their first visits. Imprint canvas bags with your logo, phone number, and website. Stuff bags with educational literature, product samples, and items such as:
Slip leash with your hospital name and phone number
Hospital magnet
Pet food measuring cup and/or can lid cover
Emergency clinic info
Vaccine record keeper
Dental report card
Pen with your logo, phone number, and website
Toy or treats
Puppy/kitten educational handouts
Finger toothbrush and toothpaste sample
Free doses of heartworm and flea/tick preventatives available from pharmaceutical companies
Diet sample available from pet food companies
Gift certificate to try boarding or grooming services
Tailor literature based on the pet's life stage. New clients with senior pets will receive brochures on early detection screening, arthritis, and senior diets. A new puppy owner would receive house-training and socialization handouts.
To determine how many bags to order, run a report in your practice-management software to identify the number of new clients you saw last year. Ask pharmaceutical and pet food sales reps to sponsor your gift bags with funds to print bags and samples to insert. Put your hospital's logo, website, and phone number on the front of canvas bags. On the back, print sponsoring vendors' product logos.
Makeover 6
Enter reminders guaranteeing future visits. Set reminders based on adoption or medical records you reviewed during today's exam. Remind for both services and products:
Exam
Vaccines
Diagnostics: Intestinal parasite screen, heartworm/tick test, feline leukemia/FIV test, early detection screen, drug-monitoring test, blood pressure check, etc.
Refills: Flea/tick and heartworm preventatives, long-term drugs, food, etc.
Do not base reminders on only the services you delivered. The shelter may have given a one-year rabies vaccine. Although the patient is up to date, set a new reminder one year from now because your clinic will give the next rabies vaccine.
Makeover 7
Forward book the next appointment. Many practices are booking three to six weeks out due to the current appointment demands. Timing of kitten and puppy vaccinations is critical. Forward booking will ensure timely follow-up care.
Use the yes-or-yes technique to lead the client to forward book. Say, "Ranger's next progress exam and vaccines will be due in four weeks, which will be the week of <date>. The doctor can see Ranger on <Date 1, time> or <Date 2, time>. Which do you prefer?"
An American Animal Hospital Association (AAHA) report found forward booking 10 percent of checkups could contribute an additional $40,000 in revenue.1 Send text or email confirmation upon booking so clients may add upcoming appointments to their calendars. 
Makeover 8
Mail a "Welcome to Our Hospital" card. Express appreciation for choosing your hospital, give an overview of services, and have a doctor or manager sign the card or letter. Enclose two business cards, giving the new client one to keep and another to pass along.
Keep greeting cards and stationery in a front desk drawer. If mailing a letter, create a template for consistent communication. During the new client appointment, the CSR will handwrite the envelope and leave the card or letter on the doctor's desk to add a personal note and sign. A handwritten envelope will stand out in the client's mailbox and be the first item opened.
When you make lasting impressions, you'll create loyal clients and ensure future revenue. The lifetime value of one client with one pet can be $8,900 or more.2 Have your manager write a protocol for how your practice will welcome and retain new clients. Putting plans in writing will help your team deliver consistent new client experiences.
Wendy S. Myers, CVJ, has been training veterinary teams for 21 years as owner of Communication Solutions for Veterinarians. She teaches teams to become confident communicators, so more pet owners say yes to medical care. Wendy shares her expertise through conferences, online courses, and monthly live CE credit webinars. She is a certified veterinary journalist and author of five books. Her passion is to help practices like yours thrive and grow through effective communication skills. You may reach her at wmyers@csvets.com or www.csvets.com.
References
Forward Booking: How Forward Booking Leads to Better Patient Care. Partners for Healthy Pets. Available at: https://www.aaha.org/globalassets/04-practice-resources/Forward-booking. Accessed Oct. 6, 2021.
Myers W. Online Course: When You Can't Handle the Tsunami of New Clients. Available at: https://shop.csvets.com/2021/when-you-can't-handle-the-tsunami-of-new-clients/. Accessed Oct. 6, 2021.