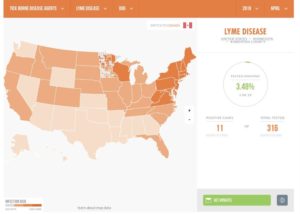 Health-care providers can now use dogs as a way to measure human risk for Lyme disease, according to a study by Companion Animal Parasite Council (CAPC).
"This research shows how man's best friend continues to safeguard humans as a sentinel to alert humans where they are at greatest risk for Lyme disease," says CAPC executive director, Christopher Carpenter, DVM. "The model established in this research breaks new ground to give residents, travelers, and health-care providers a county-level map to help them identify areas of risk across the country."
Through the study, researchers quantified the relationship between canine seroprevalence for the disease-causing bacterium, Borrelia burgdorferi, and Lyme disease in humans. Seroprevalence is used to calculate the number of dogs testing positive among all tested dogs within a county. The study showed a correlation between human incidence and dog seroprevalence.
According to researchers, they were able to study more than seven years of nationwide canine diagnostic data as a result of dogs being tested annually for exposure to Borrelia burgdorferi. The collected data represented more than 400 million data points, which is usually difficult to obtain when looking directly at ticks and the environment.
"By combining sophisticated statistical modeling with this invaluable canine data, we're enabling veterinary medicine to benefit human medicine," says Robert Lund, MS, PhD, professor in the department of mathematical sciences at Clemson University, specializing in statistical climatology and veterinary disease mapping. "This research represents the first step on the long road to developing a forecast for human Lyme disease."
Other benefits for basing a study on canine seroprevalence include:
Lyme disease is easier to diagnose, as there would be evidence of peridomestic exposure risk since dogs share an environment with humans
Obtaining Lyme disease data in humans is expensive, whereas canine data is reported monthly on a national scale
Monitoring canine seroprevalence is ongoing, with testing recommended for all dogs during annual wellness visits
Canine data is less likely to record biases, as test results are captured automatically and routinely
Humans and their health-care providers can use CAPC Lyme disease prevalence maps to identify the epidemiologic risk and pretest probability of infection