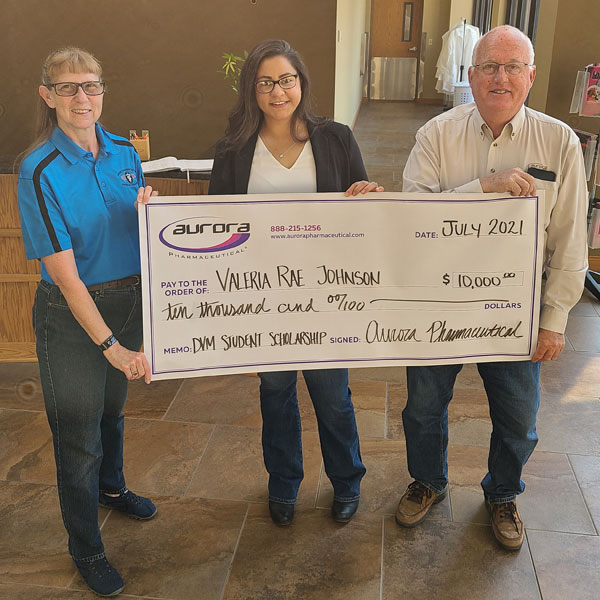 Fourteen third-year veterinary students from across the U.S. have received a financial boost from Aurora Pharmaceutical.
The Minnesota-based veterinary pharmaceutical product development and manufacturing company has announced the recipients of its inaugural DVM Student Scholarship Program.
The program—which awarded 10 scholarships of $2,500, three scholarships of $5,000, and one scholarship of $10,000—recognized individuals based on academic achievement, work experience, community/university involvement, and other criteria.
"On behalf of Aurora, I want to extend my congratulations not only to the 14 recipients of this year's [scholarships], but to all the 2021 applicants," says Aurora Pharmaceutical founder and CEO, Mike Strobel. "We look forward to seeing what this next generation can do for our industry once they graduate from their programs in 2022."
The recipients are:
$10,000 Level
Valeria Rae Johnson (Michigan State University)
$5,000 Level
Hannah Carter (Mississippi State University)
Allyson Patterson (North Carolina State University)
Eliza Theis (University of Minnesota)
$2,500 Level
Tyler Dick (University of Minnesota)
Maryanna Hudson (Mississippi State University)
Colton Hull (Kansas State University)
Maggie King (University of Minnesota)
Sabra McCallister (North Carolina State University)
Charles Logan Murray (University of Georgia)
Rebecca Riggs (Purdue University)
Emily Terry (Texas A&M University)
Katie Warner (University of Minnesota)
Katelyn Williams (University of Georgia)