A tick native to East Asia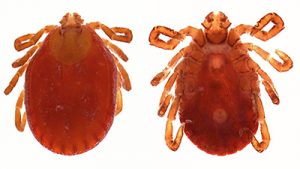 —also known as the longhorned, bush, or cattle tick—turned up on a New Jersey sheep with no travel history or nearby domesticated animals, according to a report from National Public Radio.
Haemaphysalis longicornis multiplies quickly, feeds on mammalian blood, including humans. In South Korea, it has been linked to the spread of severe fever with thrombocytopenia syndrome (SFTS) virus, described in a Centers for Disease Control and Prevention report as "a newly emerging infectious disease," NPR reported.
H. longicornis can transmit theileriosis to cattle, which can cause blood loss and occasional death of calves; Lyme bacteria, spotted fever group rickettsioses, Ehrlichia chaffeensis, and Anaplasma bovis have been detected in H. longicornis. SFTS features symptoms of fever, thrombocytopenia, leukocytopenia, and elevated serum enzyme levels, according to the CDC.
In August, the sheep's owner noticed that her clothing was covered in ticks—and not the area's native deer ticks. Investigators found hundreds on the sheep and collected nearly 1,000 more from the 1-acre paddock, according to NPR.
The tick has previously been found in the U.S. on large animals in quarantine, but this is the first time larvae, nymphs, and adults have been found on an unquarantined animal in the U.S., the report stated.
This spring, the researchers plan to go back to the site search for any ticks that might have survived the winter and chemical treatments. If they did, they could pose a threat to livestock. What's less clear is whether people should be concerned.