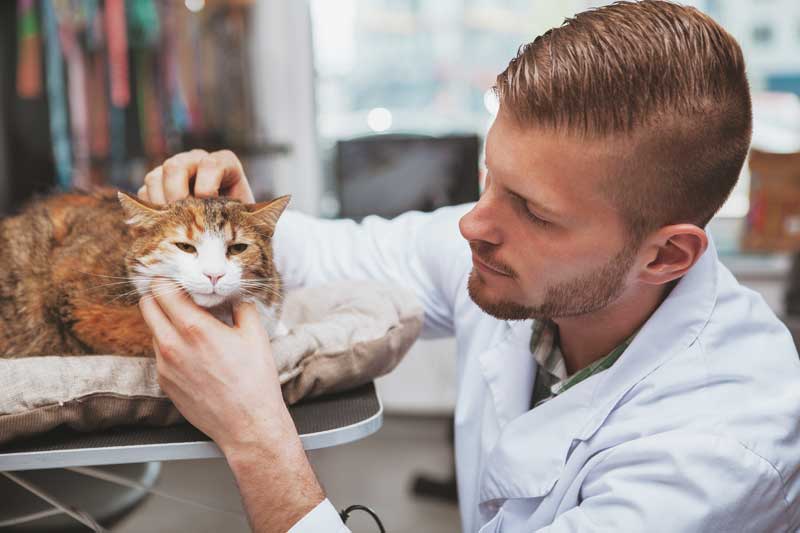 Luna's coat appeared greasy and unkempt. The 16-year-old cat has a good appetite, but keeps getting skinnier. The worried pet owner scheduled an exam. Blood work revealed the problem: Luna has hyperthyroidism. Because more pet owners are working from home, they are noticing subtle symptoms and seeking treatment earlier. Attentive pet owners can drive the growth of your diagnostic revenue.
Laboratory income averages 14 percent of total revenue, according to AAHA's Financial and Productivity Pulsepoints.1 However, practices should target 20 percent, advises Fritz Wood, CPA, CFP, of H.F. Wood Consulting in Lenexa, Kan.2 Diagnostics have been the fastest-growing profit center for 10 years, he says. What's good for the health of your patients is great for your practice's financial health.
Here are eight strategies to increase client acceptance for early-detection screening:
1) Replace "wellness test" with "early-detection screen." Clients may perceive wellness testing as optional and may be skeptical about spending money on diagnostics if pets appear healthy. Clients are familiar with the term "early-detection screen" in human health care and value preventive medicine.
2) Create distinct codes and reminders for early-detection screens versus sick patient workups. Send reminders every six to 12 months for early-detection screening, just as you do vaccine reminders. To help your team understand the difference in the two codes, I advise using the term "screen" for preventive diagnostics and "test" for sick patient workups.
3) Set affordable prices for early-detection screens. You want clients to accept screening year after year. A complete blood count (CBC) with 16 to 24 chemistries and a T4 averages $152.25, according to AAHA's Veterinary Fee Reference.3 Set $152.25 as your preventive screening price and charge 25 percent more (or $190.31) for the same lab tests for a sick patient.
Why charge a higher fee for the same test? Sick patient workups require more veterinary labor. The doctor must examine the patient, get a thorough history, run tests, interpret results, decide on a diagnosis, explain it to the client, and determine a treatment plan. Obviously, this takes more of the veterinarian's time and merits a higher professional fee. The test also has a different name such as "sick patient diagnostic test," which helps clients understand its purpose.
4) Use age analogy charts. Help clients understand their pets' ages in human years. An eight-year-old golden retriever is equivalent to a 55-year-old person, and a 10-year-old cat is 56.4,5 Clients undergo certain preventive screening at these ages, including blood work, mammograms, colonoscopies, and other diagnostics. Client education works. A survey of U.S. and Canadian pet owners found 94 percent had a positive opinion of preventive diagnostics once they better understood the value.6
5) Focus on benefit statements to gain acceptance. The veterinary nurse or assistant introduces screening before the doctor begins the exam. Repetition of the message works. Client compliance improved as pet-owner education increased, according to the 2009 AAHA compliance study.7
Say, "Your eight-year-old golden retriever is 55 in human years. Because pets age faster than people, changes may happen quickly. Our senior early-detection screen identifies changes early. Think of this screen as an internal physical exam that lets us see inside to check the health of organs. Our senior early-detection screen is the most comprehensive and affordable. This includes your dog's annual heartworm/tick screen, intestinal parasite screen, thyroid function, and urinalysis to determine hydration and kidney function. Our senior early-detection screen is $152. Shall I collect your dog's blood and urine samples, or do you want to speak with the doctor?"
Use the yes-or-yes technique when asking for the client's commitment. The first choice is to proceed with screening, while the second is to get more information from the veterinarian. When the doctor takes a detailed history and performs the exam, his findings may validate the need for screening.
6) Invite a discussion. After explaining exam findings, the veterinarian should answer the question, "Why is this screen important?" Say, "I understand that <pet name> looks healthy. Let me share research that will help you make the best choice for <pet name>. A study of 250,000 pets found one in five senior pets had health concerns when undergoing preventive screening.8 Early detection will let us identify changes and manage health concerns. If results are normal, we can celebrate and have a baseline for reference as <pet name> ages. Our lab has a tool that lets us track trends over time. Each time we screen, we will compare it to previous results. What questions may I answer about your pet's early-detection screen?"
Never ask a close-ended question, such as, "Do you want to do the test?" The open-ended phrasing of, "What questions can I answer?" invites the client to ask anything that will increase their understanding and ultimately lead to acceptance.
7) Don't dodge financial concerns. Delaying testing could mean the patient doesn't get a timely diagnosis and treatment. Be upfront about fees and offer financial solutions.
Say, "I understand you're concerned about the cost of the early-detection screen. If results are normal, you'll have the peace of mind your pet is healthy, as well as a baseline for reference as <pet name> ages. If we identify a health concern, early intervention can help us better manage the condition. We offer <third-party financing>, a payment plan for approved clients that has six months of deferred interest. Applying takes less than five minutes. Your monthly payment would be $___. You can apply on your phone. Do you want to do so and then proceed with screening?"
8) Be persistent. The first "no" is not the client's final decision. Revisit the need for screening during the next exam. Put notes in the medical record about your discussion and why the client declined. At the next visit, you may identify changes that reinforce the need for screening. Persistence can pay off.
Wendy S. Myers, CVJ, has been training veterinary teams for more than 20 years as owner of Communication Solutions for Veterinarians. She helps teams improve their telephone and communication skills, so more pet owners say yes to medical care. Wendy shares her expertise through conferences, online courses, and monthly CE credit webinars. She is a certified veterinary journalist and author of five books. Her passion is to help practices like yours thrive and grow through effective communication skills. You may reach her at wmyers@csvets.com or csvets.com.
References
1 AAHA, Financial and Productivity Pulsepoints, Tenth Edition. (Lakewood, CO: AAHA, 2019), Table 3.13.
2 How Diagnostics Drive Success in Veterinary Practice. Roundtable sponsored by IDEXX Laboratories Inc. Available at: bit.ly/3iitDJL. Accessed September 9, 2020.
3 AAHA, The Veterinary Fee Reference, Tenth Edition. (Lakewood, CO: AAHA, 2019), Table 7.77.
4 How old is your dog in people years? Pet Health Network. Available at: bit.ly/3hjUFiO. Accessed September 9, 2020.
5 How old is your cat in people years? Pet Health Network. Available at: bit.ly/2ZpfzH7. Accessed September 9, 2020.
6 Data on file at IDEXX Laboratories, Inc., Westbrook, Maine. Data based on research conducted by Wakefield Research in the U.S. and Canada on April 5-23, 2019, using an online survey. The sample included 1,519 pet owners who had gone to their veterinarians for wellness visits within the last year.
7 AAHA, Six Steps to Higher-Quality Patient Care, (Lakewood, CO: AAHA, 2009), page 20.
8 IDEXX Practice Intelligence and Internal data, 2017.