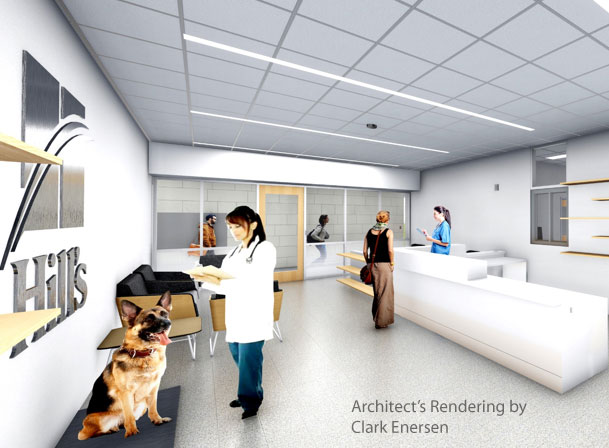 Improving the health of animals by eliminating pet obesity is the primary focus of a significant renovation at the Kansas State University (K-State) College of Veterinary Medicine teaching hospital.
The college has partnered with Hill's Pet Nutrition on an expansion at its Veterinary Health Center, which will provide new resources and facilities to enhance medical and nutritional care for pets, K-State says.
Set to open for patient care in next month, the Hill's Pet Health and Nutrition Center will provide primary care and nutritional assessment, as well as urgent care and triage.
"An important long-term goal of the Veterinary Health Center Obesity Clinic, a vital service of the center, is to end pet obesity," says the Veterinary Health Center's interim director, Elizabeth Davis, DVM, PhD, DACVIM.
"Hill's has provided an opportunity for the center to provide state-of-the-art primary care for small animal patients while training extraordinary graduates," she adds.
Dr. Davis says the pet food company's involvement in the center will provide a home for nutrition consultation, a designated Hill's primary care intern, and direct consultation with board-certified veterinary nutritionists. The goal, she adds, is for each patient to receive a customized nutrition plan to obtain optimal results.
"We are proud to partner with K-State on this vital work to advance our understanding of and service to companion animals for today and for tomorrow," says Jolle Kirpensteijn, DVM, PhD, Diplomate ACVS and ECVS, the chief professional veterinary officer for Hill's Pet Nutrition U.S. "Collaborations like these incorporating academic institutions and commercial organizations are vital, and we are excited about this work that integrates research, pet care, and student engagement. Obesity is a pervasive disease in our pets and only together can we turn the tide."