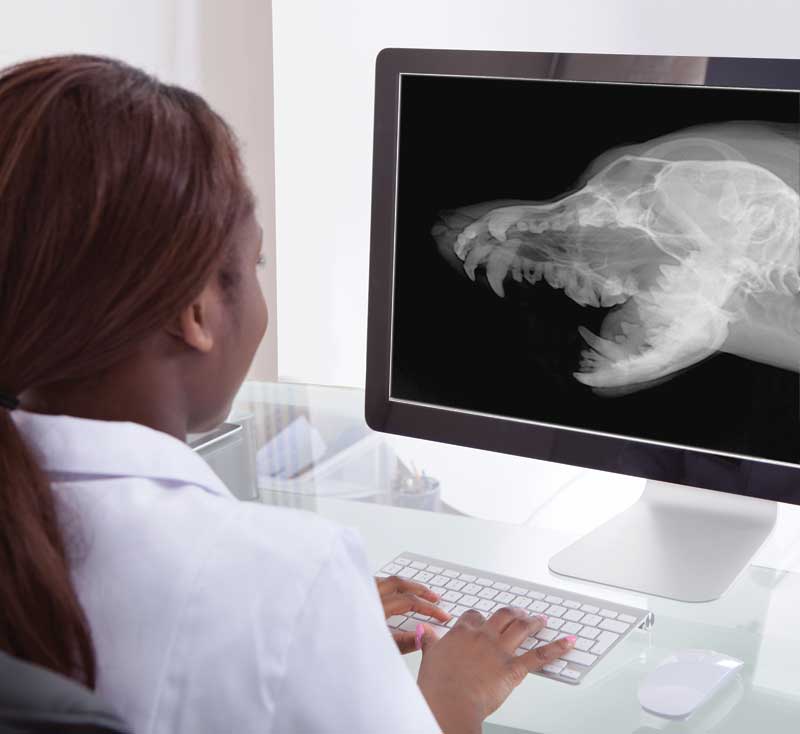 Veterinarians who recognize the increased wellness in their patients as a result of proper dental care—as well as the positive financial impact of a well-organized dental program—are now embracing the latest generation of dental imaging equipment, according to Jim Waldsmith, DVM, president, Vetel Diagnostics of San Luis Obispo, Calif.
Jeff Albachten, equipment solutions specialist, Henry Schein Animal Health of Melville, N.Y., agreed.
"Imaging, specifically digital imaging systems, continue to be a buying trend as more practices realize the medical and business value of this capability and as the veterinary medical community is trending toward documenting images as a standard of care for billable extractions," Albachten said.
There's been an uptick in interest within the past few years due to increase in education and the awareness that there's a high percentage of patients with undetected pathology below the gum line, said Jeanne Walter, CVT, veterinary products manager, MinXray Inc. of Northbrook, Ill.
"There are also some states that require dental imaging capabilities for those practices performing dental procedures," she added.
The cost of equipment, once prohibitive, has also dropped, according to Scott Hecker, sales manager, Diagnostic Imaging Systems Inc. of Rapid City, S.D.
"Dental imaging may be the fastest growing procedure in the veterinary practice," Hecker said.
Equipment with bite
According to a number of dental imaging equipment manufacturers, practices have been purchasing complete DR sensor imaging systems with X-ray generators, dental USB sensors, battery-operated dental X-ray machines, digital sensors, and handheld X-ray generators, among others.
"Practitioners are looking for ways to consolidate their 'stuff,'" said Steve Asakowicz, executive vice president, companion animal health, of Heska Corp. of Loveland, Colo. "Space is a premium for any practice, especially the mobile equine veterinarian. Everything has to fit in the truck and each piece then carried to the patient."
Asakowicz used the company's Slate Hub as an example, an all-in-one, multi-modality, plug-and-play, wireless portable imaging center.
As for what's new in dental imaging equipment, Heska, under the Cuattro brand name recently introduced DentiSlate, an intra-oral dental digital radiography detector for equine and large animal use.
"Until now, dental X-rays were difficult to achieve, having to use a large format detector positioned on the outside of the horse's head or with low quality and cumbersome CR cassettes," Asakowicz said. "Cuattro's development team worked with top boarded equine dentists and flat panel engineers to design the perfect intra-oral detector to size and specifications."
Handheld dental X-ray generators are up and coming, according to Dr. Waldsmith.
"[They] allow for easier acquisition of dental radiographs, are more rugged and also battery operated which increases safety when used around moist environments," he said. "A new generation of cesium iodide USB dental sensors is also now available with much better spatial resolution and image quality. Dental software continues to improve with greater ease of use, better work flow and also integration with practice management software."
Dentalaire Products International of Irvine, Calif., just introduced a patent pending sensor boot to aid in positioning and add durability along with a more durable sensor housing and cable assembly, said Tim Martelon, director of business development.
Weighing benefits
Different products offer various advantages, some more specific depending on what type of practice a veterinarian works in.
"Digital dental imaging not only is good medicine, it also has the ability to pay for itself in a relatively short period of time," said Albachten. "That said, the advantages of any equipment are only realized if the proper equipment is chosen based on the needs and wants of the practice."
Hecker broke down DR systems vs. CR systems:
DR system advantages:
Faster with the acquired image appearing on the system computer.
Dental sensor is ready for additional image acquisition within seconds of the previous exposure.
Dental sensor can allow for indefinite number
of exposures.
DR system disadvantages:
Sensors are stiff and thicker than film or CR phosphor plates, which can be difficult to position in smaller patients.
Sensor is hard wired or tethered via USB port to the system computer. The sensor tether can be damaged and make positioning a bit cumbersome.
Sensors currently available only in Size 1 and 2.
High cost of sensor replacement if damaged.
CR system advantages:
Phosphor screens come in various sizes, including larger Size 4, allowing for imaging of larger teeth.
Phosphor screens are thin, resembling traditional dental film which is easy to position.
CR system disadvantages:
Slower than DR, requiring introduction of the exposed phosphor screen in to the CR scanner for processing and erasing of image to prepare for additional exposures.
Require some counter space for the scanner.
Phosphor screens require a disposable plastic sleeve for protection.
Screens will become damaged/worn after a large number of exposures and will require replacement.
The type of software being used is also important to consider, according Asakowicz.
"Veterinarian specific software is important," he explained. "Most systems are human-based and tweaked to 'fit' a veterinarian's use."
Veterinarian-specific software "equates to better performance, better support and the inherent ability to improve and upgrade features and performance," Asakowicz added.
For those looking to update or add dental imaging equipment to their practice, due diligence is key.
"Do your homework, get a demonstration of the software features and determine what the system will cost to maintain for 10 plus years," Martelon said.
"Product specification sheets are easy to acquire and compare specifications, especially those that determine image quality such as scintillator and pixel pitch," Waldsmith said. "The dental sensors manufactured in North America and Europe have held up better over time in my experience—you get what you pay for.
"Since all of this equipment requires software to run it, ask for a software demonstration," Waldsmith added. "My recommendation would be to go with a company with a proven track record of not only delivering good products but also great customer service. Ask for references."
 INDUSTRY VOICES
Veterinarians may have the latest and greatest dental imaging equipment, but it doesn't mean much if the product isn't being used properly or not being used to its fullest potential. Veterinary Practice News asked dental imaging companies about best-practice use strategies and how they think veterinarians can get the most from manufacturer support and training.

What are some best-practice use strategies?
Tim Martelon, director of business development, Dentalaire Products International, Irvine, Calif.: "Incorporate full mouth radiographs into the dental exam at a minimal price to find pathology you would not have otherwise, especially in patients under 20 pounds."

Jim Waldsmith, DVM, president, Vetel Diagnostics, San Luis Obispo, Calif.: "Every animal should have an annual dental exam. Any animal with bad breath will benefit from a complete dental exam, including dental radiographs. Studies have shown that a complete set of dental radiographs taken annually can help to identify subclinical oral disease, allowing for early intervention and better case outcomes."

Jeanne Walter, CVT, veterinary products manager, MinXray Inc., Northbrook, Ill.: "The veterinarian must be dedicated to provide time for equipment acquisition, staff education and training, development of dental procedures/protocols and client education."

Jeff Albachten, equipment solutions specialist, Henry Schein Animal Health, Melville, N.Y.: "When it comes to best-practice use strategies, it's important that the veterinary professional invest in themselves and seek continued education through meetings and wet labs.

Clinically speaking, full mouth X-rays on every patient, every time will ensure no pathology is ever missed and every patient leaves with a pain-free mouth."

How can veterinarians get the most from manufacturer support and training?
Dr. Waldsmith: "While some manufacturers offer onsite training, which is very useful, it is usually only a one day event and it is difficult to have all staff present, and also learn everything presented. More recently, online training has become available 24/7/365 and offers access to the entire practice when needed. Also, more and more board certified dentists are available for training, consultation and referral."

Steve Asakowicz, executive vice president, companion animal health, Heska, Loveland, Colo.: "Veterinarians should expect to see everything they were told by a representative at the time of sale, written in the details before they sign. Any representative asking you to part with tens of thousands of dollars should not make verbal promises of how you will be cared for over the [following years]. 24/7/365 support should be available and included at no extra cost."

Scott Hecker, sales manager, Diagnostic Imaging Systems Inc., Rapid City, S.D.: "Ask questions during initial installation, spend time navigating the software."

Albachten: "It is important to monitor and pay attention to the promotions offered by manufactures as these can often save a practices thousands of dollars. When these training are scheduled, practices should block out the appropriate time and allow as many staff members as possible to participate."