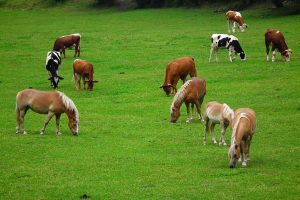 Animal drug companies are being asked to revise the labels of medicine made to treat certain internal parasites in livestock and horses.
The goal is to add information that will spread awareness of antiparasitic resistance.
The U.S. Food and Drug Administration (FDA) is asking these changes be made to help veterinarians, livestock producers, and animal owners better understand the proper use of dewormers and ways to monitor and slow down the development of antiparasitic resistance at farm level.
The requested labeling alterations specifically affect anthelmintics for livestock (such as cattle, sheep, goats, poultry, and swine) and horses. Anthelmintics are animal drugs for treating helminths, a term referring to several groups of internal parasites known as worms. Tapeworms and roundworms are common types of helminths.
According to the FDA, helminths are becoming increasingly resistant to drugs that were generally effective against them in the past. (In part, this is due to a growing number of animals being pasture-raised and facing continual exposure to worm eggs.) In these situations, after an animal is treated with a dewormer, the susceptible worms die and the resistant ones survive to pass on resistance genes to their offspring.
The FDA is requesting the following information be included on over-the-counter (OTC) and prescription dewormers:
Any use of a dewormer can result in the development of antiparasitic resistance.
Proper dosing is critical to the safe and effective use of a dewormer.
End users should work with their veterinarians to monitor herds and flocks to determine the extent of antiparasitic resistance on a particular farm.
Dewormers should be used as only one part of an overall internal parasite control program.
The administration is asking drug companies to include this information on labels within the next 12 months. The request does not apply to antimicrobial drug products or antimicrobial resistance.