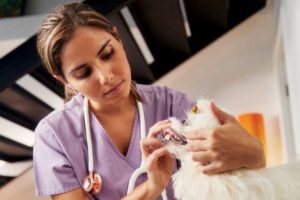 What if clients loved their pets' dental experiences at your veterinary hospital? As most dogs and cats have periodontal disease by age three, you will speak with clients multiple times about dental treatments over their pets' lifetimes. Creating a positive experience for the first dental procedure can set you up for success when you need to present future care. Here are five strategies for creating stellar client satisfaction through your dental services.
1) Tackle paperwork in advance. Don't wait until the morning of procedures to get signatures. Clients may have experienced road rage while driving to your clinic, chased the cat for 45 minutes trying to get it into the carrier, and were late for work. Instead, have clients sign treatment plans and anesthetic consent forms on the day of diagnosis when they book procedures. At my recent seminar in Reno, Nev., a technician testified this tactic reduced a 20-minute surgical admission to seven minutes.
A backup plan is to use text and email together. Two days before the procedure, text the client to confirm the admission appointment: "See you tomorrow at 8 a.m. for <pet name's> dental admission. No food after 10 p.m. Water is OK. We emailed consent forms to <client email>. Reply with questions." The text prompts the client to check his or her email, where you have sent detailed fasting instructions and attached the treatment plan and consent form.
Your email message might say, "We will see <pet name> for a dental procedure tomorrow at <Your Veterinary Hospital>. Please withhold food after 10 p.m. tonight. Water is OK to drink to prevent dehydration. Your dental admission begins at 8 a.m. with a nurse who will spend 15 minutes reviewing the consent form, answering your questions, and getting phone numbers where we may reach you the day of the procedure. I've attached your treatment plan and anesthesia consent form. To speed up the admission process, please bring these signed forms with you. We are happy to answer questions during check-in. Please allow at least 15 minutes for <pet name's> admission to our hospital. If you have questions, call or text 555-555-5555." The email sets expectations for the length of time needed for admission and explains the benefits of completing paperwork in advance.
2) Create concierge check-ins and dump the habit of "drop-offs." Avoid the traffic jam at the front desk when six clients arrive at the same time for surgical and dental admissions. Set admission appointments every 15 minutes. In the nurse column of your appointment calendar, schedule each check-in. Surgery nurses will handle morning admission appointments.
When the procedure is booked, the receptionist will choose a specific check-in time and set expectations for the client. Say, "Your pet's dental procedure is scheduled for Friday. Your admission appointment will be at 8 a.m. with a nurse. Please allow 15 minutes to receive instructions on how we will care for <pet name>. We will text and email you two days in advance to confirm the procedure. If you didn't sign the treatment plan and anesthetic consent form today, we will email them, so you may review and sign them before the day of the procedure."

Have complex cases check in first. This allows time for preanesthetic screening, as well as longer recovery. In the privacy of exam rooms, have clients sign consent forms, collect their phone numbers, answer their questions, and explain when you will text, email, or call following the procedure.
Let's say you have five surgical and dental procedures scheduled today with admission appointments from 7 a.m. to 8 a.m. See the sample admission schedule to the side of the page.
3) Provide comfort with wakeup texts and photos. On your anesthetic consent forms, ask clients, "How should we notify you when your pet wakes from anesthesia?" and let them check text, email, or call. Your message or call should explain the patient is awake and resting, confirm the discharge appointment time, and include the nurse's name, which personalizes service and communicates who cared for the patient. If clients have questions before picking up pets, they know which nurse to ask for, letting receptionists quickly connect calls.
Avoid a snapshot of the pet with the cage door closed, which gives the impression the animal is in jail. Show your loving nursing care. Your text could say: "Alex is awake and resting. Dental treatment went well. See you at 4 p.m. for discharge appt. Call Kathy with questions at 555-555-5555."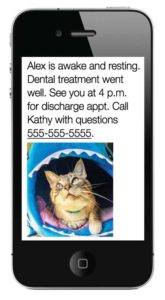 Never use a personal or practice cell phone to text clients because you can't legally document messages in medical records. Instead, use texting services that time and date stamp text conversations such as:
AllyDVM, allydvm.com
AVImark Rapport, avimark.net/practice-solutions/rapport/
IDEXX Pet Health Network Pro, bit.ly/2QnsBOD
Vitus Vet, vitusvet.com
Zipwhip, zipwhip.com
4) Set discharge appointments and show value for professional services. During admission, the nurse would tell the client, "Let's schedule your pet's discharge appointment after 4 p.m., when <pet name> will be ready to go home. You will meet with a doctor or nurse for 15 minutes, who will explain the results of the procedure, provide medication instructions, share images and X-rays, and answer your questions. Do you prefer 4:30 p.m. or 4:45 p.m.?" (Client responds.) "As you requested text notification when <pet name> wakes up, we will text you a photo and remind you of the discharge appointment at 4:30 p.m. If you have questions today, here is my business card so you may ask for me."
As with admissions, put discharge appointments in the nurse column in the schedule. If a doctor is releasing the patient, put the appointment in that veterinarian's schedule. Discharge appointments for routine procedures take approximately 15 minutes. If a nurse is discharging the patient, a veterinarian may want to do the wakeup phone call.
Take time to give clients guided tours of before-and-after dental photos and X-rays. Offer to share digital images, as clients may boast about the quality of your care on social media and/or save them with pets' medical records.
5) Provide exam door to car door service. Whoever discharges a hospitalized patient should escort the client to the car and get the pet safely inside. Show clients how to properly secure a cat's carrier. Also, share The Catalyst Council's video at bit.ly/2RCHZXD on your website and social media.
Double leash dogs with two-slip leashes to prevent escape, walk the patient to the car, and show the client how to properly lift the dog inside, especially following orthopedic surgery or for senior dogs with arthritis. Once the patient is securely in the car, the nurse can remove both leashes and tell the client, "I have an extra leash. Please put this leash in your glove box and use it in case of an emergency. If you have a medical emergency with your pet or need to rescue a stray animal, you can quickly have a leash ready. The leash has our phone number on it, so you may call to tell us you're on the way. Thanks for letting us care for <pet name> today!"
When you wow clients with positive dental experiences, they will appreciate that your service matches your medicine. Increasing clients' confidence in anesthetic procedures will lead them to say "YES!" the next time dental care is necessary.
Wendy S. Myers, CVJ, has been training veterinary teams for more than 20 years as owner of Communication Solutions for Veterinarians in Castle Pines, Colo. She shares her expertise in communication and receptionist skills through seminars and monthly CE credit webinars. Myers is a certified veterinary journalist and author of 101 Communication Skills for Veterinary Teams. You may reach her at wmyers@csvets.com or www.csvets.com.