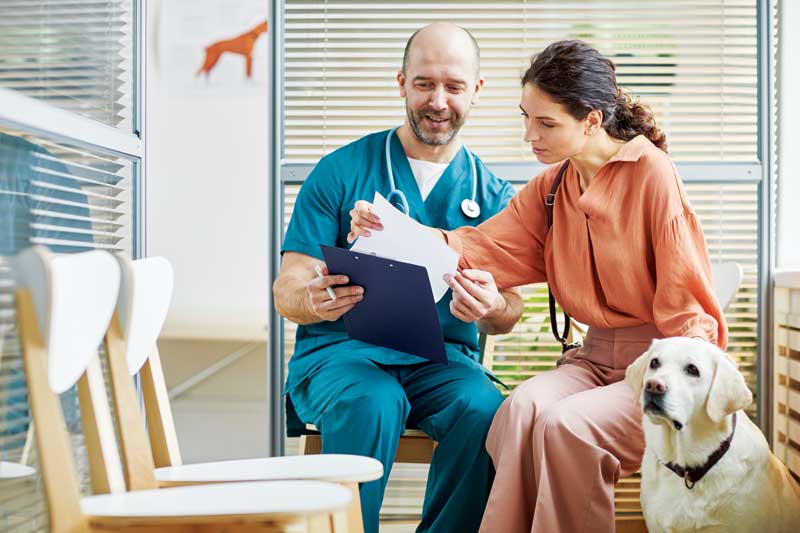 Unable to meet appointment demands from existing clients, a busy four-doctor practice stopped accepting new clients. Most hospitals are experiencing a surge in new clients with many scheduling one month ahead or simply turning them away. During the pandemic, pet adoption rates jumped 34 percent.1 Busy summer months added up to 20 percent more sick-patient visits for skin and ear infections, dog park injuries, and more.
While turning away new clients may seem like a temporary fix, it could have long-term consequences. Client retention and recruitment impact your practice growth. Client retention benchmarks show the average practice loses 10 to 15 percent of its existing clients each year, resulting in $40,000 or more in lost revenue.2
You need to constantly replace clients who leave and when pets die. Client recruitment benchmarks are 25 new clients per month per veterinarian. If each month a two-doctor practice welcomes 50 new clients who spend an average of $180 each, the first-year value of new clients is $108,000. If your busy schedule can't accommodate new clients, you risk losing income of $148,000 between attrition and lack of new business.
Do not limit your hospital's future growth. Here are five solutions to fit timely new client appointments into an already overloaded schedule:
Strategy 1: Block new client appointments in your daily schedule
Run a new client report in your practice management software for the last three months. Calculate the average number of new clients per day. Let's say your hospital is open six days a week and saw 216 new clients during a three-month period, which is an average of three new clients per day (216 new clients / 72 workdays over 3 months = 3).
Create new client appointment blocks in your future schedule. Pick the next available date with open exams. Let's say your next openings are Aug. 19, and you average three new clients per day. Block new client appointments as the first appointment of the day, another mid-morning, and the last mid-afternoon such as 8 a.m., 11 a.m., and 2 p.m. Choose morning and mid-day slots because these are often the slowest times to fill.
To avoid negative first impressions, don't tell new clients appointments aren't available for weeks. Explain, "Our next available new client appointment is Thurs., Aug. 19 at 8 a.m. or Fri., Aug. 20 at 2 p.m. Which do you prefer?"
Strategy 2: Schedule new client exams on weekdays
Reserve highly requested Saturday appointments for existing clients. Book new clients on Mondays to Fridays, offering slower times to fill first.
Strategy 3: Forward book the puppy and kitten exam series
Let's say you examine an eight-week-old puppy today (new or existing client). The timing of vaccines, diagnostics, and deworming are critical. You don't want the client to call when the puppy is 12 weeks old to schedule the next visit, and you don't have exams available for three weeks. Lead the client to forward book the next two exams in the series today. Explain, "Your puppy will be due for his next exam, vaccines, diagnostics, and preventive medications at 12 and 16 weeks of age. Because the timing of care is key, we will forward book your pet's next two appointments. Your puppy's 12-week exam will be due the week of Sept. 13. I have an appointment available on Sept. 13 at 11 a.m. or Sept. 14 at 2 p.m. Which do you prefer?" [Client responds.] "Next, let's schedule the 16-week exam, which will be due the week of Oct. 11. I can offer you Oct. 11 at 8 a.m. or Oct. 12 at 2 p.m. Which is better for you?"
Strategy 4: Require completion of new client forms in advance
The client care team at Lake Road Animal Hospital in Horseheads, N.Y., sends text or email confirmations to new clients upon booking. Confirmations instruct new clients to complete and return online forms 24 hours before scheduled appointments.
The new client form (https://lakeroadanimalhospital.com/new-client) has fillable data fields for client and patient information, preferred communication method, referral source, payment policy, and social media permission. New clients sign digitally and click the submit button. Data is emailed to the hospital's general email, and client service representatives (CSRs) set up electronic medical records.
Immediately after scheduling a new client appointment, send a text or email confirmation with instructions about online forms. Text this: <Pet name> has a new patient exam at 2 p.m. Aug. 19. Please complete new patient form at <link> 24 hours before the exam, which is required to keep your appointment. Bring adoption or medical records and a stool sample fresh within __ hours. Get driving directions at <link>. Reply C to confirm or RS to reschedule.
If forms are not returned two days before new client appointments, CSRs resend links and call to explain appointments will be canceled without advanced receipt of completed forms. Use a kind tone of voice when you call to explain, "We have reserved a new patient appointment for <pet name> at 2 p.m., Thursday. We are experiencing increased appointment requests and have other patients on a waiting list. We need to get your confirmation and completed new patient form today or <pet name>'s appointment will be cancelled. You can find the new patient form on our website at <link>. Please text/email/call us at <contact> with questions."
This protocol helped Lake Road Animal Hospital reduce no-shows from a high of 27 percent in July 2020 to nine percent in January 2021. Practice manager Carrie Bowgren says requiring completed forms was more client friendly than collecting deposits to secure appointments. "Prepayment from a new client reinforces veterinarians are just in it for the money," she says. "If a client pays $25 and doesn't show, we're out $175 as our average doctor transaction is $200."
Strategy 5: Forward book spays and neuters
During the last puppy or kitten visit at four months of age, forward book the spay or neuter due at six months of age. Say, "Congratulations on completing Alex's kitten series today. We are experiencing increased surgery requests. Alex will need to be neutered in two months when he is six months old. Let's schedule his surgery now so you may get your first choice of day and doctor. Dr. <Name> can perform Alex's surgery on Tues., Oct. 6 or Thurs., Oct. 8. Which do you prefer?"
When you apply these scheduling solutions, you will be able to continue to welcome new clients. Combine client acquisition and retention strategies to maintain a thriving practice.
Wendy S. Myers, CVJ, has been training veterinary teams for 21 years as owner of Communication Solutions for Veterinarians. She teaches teams to become confident communicators, so more pet owners say yes to medical care. Wendy shares her expertise through conferences, online courses, and monthly live CE credit webinars. She is a certified veterinary journalist and author of five books. Her passion is to help practices like yours thrive and grow through effective communication skills. You may reach her at wmyers@csvets.com or www.csvets.com. She also offers training in her free course on How to Clear the Appointment Backlog at www.csvets.com.
References
Hedgpeth D. So Many Pets Have Been Adopted During the Pandemic That Shelters Are Running Out. The Washington Post. Published Jan. 6, 2021. Available at: https://www.washingtonpost.com/dc-md-va/2021/01/06/animal-shelters-coronavirus-pandemic/. Accessed April 12, 2021.
Albers J., Hardesty C., Ackerman L. Increase Client Loyalty and Retention. Available at: https://www.wedgewoodpharmacy.com/veterinary-practices/practice-tips/increase-client-loyalty-and-retention.html. Accessed April 13, 2021.