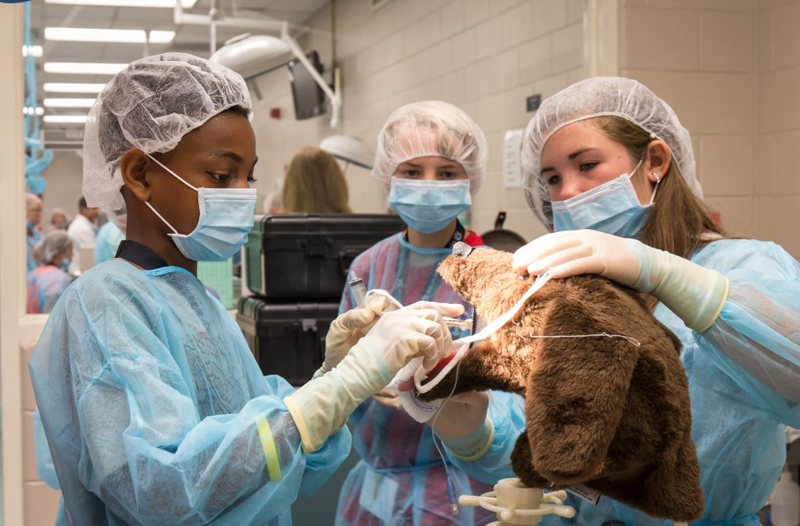 Teens and tweens interested in a career in veterinary medicine are invited to submit an essay and win a spot in Auburn University's sixth annual junior vet summer camp.
Vet Set Go, Merck Animal Health, and VCA Animal Hospitals are offering three scholarships for the "Become a Veterinarian" camp, which offers hands-on learning to sixth-, seventh-, and eighth-grade students.
The online essay contest will award three prizes (including camp tuition, materials, and room and board) to attend the camp, which takes place June 26 to July 1 at the Auburn University College of Veterinary Medicine campus in Alabama.
"Vet Set Go is proud to offer young aspiring veterinarians a unique opportunity to access the in-person, hands-on veterinary experience they are craving," says the group's founder and president, Chris Carpenter, DVM.
The contest is open to students entering sixth through eighth grade in fall 2022. With the help of a parent or guardian, student entrants are asked to complete a short essay (300 words or less), addressing at least one of the following topics:
Why they want to be a veterinarian
Why they love animals
What they have done to get animal experience or learn more about science
Additionally, applicants are asked to submit a photo of themselves with a favorite pet or animal or doing something to demonstrate their animal experience.
"[Our] surveys show 65 percent of today's veterinarians decided before the age of 13 it was the career path they wanted to pursue," Dr. Carpenter says. "Veterinary medicine is a calling, and we believe now is the time to nurture and support these aspiring veterinarians."
Campers will experience first-hand learning in veterinary medicine at Auburn University classrooms, laboratories, and outdoor facilities. The curriculum includes lessons related to public health, food animals, wildlife, anatomy, X-rays, and first aid, as well as mentoring about veterinary science careers.
"Speaking from my own experience, having the passion to care for animals begins at an early age, yet it can be challenging for young tweens and teens to find educational or volunteer opportunities to gain the hands-on animal health experience they're craving," says Christine Royal, DVM, associate vice president of companion animal and equine business unit for Merck Animal Health. "We're thrilled to give emerging veterinarians the once-in-a-lifetime chance to attend Junior Vet Camp."
"Hands-on experience can make all the difference in showing the joy of the veterinary profession and preserving that early spark of interest," adds VCA Animal Hospitals' president, Todd Lavender, DVM. "This year's program shows these future professionals what's possible with access to mentorship and training."
The contest is open March 1 to 31, with selected winners notified by May 31. For more, click here.