When the COVID-19 pandemic began, the pain didn't go away for animals with injuries and degenerative conditions—and neither did their rehabilitative care. From curbside drop-offs to Zoom consultations, veterinary rehabilitation clinics modified their practices to continue to serve their patients during a stressful and uncertain time. That experience of treating animals during a pandemic, say veterinarians who work in the field, has underscored the increasing importance of rehabilitation medicine modalities for treating pain and injury in animals.
Care in the time of a pandemic
Like general veterinary practices, veterinary rehabilitation clinics had to quickly modify their processes and procedures to provide safe and effective care to their patients during a time of social distancing and compliance with emergency local or state regulations implemented during the pandemic. Curbside drop-offs, not allowing owners to accompany their pets inside, outdoor or Zoom consultations, and telemedicine sessions are some of the new processes rehabilitation clinics have incorporated into their practices.
Veterinary Specialty Hospital of North County in San Marcos, Calif., has a large window, so pet owners can stand outside, observe their animals as they are being treated, and chat via phone with the team member treating the patient, says Lindsey Porterfield, DVM, CCRP, one of its certified canine rehabilitation practitioners. After the session, staff members follow up with clients outside, wearing masks and standing several feet apart.
Staff members at TOPS Veterinary Rehabilitation in Grayslake, Ill., have found most patients do fine during sessions without their owners present, while a few become more anxious, says Christine Jurek, DVM, CCRT, CVA, CVC, its medical director. Here, the practitioner may modify the therapy for pets who become frightened or uneasy without their owners present. For instance, they may do aqua therapy instead of acupuncture, she explains.
At Pawsitive Steps Rehabilitation and Sports Medicine in Rochester Hills, Mich., therapists have been recording exercises and posting them on YouTube. The response from clients has been enthusiastic, and the clinic will likely continue recording and posting informational videos, says its owner, Tari Kern, DVM, CCRP, CVMA, CVSMT.
Leilani Alvarez, DVM, DACVSMR, head of the Integrative and Rehabilitative Medicine Department at the Animal Medical Center of New York, turned to telemedicine sessions to guide clients who had temporarily left the city through in-home exercise sessions with their pets. An unexpected benefit of the telemedicine sessions is staff can spot previously unknown factors that were affecting the success of the animal's home exercise program. "What we've discovered is that when the owner gets home, a lot of things can go wrong," Dr. Alvarez says. "For example, one owner was picking the dog up and putting them on the [balance training device] instead of teaching the dog to get up on it. We're having better success with the home exercises because we can better guide owners."
Most of all, treating animals during the pandemic confirmed the importance of veterinary rehabilitation medicine. For example, Dr. Kern says many of her clients noticed their pets' mobility and health declined during the month her practice had to close down due to Michigan's stay-at-home orders.
"Everyone's life was turned upside down. The pets weren't sleeping as much and were following their owners around. In the absence of rehabilitation [during the state shutdown], a lot of my clients recognized it was really helping their pets. It broke my heart, but also reinforced that what I do brings value."
Roots in equine care
Veterinary rehabilitation medicine began as a way to treat horses that perform and compete in dressage and show jumping, Dr. Jurek notes.
From there, the field expanded in the 1990s as a treatment approach for other animals. While dogs and horses are the species most commonly treated, veterinarians provide rehabilitation services to almost every type of animal.
"I developed a rehabilitative treatment plan for a snow leopard," Alvarez says. "Rehabilitative medicine is relevant to all species and all conditions." She adds while the treatment approach is similar to that of physical therapy in humans, the correct terminology is veterinary rehabilitation medicine. It's an important distinction, Alvarez says, because physical therapy is a legally protected term reserved for licensed professionals who treat humans.
Broad range of conditions treated
Rehabilitation therapies are used to treat a broad array of injuries and conditions, including cruciate ligament injuries, carpal hyperextension, osteoarthritis, neuropathy, and joint injuries due to obesity, age, trauma, overuse, and other conditions. Typical patients may include a dog with intervertebral disc disease, a weekend warrior agility competitor with a wrist or knee injury, or a geriatric pet struggling to climb the stairs.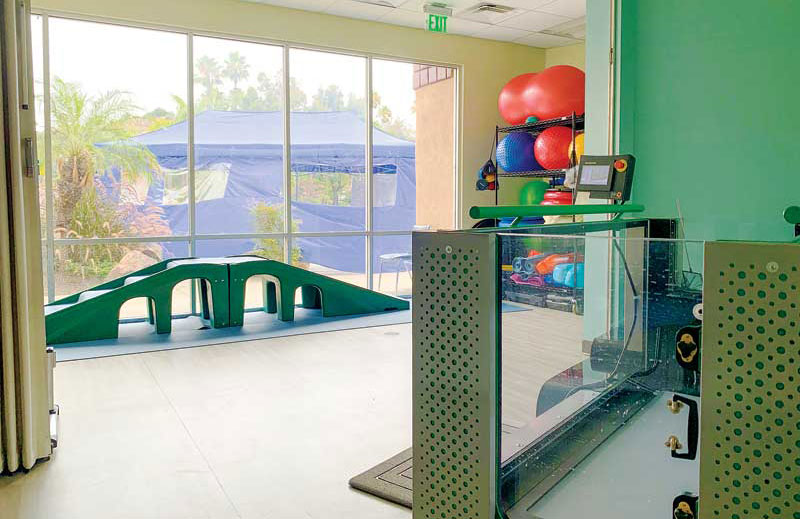 Many people, both veterinarians and the general public, think of dogs running on underwater treadmills as rehabilitation medicine, but underwater treadmills are just one tool in the toolbox of multiple therapies used in veterinary rehabilitation medicine, Kern explains.
"It's a nice tool, but just because someone has an underwater treadmill, they are not a rehabilitation practitioner," she adds.
Veterinary rehabilitation practices offer a variety of treatments, including massage therapy, range of motion exercises, underwater and land treadmills, ultrasound therapy, laser therapy, and more. Acupuncture and chiropractic adjustment are also often used and have their own certification programs.
In addition, new modalities are being introduced, such as pulsed electromagnetic field therapy (PEMFT), extracorporeal shock wave therapy (ESWT), and platelet-rich plasma (PRP) injections.
"Regenerative therapy is definitely growing as a modality because we're trying to bridge that gap between managing the pain and treating the disease, and kind of reversing the course of the disease. That's pretty exciting," Jurek says.
Clinical studies have demonstrated the efficacy of various rehabilitative medicine modalities, but more research studies are needed, Alvarez says.
Levels of training
There are various levels of training for veterinarians who are interested in rehabilitative medicine, Alvarez explains. The first level is simply taking continuing education courses offered at veterinary conferences and schools. The next level is a formal certificate program, such as ones offered through the University of Tennessee, the Canine Rehabilitation Institute (CRI), and the Healing Oasis Wellness Center.
The third and most rigorous level of training is board certification through the American College of Veterinary Sports Medicine and Rehabilitation (ACVSMR). To become board certified, a veterinarian must complete 156 weeks of training (within six years after the start of residency program), publish at least one paper in a peer-reviewed journal, complete specific medical rotations with specialists, and pass the board exam.
Alvarez recommends veterinarians interested in rehabilitative medicine pursue, at minimum, a certificate program.
Costs for rehabilitation services vary, depending on the treatment and the location of the practice, and may be charged per hour or per treatment. At Kern's practice, for example, hourly fees can range from $125 to $200 an hour with two team members working with the patient. At TOPS, an à la carte system is used, Jurek says, with each modality billed separately. Many pet insurance plans cover rehabilitation medicine, and the American Association of Rehabilitation Veterinarians (AARV) website has a list of those that do.
Clients recognize the value
Overall, pet owners are generally enthusiastic about rehabilitative medicine, Dr. Porterfield says.
"They know from their own experience the benefits of physical therapy, and it's not hard to extrapolate that it would be good for their pet," she explains.
Kern agrees, adding pet owners want to make their pets as comfortable as possible. "Patients are well loved members of the family, and clients are looking for the best possible options; some are looking to avoid surgery, for example, for a geriatric pet with arthritis," she adds. "They're looking for extended quality of life and keeping that bond longer."
General practice veterinarians are becoming more comfortable referring pets to rehabilitation clinics, says Deanne Zenoni, DVM, CVA, CVSMT, CVMRT, FCOAC, who also practices at TOPS.
"I've seen a huge improvement in general veterinarians being willing to refer and being open to it," Dr. Zenoni notes. "Sometimes they pick one modality they believe in, such as the underwater treadmill. That's a way to get them in the door and then explore other treatment modalities."
One of the joys in working in rehabilitation medicine is patients usually enjoy it. "The animals want to be here. They get to play in the water, they get to play on the equipment. They get lots of treats. They definitely love it," Porterfield says.