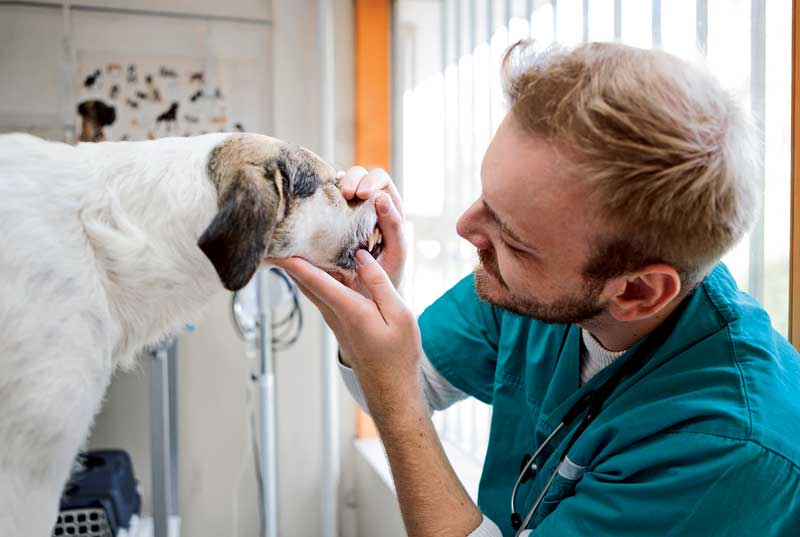 Are you branding yourself as the dental expert in your community? If you are not, here is how you can get started on making your clinic the go-to year-round dental dynamo for your area.
Branding and digital marketing are becoming more commonplace in the veterinary industry, but not all practice owners and managers know how or have the time to put it all together. When you introduce specific themes, topics, or services, it can sometimes get complicated. The struggle is real, and I remember it vividly.
There are a lot of things to gear up for when preparing to run a special or develop a new product or service launch. At the risk of sounding like a bad manager, I often had to come up with stuff on the fly and hope it worked out. I either had great last-minute ideas or the owners dropped something in my lap and told me to run with it. Either way, preparation time wasn't always my biggest commodity. If I did manage to have any lead time at all to prepare, I found we would have just enough time to complicate some parts of our promotional ideas and miss some simple areas completely.
Not just February
Dental month should not be sequestered to only a month for the veterinary industry, but year-round. The industry has developed a month allowing us to highlight the need for this vital medical service. I know some hospitals go through February and discount a bag of dental chews and a dental diet and call it day, while others create elaborate programs with discounts and goodie bags. Admittedly, I did both during my management years, and I often felt like there were a lot of missed opportunities I noticed along the way.
Planning for a dental month program really is important, but often overlooked or put on the back burner because there are more pressing matters in the practice. For this reason, creating a simple-to-follow marketing plan that hits on a few key areas of communication can really make a huge impact on the success of dental month. Keeping it simple and streamlined can make it all possible.
You are probably reading this during dental month and thinking it is too late to do any of this. It is not. This is the strategy I often suggest for creating an all-around dental branded practice.
This approach works for any topic, service, or product. We are going to work through creating a dental month strategy, but the savvy social and digital media manager within your practice can apply these steps and ideas to any service or product you want to promote or highlight. So, if we are talking about Heartworm Awareness Month in April, then we switch gears and build our strategy in February and March following this outline. 
Anatomy of a strategy
What all goes into building and maintaining a strategy within the practice? The following are four areas you can address within the practice, in most cases, relatively quickly. This is a simple get-started strategy. You can add, remove, change, and mold each part of your strategy based on the focus and brand message of the practice. These are the four areas I suggest starting with for your dental month approach.
Social media
Messaging-on-hold and text
Website content
Team training
What is a brand message?
Social media content for obvious reasons has the most flexibility. Your social media person can quickly create content for your platforms custom to your practice's brand message.
If you don't have a brand message, then take this moment to create one. It is a simple statement identifying what is important to the practice. What are you doing? Who are you doing it for? Then go into why and how you are doing it. Finally, if appropriate, what the result will be? This sets the stage for your brand message.
Let's break down this example: "Here at XYZ Veterinary Hospital, we provide the utmost level of dental care possible for the health of our patients. We do this through year-round training and education for our team and ourselves. We are always polishing our expertise in veterinary dentistry."
What are you doing? Utmost level in dental care possible. Who are you doing it for? Your patients. Why are you doing it? For the health of our patients. How? Through year-round polishing and training of skills in dentistry. Take this sample and run with it, customize it to your practice, and create your dentistry brand message.
Consistency in your brand messaging allows you to have the same tone, information, and feel on all your marketing channels because you will not lose track of what you are trying to say. As you develop marketing materials, refer to your brand message and make sure you are keeping on track. 
Moving your brand message to social
When creating social media content around your dentistry messaging, there are four areas to start with to help us know what kind of content to create. Having these categories or 'content buckets' will allow you to sort and balance the types of social media post you create. You don't want to fall into the habit of only posting funny memes and no education, or only posting calls to action, sales-type posts, and nothing else. There should be a mix of content types to keep the audience interested and engaged.
These are my go-to buckets, then as I get deeper into the strategy I may narrow the buckets down even further when I need to.
Educate: These types of posts are strictly educational; articles and blog posts about dentistry.
Inspire: Before and after pictures, healthy pets whose conditions improved, happy owners with pets that don't have smelly breath, etc.
Engage: Contests, funny memes, posts asking for people to share pet photos of toothy smiles, etc.
Call to action/advertise: Posts explaining your products and services, and how to access them. Calls to action give your clients a directive, and often a benefit to doing so.
You can also take this opportunity to update the cover images on your social media to reflect the theme you are going with. Your cover image is like a billboard people see when they drive by. It's a great place to share your news and direct clients to where they can learn more about it. 
On-hold messaging and text messaging
Update your messaging to include more dental topics or promote a special program you're starting, etc. Many on-hold messaging companies may already do this for you, but be sure to check what is being said. Companies that update messaging monthly with your own customized branding is ideal and can be very affordable.
Be sure to match your messaging to the brand messaging of the practice, no matter the monthly theme. The messages your clients listen to should be an extension of the practice's educational commitment. If it is not, then go shopping and find a company to do that for you. They are out there. Mention products and services that will complement your practice in your messaging.
Pro-tip: Talk to your industry reps and see if they will partner with an on-hold messaging company that customizes veterinary messaging for your practice. At the very least, they may have a recommendation for you. We all have our favorite providers, just start the conversation and see what else is out there.
Remember your reminder system, and be sure the wording and messaging for the reminders and text messages say what you want them to say. Consider using text messaging to let your clients know you are offering special dental services. 
Website content
Before you get overwhelmed with thinking you need to revamp your entire website, let's just start at the beginning. Be sure your contact info and appointment scheduler is front and center on the home page. Anything below the fold or the natural spot on the screen before a viewer must scroll up may never been seen. When reviewing practice sites, I often have to search for the phone number and address. Make finding your important info as easy as possible for your clients.
Introduce the programs you are working on for the month right there on the homepage above the fold. This is your billboard, use it. In this case, mention dental month and the specials or products you are highlighting.
Next, consider adding a dental education landing page that can host information about your dental services, blog posts on dentistry, before and after pictures, and products that complement dental health. Be sure to also link those items to your online pharmacy. Repurposing this page can also be the content you can draw from for your social media posts or vice versa.
If you have a great social media post idea, you can expand on it and create content for your webpage. Remember to name the landing page something clever in the menu on the home screen:
"The tooth and nothing but the tooth," or something like that
"The tooth be told"
Dentistry info and services 
Time for team education
Team training is a year-round event. It is never too late to organize it.
Specific dental health month details should be trained on in December and January, and then refreshed weekly until dental health month arrives. Overall, dental training should be a year-round topic for teams. Everyone sharing the same brand message from answering phones, exam room time, and veterinarians during their client education and medical recommendations. Consistency is key.
If you have not started this year, it's okay because now you are getting a head start for next year. Work on this throughout the month while it is fresh, and you have client interaction examples to draw from. Here is what to note and prep for next year's program:
Make notes of what you do and what you say.
Products you recommend and sell and why.
Services that end up being the most popular and work on polishing those talks.
Least-requested or toughest sell services, and work on the talks and training behind those
Then next year you will have a training agenda at the beginning of the year. One great side effect of team training is your team will become more comfortable with their knowledge about dentistry and its importance as well as being able to articulate that to the client.
In my experience, I've noticed the base knowledge is generally good, but communicating this knowledge to the client is where our teams struggle and compliance falls off. Then apply this same research approach to all the practice promotions throughout the year and you will be ready for year-round marketing training for the team.
Don't put off dentistry
Isn't this what we recommend to clients? Don't put off dentistry for the patient's health. So, let's take a little bit of our own advice and don't put off dentistry for the practice. Create your system now to set your practice up for success for all your marketing programs now and in the future. It's never too late for this stuff.
Through team training, social media management, on-hold messaging, and website updates, clients can be directed to additional information and education for recommendations made throughout the year. This type of branding strategy is built and remains active on your channels. This makes it easily referenced by the client and reaffirms your belief in the importance of dental care for your patients, not just during dental health month.
Rhonda Bell, CVPM, CCFP, CDMP,  is founder and co-owner of Dog Days Consulting, a social media and brand management company. She spent 15 years as a practice manager working the day to day challenges of the veterinary practice and experienced firsthand the stresses, joys, communication dilemmas, and wonders of working in veterinary medicine. She now dedicates her work and energy to helping practices succeed online and to coaching team members with the skills that will prolong and sustain their careers.