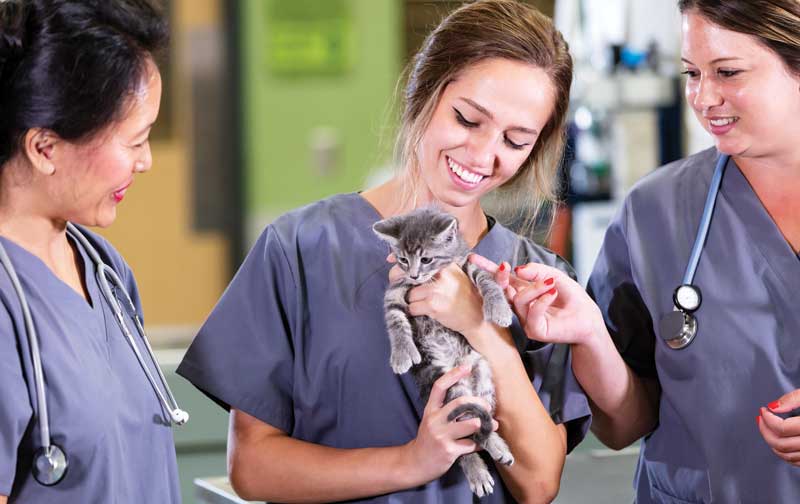 The Great Resignation has hit veterinary practices, with the staff turnover rate reaching 23 percent. That means if you have 20 employees, five will quit. Turnover is expensive, costing 20 percent of an employee's annual salary for workers earning $50,000 or less, as replacing one staff member can cost your hospital $10,000.
Building a talented and long-term team is the greatest challenge that hospital owners and managers face. How can you keep the team you have? The answer is simple: Give them careers, not dead-end jobs.
For example, at Mount Laurel Animal Hospital in Mount Laurel, N.J., job tiers give employees a reason to stay. Ten employees have celebrated 20-year anniversaries with the practice. The retention strategy starts during job interviews, where candidates are introduced to its job tiers and take tests before getting job offers. Practice manager Krista McDermott, CVT, CVPM, says testing reveals critical thinking skills beyond hands-on technical skills.
Job levels attract top talent. "This system attracts people and dissuades those who aren't self-motivated," says Christine Staten, DVM, owner of Adobe Veterinary Center, a small and large animal hospital in Tucson, Ariz., and founder of Veterinary MBA, which helps private practice owners thrive.
How job tiers work
Create job levels and skill checklists. At Adobe Veterinary Center, for example, client service representatives (CSRs), veterinary assistants, and licensed technicians can advance from Tier 1 to 4. Each tier includes a skill checklist, tests, and hands-on demonstrations. In addition to defining job levels, checklists are instrumental during onboarding. New hires receive orientation packets and must achieve Tier 1 within three months. After achieving Tier 1, the employee must remain at that level for another three months before trying for Tier 2.
"If we move people too fast, they risk forgetting the basics," Dr. Staten advises. When a CSR completes Tier 4, the employee is proficient in 94 skills, serves as the hospital manager in his or her absence, mediates issues between staff, assists with CSR performance reviews, leads training sessions, and, additionally, has annual CE requirements.
Gause Boulevard Veterinary Hospital in Slidell, La., takes the same approach. When Michelle McKenzie, DVM, began her career as an emergency and shelter veterinarian, she worked with all registered veterinary technicians (RVT) thanks to a nearby technician school. After moving and buying Gause Boulevard Veterinary Hospital in 2015, RVTs were harder to find and most worked at an area specialty hospital. "I have to train everyone from the ground up," says Dr. McKenzie. "When you come in with no skills, there is a ton to learn."
New hires get trained on Level 1 within the first 90 days. McKenzie frequently checks with new staff to guide the learning journey. A 90-day goal also gives owners and managers a deadline to decide whether a new hire is a good long-term fit.
Design job levels
When designing job levels, Dr. Staten advises to talk with employees and have them help build tiers. Team members also will create skill checklists, ensuring everyone follows standard operating procedures (SOP). Adobe Veterinary Center created SOP binders by department. The laboratory binder has step-by-step instructions on how to run a fecal. A Tier 1 veterinary assistant reads the SOP, watches a proficient co-worker do it, and then performs the task. After successful repeats, the skill goes from "in training" to "proficient" with a mentor sign-off.
As employees advance through levels, checklists include mentoring and peer training to teach others. This inspires a "let me help you" culture. "I don't get pushback on job levels. Everyone wants to check off new skills," says McKenzie. "They are always asking, 'Can I help you with that?'" Checklists let employees focus and gain confidence.
Gather learning resources
While mentors will help with hands-on skills, create a library of training resources such as SOP binders or electronic manuals, online courses, journal articles, association memberships, YouTube videos, and lunch-n-learns from sales professionals. McKenzie developed a playlist of YouTube videos on Level 1 technical skills that technicians and veterinary assistants watch before they try hands-on skills the first time.
Confirm learned skills with hands-on and written tests. The skill evaluation at Gause Boulevard Veterinary Hospital includes self-assessment signoffs of "proficient," "efficient," "in training," and "not trained." Once employees self-assess as proficient in a skill, they perform it for a veterinarian who approves the skill as "mastered."
At Mount Laurel Animal Hospital, tests for technicians include identifying medical abbreviations, labeling anatomy, reading animals' body language from photographs, and calculating medication doses. In its anesthesia levels test, technicians calculate drug dosages, explain use of surgical equipment, and describe pain-management protocols. Drug calculation tests require a 100 percent score.
At Adobe Veterinary Center, employees are tested on soft skills, such as dealing with angry clients and achieving 80 percent forward booking of appointments. Team members demonstrate hands-on skills such as successfully placing IV catheters in five cats. When a technician had an upcoming skill to complete, Staten says the teammate announced in the treatment area, "Don't intubate a pig today without me. I need to learn this skill!"
Don't rush the process
Many employees may be so focused on completing the list of skills they try to jump to another level before they are proficient, McDermott warns. They need skills as well as knowledge. That's why Staten set minimum times spent at each tier before employees may advance to the next level.
Everyone completes skill tests—even licensed technicians. At Adobe Veterinary Center, a certified veterinary technician (CVT) who is a new hire goes through orientation and completes levels 1 to 3. A CVT is paid based on his or her experience as a Tier 3 technician on the first day of employment, but the CVT must pass hands-on skill and written tests for all three levels. CVTs can go through the three levels without restrictions on time.
Non-credentialed technicians must spend at least three months at Tier 1. Employees must achieve Tier 2 to do technician appointments. CVTs spend one year at Tier 3 before moving forward to Tier 4. To create a culture of teamwork and collaboration, McDermott says Level 3 technicians still do laundry.
Constantly upskill your team
Upskilling provides employees with advanced skills through additional education and training. Where will the veterinary profession be in five years and in the next decade? Is your team skilled and ready? You need a team capable of facing tomorrow's challenges.
Get more than 25 downloads of skill checklists, tests, and pay scales in my one-hour CE course on Career Paths: A Guide to Implementing Job Levels (https://bit.ly/3M2v92o). Whether your practice has one or 20 doctors, you will benefit from job tiers with skill checklists and tests that leverage your paraprofessional team.
Wendy S. Myers, CVJ, has been training veterinary teams for 22 years as owner of Communication Solutions for Veterinarians. She teaches teams to become confident communicators, so more pet owners say yes to medical care. Myers shares her expertise through conferences, online courses, and monthly live CE credit webinars. She is a certified veterinary journalist and author of five books. Her passion is to help practices like yours thrive and grow through effective communication skills. You may reach her at wmyers@csvets.com or www.csvets.com.